Item-swallowing
From SmashWiki, the Super Smash Bros. wiki
Jump to navigation
Jump to search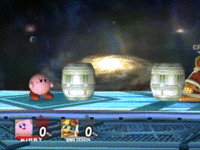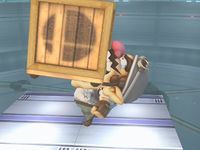 Item-swallowing is a technique in Super Smash Bros. Brawl, Super Smash Bros. 4, and Super Smash Bros. Ultimate, performable by Kirby, King Dedede, and Wario. These characters can use their neutral special moves to eat most items. Kirby and King Dedede use Inhale while Wario uses Chomp though Kirby can also use King Dedede's Inhale and Wario's Chomp as well to eat items if he copies them. Additionally, Munchlax uses the same list for the items it will eat.
When an item is swallowed, it takes some time for the character to swallow it. Light items are immediately swallowed, but non-explosive heavy items like barrels have the characters briefly remain bloated with the item in their stomach, before they eventually swallow it. Explosive items that are eaten will cause about 5% damage to the consumer, and if it is eaten by using Chomp, will also deal 13% damage to nearby opponents.
Food and other recovery items (except the Team Healer), Dragoon and Daybreak parts, Superspicy Curry, Super Mushrooms, Poison Mushrooms, Warp Stars, Super Stars, Metal Boxes, and Timers take immediate effect upon being eaten.
In Super Smash Bros. 4, it has been buffed, as Kirby and Wario can restore 1% damage from eating most items. Swallowing healing items has the same effect as using them normally. For example, swallowing a Fairy Bottle will heal 1% if the character is at less than 100% damage and will heal 100% damage if above. Wario and King Dedede gain 1.5x more HP from eating food items (Kirby can copy Wario's Chomp or King Dedede's Inhale for the same effect). Wario and King Dedede can also now eat energy projectiles like Ness's PK Fire and Mario's Fireballs, but do not receive any health. Finally, eating items, projectiles from items (like the Ray Gun's projectiles), and foods will increase the Wario Waft's charge for Wario.
In Super Smash Bros. Ultimate, it has been further buffed for both Kirby and King Dedede. Kirby, upon inhaling a projectile, can either spit it back out as a star or swallow it to recover some health. King Dedede's Inhale acts as a reflecting move, returning projectiles in their original form with a 1.5× damage multiplier.
Edible items
[
edit
]
Super Smash Bros. Brawl

[

edit

]
Super Smash Bros. 4

[

edit

]
All normal items except for Smash Ball, Mr. Saturn, Cuccos, Poké Balls, Master Balls, Electrode, Grass, Custom Parts, Smash Run Powers, Trophies, and CDs
A revolving Hothead
A Koopa Troopa retreated into its shell
Projectile attacks
[
edit
]
Character
Move
Edible by
Heals
Explosive
Heavy
Mario, Luigi
Fireball
Peach
Vegetable
Bowser
Fire Breath
Yoshi
Egg Throw
Bowser Jr.
Clown Cannon
Mechakoopa
Wario
Wario Bike
Diddy Kong
Peanut Popgun, Banana Peel
Mr. Game & Watch
Chef
Link
Hero's Bow, Gale Boomerang
Bomb
Zelda
Din's Fire (Flames)
Sheik
Needle Storm
Burst Grenade
Toon Link
Hero's Bow, Boomerang
Bomb
Samus
Charge Shot, Missile, Bomb
Zero Suit Samus
Paralyzer
Pit
Palutena Bow
Palutena
Autoreticle
Robin
Thunder (all charge levels), Arcfire, Elwind
Discarded Tomes and Levin Sword
Duck Hunt
Trick Shot, Clay Shooting
Kirby
Final Cutter
King Dedede
Gordo Throw
Fox, Falco
Blaster
Pikachu
Thunder Jolt
Charizard
Flamethrower
Lucario
Aura Sphere
Greninja
Water Shuriken, Hydro Pump
R.O.B.
Robo Beam
Gyro
Ness
PK Fire, PK Thunder
Villager
Lloid Rocket, forward aerial, dash attack
Timber (Wood chip)
Wii Fit Trainer
Sun Salutation
Header
Dr. Mario
Megavitamin
Dark Pit
Silver Bow
Pac-Man
Bonus Fruit
Power Pellet
Fire Hydrant (Hydrant, water)
Mega Man
Metal Blade
Crash Bomber, Leaf Shield, neutral attack,
forward tilt/smash, neutral/up/down aerial
Mewtwo
Shadow Ball, Disable
Lucas
PK Fire, PK Thunder
Ryu
Hadoken
Cloud
Blade Beam
Corrin
Dragon Fang Shot
Bayonetta
Bullet Climax
Super Smash Bros. Ultimate

[

edit

]
All normal items except for Smash Ball, Fake Smash Ball, Poké Balls, Master Balls, Electrode, Pyukumuku, Grass, Mr. Saturn and Cuccos
A revolving Hothead
Chef Kawasaki, Ghirahim, Guile, Hammer Bro, Jeff, Krystal, Mother Brain, Phosphora, Shovel Knight, Starman, Sukapon, Takamaru and Wily Capsule's projectile attacks
Projectile attacks:
When using Inhale, the player must usually stand directly next to an item. However, certain items will be actually pulled in from a greater distance.
Munchlax's function as a Poké Ball Pokémon is to eat all the items (except Trophies, CDs, Stickers, other Poké Balls and Smash Balls) on the stage.
Despite being able to eat both enemies and fruits in his home series, Yoshi cannot swallow items in Smash, making him the only character that can hold opponents in his mouth but cannot swallow items.
Characters who can swallow items can eat Sandbag in the Wi-Fi room, but another will reappear instantly.
Wario swallows items quicker than Kirby and Dedede, but still takes a while to swallow big things, such as his bike.