Super Smash Bros.
From SmashWiki, the Super Smash Bros. wiki
Jump to navigation
Jump to search
"
Something's gone wrong in the happy-go-lucky world of Nintendo!
"
—North American commercial
Super Smash Bros. (ニンテンドウオールスター! 大乱闘スマッシュブラザーズ, Nintendo All-Star! Great Fray Smash Brothers), also called Super Smash Bros. 64, often shortened to SSB or Smash 64, is the first game of the Super Smash Bros. series.
The game released in Japan on January 21st, 1999, in North America on April 26th, 1999 and in Europe on November 19th, 1999 for the Nintendo 64. Subsequently, it released on the iQue Player in China on November 15, 2005. It was re-released on the Wii Virtual Console on January 20th, 2009 in Japan, a day before its 10-year anniversary, and later that year in Europe and North America, before becoming unavailable after the Wii Shop Channel shut down on January 30th, 2019.
Super Smash Bros. received positive reviews, with most praise going to its multiplayer mode, while its single-player mode received some criticism. The game has sold 5 million units worldwide as of 2001, making it the fifth best-selling Nintendo 64 game of all time.
Opening movie
[
edit
]
The opening movie in Super Smash Bros., unlike later games in the Super Smash Bros. series, completely lacks pre-rendered footage. It instead opts to use the game engine to render everything in real-time.
When the opening movie starts, two random starter characters are placed by Master Hand on top of a desk, which shortly transitions to a scene resembling Peach's Castle. This process is repeated every time the opening movie is played.
As the opening movie concludes, the figures of the four unlockable characters are flashed against a white background. If a character hasn't been unlocked, they will simply be shown as a silhouette; conversely, they will be revealed once unlocked.
Finally, the opening movie segues into the title screen, a trend which would be followed by future installments, along with the announcer calling out the game's title.
Fighters
[
edit
]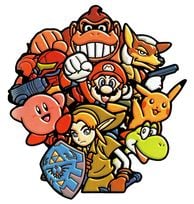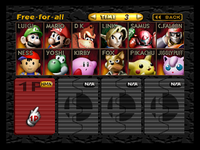 There are twelve playable characters in Super Smash Bros., eight of which are available from the start and four of which are unlockable.
The highest amount of character slots are given to the Super Mario and Pokémon universes with each receiving two fighters: Mario alongside his brother Luigi, and Pikachu and Jigglypuff respectively, with the latter characters in both universes being unlockable.
Two more slots are given to reoccurring Mario characters Donkey Kong and Yoshi as starting fighters from their sub-universes of the same names, Donkey Kong and Yoshi.
The other starter characters are Link, Samus, Kirby and Fox from The Legend of Zelda, Metroid, Kirby and Star Fox universes, respectively. The final remaining characters, as with Luigi and Jigglypuff, are unlockable: Ness of EarthBound and Captain Falcon of F-Zero.
The game features nine stages derived from each character's universe, exceptions being EarthBound and F-Zero. While most universes receive a single stage, Mario uniquely has two instead: Peach's Castle and the only unlockable stage in the game, Mushroom Kingdom. Besides of that, the other stages consist of Congo Jungle, Hyrule Castle, Planet Zebes, Yoshi's Island, Dream Land, Sector Z, and Saffron City from Donkey Kong, The Legend of Zelda, Metroid, Yoshi, Kirby, Star Fox, and Pokémon respectively.
Versus mode stages
[
edit
]
Shown in bold, Mushroom Kingdom is the only unlockable stage in Super Smash Bros.
1P Game-only stages
[
edit
]
These stages only appear in the 1P Game.
*The 1P Game-only Yoshi's Island lacks clouds and has closer blast zones.
Non-playable stages
[
edit
]
These stages cannot be unlocked or played on in any way without hacking.
1-Player
[
edit
]
Multiplayer
[
edit
]
Tournament play
[
edit
]
Unlike its successors, Super Smash Bros. never enjoyed a large professional competitive scene in North America. However, interest in the game has been renewed in recent years with the popularity of its sequels. Players can play Super Smash Bros. online through Kaillera using the Project64k emulator. Every year, there are more and more Super Smash Bros. tournaments due to an influx of new players. Most tournaments are paired with Melee events and most (offline) SSB tournaments are located in California, Canada, New Jersey or Peru.
The standard tournament rules differ little from those of Melee. The most common standard tournament rules are as follows:
The required number of victories to win are generally the best of 3 matches; the only exceptions are finals, in which the number of matches is 5 or 7.
Tournaments run double elimination format.
4 stock with a 10-minute time limit, if possible; the original game does not support time limits on stock matches, but emulators and mods can implement one.
Items are disabled.
Handicaps are off.
The first match is played on Dream Land.
For the first match, characters are chosen double-blind - at the same time, so that neither player knows their opponent's character beforehand.
Players may re-pick characters after each match. However, the loser of each match gets to pick last (known as slob picks).
Development
[
edit
]
After development on the Kirby Super Star wrapped in 1996, creator Masahiro Sakurai wanted to create another property. He developed two different prototypes concurrently: a stealth and exploration based RC robot adventure game, and a four player free-for-all fighting game with no health bars. A long-time fan of fighting games, paricularly games developed by SNK, he was interested in making a beginner friendly fighting game for four players. A specific inspiration for such an idea came from an experience at a local arcade where he had a winning streak on King of Fighters '95 and felt pleased with himself, only to feel guilty upon realizing his opponent was a beginner and their partner. This made Sakurai realize that not everyone is a master, so a game designed for newcomers to have fun regardless of skill level would be a good idea.[1] He also was concerned about how the fighting game genre was becoming increasingly combo-centric and how that invalidated the skills of the player being comboed. Command-input moves were also becoming increasingly complex, and Sakurai wanted controls that tested speed and reflexes instead of muscle memory, which culminated in tilt attacks and smash attacks that can be performable with a wide range of skill levels while still having a level of depth and strategy.[2]
His initial design for the game was called Kakuto-Geemu Ryuoh (Dragon King: The Fighting Game),[3] which featured simple characters. After presenting the game to co-worker Satoru Iwata, he helped Sakurai continue on with the project. Realizing that the RC game would take much longer to develop, he shelved the concept and went all in on this fighting game. Sakurai understood that many fighting games did not sell well, so he tried to make his game original.[3] After presenting a pre-alpha demo to HAL Laboratory, he was approached by a fellow employee who suggested the game should include famous Nintendo characters as a way to market the game.[3] Initially hesitant about the idea, he was later convinced and began retooling his demo. Sakurai has since claimed that filling a game with preexisting characters is more welcoming to new players instead of bombarding them with many original characters they are unfamiliar with. Knowing full well that he would not receive permission to do include their characters, Sakurai created a prototype of the game without sanction from Nintendo and did not inform them until he was sure the game was well-balanced.[3] The prototype he presented featured Mario, Donkey Kong, Samus Aran, and Fox McCloud as playable characters. The idea was later approved.[3][4] Although never acknowledged by Sakurai or any developers behind Super Smash Bros., third party sources have identified Namco's 1995 fighting game The Outfoxies as a possible inspiration.[5][6]
HAL Laboratory was assigned as primary developers, as Sakurai was employed by them at the time. While Sakurai and Iwata were initially the only developers, as other projects in HAL Laboratory either were finished or fell through, more employees were brought on the project to assist them. Multiple characters, including Marth, King Dedede, Bowser, and Mewtwo were planned to be playable at one point, but were all cut for various reasons.
Super Smash Bros. features music from Nintendo's most popular gaming franchises. While many tracks are new arrangements for the game, some songs attempt to directly emulate their sources. The music for Super Smash Bros. was composed by Hirokazu Ando, who later returned as sound and music director for Super Smash Bros. Melee. A complete soundtrack was released on CD in Japan through Teichiku Records in 2001.[7]
Marketing teams and wholesalers were initially skeptical on the market viability of Super Smash Bros., as they were unsure how the public would respond to Nintendo characters beating each other up. Resistance from fighting game players were also met during the launch period, as they had many preconceptions of what a fighting game is and were uncomfortable with a wildly different product labeling itself as a fighting game. To alleviate this tension, Sakurai created the Smabura-Ken website that delved deep into all the new and different concepts.
To promote the game's launch, Nintendo of America staged an event called Super Smash Bros. Slamfest '99, held at the MGM Grand Adventures Theme Park in Las Vegas, Nevada, on April 24th, 1999. The event featured a real-life wrestling match between costumed performers dressed as Mario, Yoshi, Pikachu, and Donkey Kong, as well as stations set up for attendees to preview the game. The wrestling match was live-streamed on the web via RealPlayer, and was available to be re-watched for several months afterward via a downloadable file from the event's official website. Despite this, no video footage of Slamfest '99 is known to survive, and the broadcast is currently considered lost media.
Reception
[
edit
]
SSB reviews
Publication
Score
Famitsu
31 of 40[8]
GameSpot
7.5 of 10[9]
IGN
8.5 of 10[10]
Nintendo Power
7.7 of 10[11]
Compilations of multiple reviews
Metacritic
79 of 100[12]
Game Rankings
78.81%[11]
Awards
IGN "Best Fighting Game"
Super Smash Bros. was a commercial success, selling 5 million copies worldwide with 2.93 million sold in the United States and 1.97 million copies sold in Japan. It was the 5th best selling game for the Nintendo 64. Reviews were mostly positive, with many critics praising the game's addictive and fun multiplayer gameplay and simple controls, but it was criticized as well, mainly due to the game's lower amount of content and somewhat limited single-player mode.
Gallery
[
edit
]
Differences from later Super Smash Bros. games

[

edit

]
Super Smash Bros. is the only game in the series with the following distinctions:
Using the phrases "Game Set" and "Time Up" for matches in all regions. Later games use the phrases "Game!" and "Time!" in the English version, while each one still uses "Game Set" and "Time Up" in the Japanese version.
Break the Targets! and Race to the Finish are announced "Break the Target" and "Hurry to the Battle Stage", respectively in the Japanese version, as Melee uses the names from the international release.
Lacking Home-Run Contest and Multi-Man Smash modes.
Featuring Board the Platforms bonus game.
Time and stock matches share the same announcer voice clip (not counting team battles).
Using traffic signals instead of numbers for the "3, 2, 1... Go!" announcement before a match begins.
Lacking home stages from the F-Zero and EarthBound universes. As a result, Captain Falcon's home stage is Planet Zebes and Ness's is Dream Land, as those two stages are the ones that take place when unlocking them via a Challenger Approaching battle.
Lacking princesses (or any other female characters aside from Samus) as playable characters.
Featuring only one character from the The Legend of Zelda and Star Fox universes.
To be released in the 1990s.
Not having Bowser as the heaviest character, as he did not make his first playable appearance until Melee. Rather, the heaviest character is Donkey Kong.
Being rated "E" for Everyone by the ESRB, as its successors Super Smash Bros. Melee and Super Smash Bros. Brawl would be rated "T" for Teen, and Super Smash Bros. 4 and Super Smash Bros. Ultimate would be rated "E10+" for players who are aged ten and over.
Showing the character's 3D model when selecting them on the Character Selection Screen, as later titles would use artwork of the characters instead. However, in Melee, there are unused graphics for each character showing them in 3D for the character selection screen.
Showing the stage's 3D model when highlighted on the Stage Selection screen, as well as restricting the cursor to the squares depicting the stage.
Not having Battlefield and Final Destination as normally playable stages.
Not featuring spot dodges, air dodges, charged smash attacks, side special moves, pummels, up throws or down throws, as these would be added in later games.
Having multiple crowd reactions for when a character recovers.
Having characters freely get Star KO'd when they reach the upper blast line without suffering from knockback or taking any damage.
Not introducing at least one Fire Emblem character, although Marth was originally planned to be playable.
The enemy team can get Star or Screen KO'd under normal circumstances, with the only exception in the later games being Melee's Event 37: Legendary Pokémon.
The starting eight characters are placed in the order of when they first appeared (as a whole) in their respective debut titles on the character selection screen, starting with the oldest, Mario and Donkey Kong, and ending with the most recent, Pikachu. This same order is used when listing the cast of the original Super Smash Bros. in later games, such as when organizing trophies and fighter numbers. This chronological ordering also applies to the four unlockable characters on the character selection screen, though this is only relative to each other and not the other characters.
Super Smash Bros. marks the first appearance of Samus, Kirby, and Ness in 3D.

Additionally, this game is both Samus and Ness's only appearance on the Nintendo 64.

This game has the fewest amount of unlockable characters with four.
This game is one of two that uses 2D illustrations on the box art, alongside Super Smash Bros. Ultimate.
This game is one of two Super Smash Bros. games to not feature Adventure Mode, the second being Super Smash Bros. 4.
This game is one of two Super Smash Bros. games to not feature All-Star Mode, the second being Super Smash Bros. Ultimate.
If the player achieves No Miss x11 at the end of Classic Mode, the announcer will say "Incredible!" instead of "Congratulations!" on the victory screen.
Counting both versions of Super Smash Bros. 4 as one game, this is the only game in the series with more fighters than stages.
Despite Super Smash Bros. having its own Australian version, the European version was used for Australia's Virtual Console.
Although the iQue player has a built-in controller, a message, albeit in Chinese, exists dictating that the controller isn't plugged in.[13]
External links
[
edit
]
References
[
edit
]