Masahiro Sakurai
From SmashWiki, the Super Smash Bros. wiki
Jump to navigation
Jump to search
Masahiro Sakurai
桜井政博

Masahiro Sakurai in Nintendo's E3 2018 presentation.
Born
Tokyo, Japan
Occupation
Video game director, game designer, founder of Sora Ltd.
Spouse
Michiko Sakurai
Masahiro Sakurai (桜井政博), born August 3, 1970, is a Japanese game developer, creator, writer, and voice actor. His most notable creations as a game developer include the Kirby and Super Smash Bros. series, both of which he created and developed during his tenure with HAL Laboratory, a second-party developer for Nintendo. He has since continued his work as director of the Super Smash Bros. series through his own company Sora Ltd., which he founded in 2005 after his 2003 departure from HAL Laboratory.
Biography
[
edit
]
At Nintendo and HAL Laboratory
[
edit
]
One of Sakurai's earliest experiences in the video game industry began when he worked for HAL Laboratory, Inc. It is there that he created the character Kirby at the age of 19. He would soon direct his first title, Kirby's Dream Land.
Sakurai first devised the concept for Smash in 1998, working on a prototype then known as Dragon King: The Fighting Game. At the time, the project featured no existing Nintendo properties, and Sakurai was focused on creating unique platform fighter mechanics to differentiate the title from traditional fighting games. However, Sakurai decided that the inclusion of Nintendo characters would provide the game with more atmosphere, giving it a unique selling-point to set it apart from a sea of fighting games with generic characters. The final product, Super Smash Bros., was released in January 1999 (in Japan) and became an unexpected hit, eventually becoming one of the best-selling Nintendo 64 games.
As the Nintendo GameCube neared release, Sakurai was named head of production for the development of Super Smash Bros. Melee, once again developed at HAL Laboratory. He recalls living a "destructive lifestyle" during the game's development period, with short weekends and no time off in 13 months of work.[1] The game was unveiled at E3 2001 and released shortly after in November 2001. Melee surpassed the popularity of its predecessor and eventually became the GameCube's highest-selling game of all time. Critical reception of the game was also positive, with some publications naming it among HAL Laboratory's finest works.
Resignation from HAL Laboratory
[
edit
]
Sakurai resigned from his position at HAL Laboratory on August 5, 2003, shortly after the release of Kirby Air Ride. Sakurai said at the time that he believed it would be difficult for him to continue creating games if he stayed at HAL. He claimed that he had become tired of the gaming industry's growing focuses on sequels:
"It was tough for me to see that every time I made a new game, people automatically assumed that a sequel was coming," said Masahiro Sakurai on August 26, 2003, in an interview with Nintendo Dream, two weeks after his resignation from HAL Laboratory. "Even if it's a sequel, lots of people have to give their all to make a game, but some people think the sequel process happens naturally."
The future of both the Kirby and Super Smash Bros. franchises were in jeopardy following his resignation. Sakurai later stated that he wished for HAL to continue working on the Kirby series, but the future of Super Smash Bros. was unknown.
After his departure from HAL, Sakurai collaborated with Tetsuya Mizuguchi at Q Entertainment to create Meteos, a unique puzzle game released for Nintendo DS in March 2005.
Sakurai also became the author of a column for Famitsu Weekly, a Japanese gaming magazine.
Sora Ltd. and Super Smash Bros. Brawl

[

edit

]
On September 30, 2005, Sakurai announced that he had formed his own company, Sora Ltd. Despite the departure of Sakurai from HAL, former HAL Laboratory President and former President of Nintendo Satoru Iwata stated at E3 2005 that the Super Smash Bros. series would continue on Nintendo's newest console, the Wii, supporting online play. It was only after this announcement that Sakurai received an offer from Iwata to return to direct the new Smash, which he accepted. Sakurai revealed that he would be serving as director and designer for the game in issue #885 of Famitsu Weekly. Sora Ltd. officially began development of Super Smash Bros. Brawl in collaboration with Game Arts staff in late 2005, and the game was released in January 2008. It became one of the Wii's highest-selling games and received highly positive critical reception.
Kid Icarus: Uprising and Super Smash Bros. 4

[

edit

]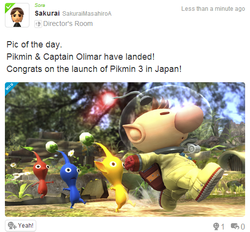 Following the release of Brawl, Sakurai and Satoru Iwata formed a Nintendo subsidiary called Project Sora for the purpose of developing the first new entry in the Kid Icarus series in 21 years. Titled Kid Icarus: Uprising, the game featured 3D on-rails flying-and-shooting segments as well as third-person action sequences on the ground, a great departure from the 2D platforming gameplay of the first two Kid Icarus games.
At E3 2011, Iwata announced that once his team was finished with the development of Kid Icarus: Uprising, Sakurai would begin working on two versions of the new Smash game, later titled Super Smash Bros. for Nintendo 3DS and Super Smash Bros. for Wii U and collectively known as Super Smash Bros. 4.
After Uprising was released and the team at Project Sora disbanded, Sakurai and Sora Ltd. began collaborating with Bandai Namco to develop[2] the new Smash games in February 2012. He announced that he wanted the 3DS version to be more of an "individual" and "customizable" experience and described connectivity features between the two versions where, hypothetically, the player could take a customized character from the 3DS version and transfer it to the Wii U version.[3] The games were unveiled in Nintendo's video presentation during E3 2013.
During and after the reveal, Sakurai took an active role in the public presence of the games, appearing in many E3, Nintendo Direct, and Super Smash Bros. Direct presentations, detailing new and returning characters, explaining game mechanics, and giving insights into the development of the series. Among other in-person appearances, Sakurai spoke and presented the winner's trophy at the Super Smash Bros. Invitational at E3 2014.
Sakurai developed calcific tendonitis near his right shoulder in February of 2013, which causes pain during arm movement. Sakurai mentioned that this could substantially slow down his current work, as he does game testing himself.[4]
After the September and November 2014 releases of for 3DS and for Wii U, respectively, Sakurai stayed on with a smaller development team at Bandai Namco for the creation of DLC. The sixth and final wave of downloadable content was released on February 3rd, 2016, whereupon Sakurai announced that development of for 3DS and for Wii U had officially ended. He also noted that although he had already decided on his next project, he wanted to first take a long vacation. However, in an interview, he stated that after finishing with Smash 4, he went straight into the next game without break. [5]
Super Smash Bros. Ultimate

[

edit

]
Some time later, Sakurai began work on Super Smash Bros. Ultimate with the team at Bandai Namco. This was one of the final assignments the late Satoru Iwata assigned to Sakurai to work on.[6] The game was announced on March 8th, 2018 via a Nintendo Direct under the working title Super Smash Bros. Shortly after, Sakurai confirmed that he had been working on the game "in silence day after day".[7][8] The game and its title were formally revealed during Nintendo's E3 2018 Direct, where Sakurai again presented in video format, talking about the new game and its roster of fighters. The Super Smash Bros. Invitational 2018 at E3 also featured an appearance by Sakurai, and he has continued to appear in Nintendo Direct presentations which feature Ultimate. During the Nintendo Live Super Smash Bros. Ultimate Premium Fight tournament in Tokyo, Sakurai served as the color commentator.
Sakurai also supervised the lyrics for Ultimate's theme song, "Lifelight".
On September 13th, 2019, Sakurai won 4 Tokyo Game Show awards and confirmed that Ultimate will only have content from video games.[9]
Starting from December 27th, 2019, Sakurai began posting screenshots from the development version of Ultimate daily to his Twitter account, in similar vein to Smash 4's "Pic of the Day".[10][11] This concluded on August 23rd, 2022.
Super Smash Bros. Websites

[

edit

]
Starting in 1999, Sakurai wrote and maintained Sumabura-Ken, a website which in its various incarnations detailed the content and gameplay of Smash 64, Melee, and Brawl. The Brawl website was the first to have Sakurai's updates translated from Japanese to other languages; the English version was known as the Smash Bros. DOJO!! Though a separate official website was created for Smash 4, Sakurai posted daily updates about the games' development to the Director's Room Miiverse community throughout 2013 and 2014, and the current Miiverse "pic of the day" also appeared on the official site. The official website for Ultimate also featured daily updates from Sakurai up until the game's release date, which are also available through a Nintendo Switch News Channel.
Masahiro Sakurai on Creating Games

[

edit

]
On August 23, 2022, Sakurai launched his own YouTube channel on game design for aspiring game creators.[12] On this channel, Sakurai uploads 2-5 minute videos on various game design tips and mechanics, such as hitstop. To better help illustrate his points, Sakurai uses real gameplay footage from other games, among those games being the Super Smash Bros. series. With the approval of Nintendo, Sakurai will also use behind the scenes material like older builds and design documents from Super Smash Bros. Ultimate.
There are two versions of the channel, one in Japanese and another in English.
Sakurai provided voice acting for King Dedede in Kirby 64: The Crystal Shards, Super Smash Bros. Brawl, Super Smash Bros. 4, and Super Smash Bros. Ultimate.[13]
Sakurai's wife, Michiko Sakurai (née Takahashi), worked on the user interface for many of his games, including Meteos, Kid Icarus: Uprising, and the Super Smash Bros. series, as well as other HAL Laboratory projects such as Kirby 64: The Crystal Shards[14]. In the original Super Smash Bros., she additionally designed the title and character selection screens, as well as the Peach's Castle, Mushroom Kingdom, and Yoshi's Island stages[15].
See also
[
edit
]
External links
[
edit
]
References
[
edit
]