Miiverse (social network)
From SmashWiki, the Super Smash Bros. wiki
Jump to navigation
Jump to search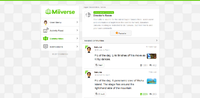 Miiverse was a social network service developed by Nintendo and Hatena for Wii U and 3DS. The service was primarily used to communicate and comment on most games and software for the systems. Users could follow and befriend other users, "Yeah" (like), and flag comments.
Miiverse featured a community originally named Super Smash Bros. Series Community, which was made into a community specifically for Super Smash Bros. for Wii U and Super Smash Bros. for Nintendo 3DS, where users could discuss the Super Smash Bros. games, and post drawings and screenshots. There was a related Announcement Community, known as the Director's Room, where Masahiro Sakurai used to post daily screenshots of Super Smash Bros. 4, and provide short captions with them, and which was later used for Photo Challenges.
Although Miiverse was integrated as part of the 3DS Home Menu, playing Super Smash Bros. for Nintendo 3DS prevented access to Miiverse and the Internet Browser due to RAM restrictions, unless the player is using a New Nintendo 3DS or a New Nintendo 3DS XL. However, as of version 1.0.5, users with the original model Nintendo 3DS could post snapshots to Miiverse via the in-game Share menu. This function posted to a special community, the Snapshot Sharing Community. The Wii U version automatically uploaded shared screenshots to the Snapshot Sharing Community, shared custom stages to the Stage Sharing Community, and replays uploaded on YouTube to the Replay Viewing Community. All of these communities cannot be posted in by normal means, although they freely allowed comments on existing posts.
A stage based on Miiverse appears in Super Smash Bros. for Wii U and featured actual Miiverse posts intended to cheer on the fighters in the battle. Every character in the game had their own "support community" from which these posts are drawn. After playing a match on the stage, players were prompted to make a support post for the winning character.
The Miiverse social network was discontinued on November 8, 2017; as a result, the Miiverse stage no longer has posts displayed in the background, and users are unable to post new drawings to its communities. Players are also unable to post replays to YouTube/Miiverse, share custom stages, or create and play in tourneys.[1]
Mentioning Project M by name on any Miiverse community could trigger an automatic ban for discussing "criminal activity".

This included using the abbreviation "PM", which could result in erroneous bans when talking about other games or series with the same abbreviation (such as Paper Mario).
See also
[
edit
]
External links
[
edit
]