Content sharing
From SmashWiki, the Super Smash Bros. wiki
Jump to navigation
Jump to search
"Share" redirects here. For the smasher, see Smasher:Share.
Multiple games in the Super Smash Bros. series have features which allow for players to share, view and receive content using the Internet, including Super Smash Bros. Brawl, Super Smash Bros. 4, and Super Smash Bros. Ultimate. However, there are variations in the kinds of content shared and how players can interact with such content.
In Super Smash Bros. Brawl

[

edit

]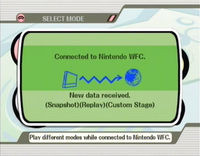 The Smash Service was a free feature in Super Smash Bros. Brawl provided by Nintendo via Nintendo Wi-Fi Connection.
Each day, a new custom stage, new screenshot, and new replay would be sent to players who had the feature enabled. They were then subsequently deleted at the end of the day. Examples of content sent over the service can be found here.
On June 30th, 2009, Nintendo stopped accepting new submissions, but continued to send out current submissions. The service was later discontinued as part of Nintendo WiFi Connection's closure on May 20th, 2014.
In Super Smash Bros. 4

[

edit

]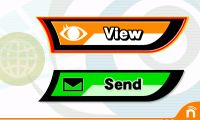 "Share" redirects here. For the Japanese Smasher, see Smasher:Share.
Share is a mode in Super Smash Bros. 4 that allows users to post photos, replay data, and Mii Fighter data to an official server to share with other users around the world. In Super Smash Bros. for Wii U, players can also share custom stages. Users are also be able to share data with specific users on their 3DS or Wii U Friend List. Data uploaded to the server will be deleted after 30 days. Players could also see a gallery of the most recently uploaded photos, replays, and Mii Fighters. The gallery can be filtered by country of origin, who uploaded it (anyone, friends, or the player), Mii Fighter class, and/or mode created in (for replays).
The discontinuation of the Miiverse service on November 8, 2017 affected the capabilities of Share mode. This removed the option to upload replays to YouTube, send snapshots, as well as the option to share custom stages. However, sharing replays and Mii Fighters is still possible.
In Super Smash Bros. Ultimate

[

edit

]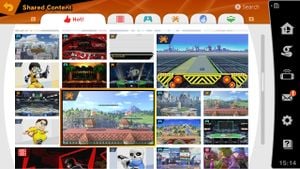 Shared Content is an online mode that was added in version 3.0.0 of Super Smash Bros. Ultimate. This mode acts similarly to Share in Super Smash Bros. 4, allowing users to share, download, and endorse content. Shareable content includes:
Endorsing content is done by clicking a "Yeah!" button, which acts as a "like" button similar to other community sites. It also has similarities to Miiverse. Content that has recently been getting large amounts of likes is shown in a "Hot!" category, among other categories (Videos, Replays, Spectate, Mii Fighters, and Stages).
Users are able to sort between content by either choosing to sort By Recommended, By Popularity, and By Date.
There are 3 options of searching for specific content:
By Keywords: Users type out the keywords of their choice, which will cause the search to list all content with those keywords. This has to match a word in the submission's title or the author's name.
By Details: Users choose a category (Videos, Replays, Spectate, Mii Fighters, Stages, Creator, Gave a Yeah!), and are then given several other details to further filter their search depending on the category: for example, Replays have a "Fighter", Format" and "Stage" option to limit what characters, modes or stages are shown.
Enter ID: Users enter the ID tag of a submission, which is shown at the bottom right beside its preview picture.
Shared content appears to feature a moderation system, put in place to disallow users from uploading potentially sensitive content, such as stages shaped in the form of inappropriate poses or prohibited imagery. Users can report other users who upload such content by clicking on the user, then clicking the report button; whether moderation is done automatically is unknown, however.
Names in other languages
[
edit
]
Language
Name
 Japanese

みんなの投稿

 English
Share
Shared Content
 French
Contenu partagé
 German
Beiträge
 Spanish
Contenido compartido
 Italian
Post degli utenti
 Chinese (Simplified)

大家的投稿

 Chinese (Traditional)

大家的發表

 Korean

모두의 공유물

 Dutch
Gedeelde posts
 Russian

Смеш-креатив