Smash Tour
From SmashWiki, the Super Smash Bros. wiki
Jump to navigation
Jump to search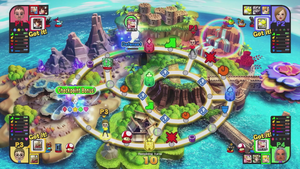 Smash Tour (ワールドスマッシュ, World Smash) is a game mode exclusive to Super Smash Bros. for Wii U.
Overview
[
edit
]
Smash Tour plays as a board game, in which players use Mii characters to move around the board. There are three different boards - small, normal, and big - and every game can be set to last for 15 to 25 turns. The goal is to move around the board and collect powerups and fighters, who will face off in a final battle. If customizations are turned on, the characters may possess custom special moves, indicated by the number 1, 2, or 3 on the character's icon.
At the game's start, each player is given two random characters. At the beginning of each turn but the first, each player receives a random item, and may then choose to use any item they have. Then a spinner starts moving, and after stopping it, the player will be able to move by the number of spaces indicated, which ranges from 1 to 6 in normal conditions: it is possible to change direction at every crossroad.
By moving around the board, players can collect powerups, which raise their characters' stats; items, which possess various effects; and playable fighters, which will be put into use during battles: the characters are used in the order they were obtained. Each player may hold up to ten characters and four items.
Battles are initiated by landing on the same space as another player or landing on a battle space. At the beginning of a battle, a player may select an item to use, and will then face the others. There are several types of battles: only specific items may appear, the players are put in a specific state, or instead of a battle, a round of Home-Run Contest or Target Blast might play. The winner will receive a prize shown before the battle, which is always an item plus sometimes a character: in the case of a team battle, the item will be given to all the members of the winning team. If a player gets KO'd, they will lose their current fighter: the last character KO'd will be given to the player who defeated them. After the battle, any player who shares a space with the player who KO'd them will be launched away, possibly dropping some of their characters.
During gameplay, random events can occur: they range from non-playable characters roaming the board and giving bonuses of some kind to players who touch them, to alterations of the map, to boss battles.
When the turn counter runs out, the board phase of the game ends and the announcer will call out "GAME!". The players' stats are shown, and some further bonuses may be awarded if some special conditions are met:
Distance Traveled: each player's Speed attribute increases based on the number of spaces crossed.
Trophies Used: each player's Arms attribute increases based on the number of trophies used.
Lucky 7: stats which include a 7 are increased.
Launched Ace: the player(s) who got launched the most get one more character.
Launching Ace: the player(s) who launched the most opponents get an increase in their highest stats.
Booby Prize: the player(s) with the least characters get a bonus character, if they have no characters or every other player has at least two more characters.
The winner is then determined by a special timed stock battle that always takes place on the stage Battlefield. Every fighter that the player has collected counts as one stock; once a fighter is defeated, the player's next fighter enters the field until they have no fighters left, a concept that was carried over to Squad Strike. The winner is always decided by KO count: in other words, being the last player standing does not necessarily equate to victory. In the case of a tie, the winner is decided by a Sudden Death finale between the last fighters used.
After the game ends, several trophies, equipment items, Mii costumes, custom special moves, gold, and Crazy Orders passes may be received.
Space types
[
edit
]
Fighter Space: a collectible character may appear here.
Checkpoint: touching it awards the correspondent symbol to the player, as well as a stat boost. Collecting all five symbols gives a player a checkpoint bonus, similar to the Fortune Street series of games.
Stat Boost Space: a player's stats may be raised, lowered, or swapped with one another. The effects become stronger when approaching the game's end.
Warp Space: contains a pipe which warps the player to another pipe with the same color in another space on the map.
Battle Space: automatically starts a battle at the end of the turn. Only appears on the big map.
Additionally, powerups and items may appear on any empty normal space.
Possible Fighters
[
edit
]
Every fighter aside from the Mii Fighters can appear on the board, and if custom fighters are turned on, there are preset alternate costumes for each of the custom movesets. Most of the costumes for Moveset 2 are the costumes on the Alternate fighter trophies. The same applies to the 3DS's versions of the Alternate fighter trophies' costumes for Moveset 3. The custom moves in these sets always match their number with the costume number, so moveset 1 is always 1111, moveset 2 is always 2222 and moveset 3 is always 3333.
| Fighter | Moveset 1 Costume | Moveset 2 Costume | Moveset 3 Costume |
| --- | --- | --- | --- |
| Mario | | | |
| Luigi | | | |
| Peach | | | |
| Bowser | | | |
| Yoshi | | | |
| Rosalina & Luma | | | |
| Bowser Jr. | | | |
| Wario | | | |
| Donkey Kong | | | |
| Diddy Kong | | | |
| Mr. Game & Watch | | | |
| Little Mac | | | |
| Link | | | |
| Zelda | | | |
| Sheik | | | |
| Ganondorf | | | |
| Toon Link | | | |
| Samus | | | |
| Zero Suit Samus | | | |
| Pit | | | |
| Palutena | | | |
| Marth | | | |
| Ike | | | |
| Robin | | | |
| Duck Hunt | | | |
| Kirby | | | |
| King Dedede | | | |
| Meta Knight | | | |
| Fox | | | |
| Falco | | | |
| Pikachu | | | |
| Charizard | | | |
| Lucario | | | |
| Jigglypuff | | | |
| Greninja | | | |
| R.O.B. | (JP) (US) | | |
| Ness | | | |
| Captain Falcon | | | |
| Villager | | | |
| Olimar | | | |
| Wii Fit Trainer | | | |
| Shulk | | | |
| Dr. Mario | | | |
| Dark Pit | | | |
| Lucina | | | |
| Pac-Man | | | |
| Mega Man | | | |
| Sonic | | | |
| Mewtwo | | N/A | N/A |
| Lucas | | N/A | N/A |
| Roy | | N/A | N/A |
| Ryu | | N/A | N/A |
| Cloud | | N/A | N/A |
| Corrin | | N/A | N/A |
| Bayonetta | | N/A | N/A |
Tour items
[
edit
]

Items take the form of trophies from the game. The following is a list of known items and their effects in Smash Tour. There are red, blue, and green items, with red items being used in battle, blue items being used on the game board, and green items being usable in both.
Stat boosts
[
edit
]
The following items can be found throughout the game board. Each item has its own use, and will help the player in some way during the subsequent fights. Additionally, every item can be found in different sizes, which alters how much of each stat will be boosted. There is a limit of 1000 points for each category.
Icon
Name
Description

Speed (

移動

, Movement)
A green item resembling a boot. Known to boost dashing speed; may also boost walking and air speed.

Jump (

ジャンプ

, Jump)
A yellow item resembling a wing. Increases jumping height (includes midair jump height and wall jump height); also appears to increase falling speed.

Attack (

通常ワザ

, Normal Art)
An orange item resembling a boxing glove. Boosts power of all normal attacks.

Special (

必殺ワザ

, Sure-Killing Art)
A red item shaped like a starburst. Boosts power of all special moves. Additionally, some special moves may gain increased range or a shortened charge time.

Arms (

投げ・アイテム

, Throw/Item)
A purple item resembling a sledge-hammer. Increases strength of projectiles, item attacks, healing effects from items, and throws. Additionally, grabbing range is increased and the user is less likely to drop items when attacked.

Defense (

防御

, Defense)
A blue item resembling a generic shield. Makes it more difficult to launch characters; it is currently unknown whether this is an increase in weight or a decrease in knockback taken (which may also result in flinch resistance). Additionally, the shield becomes harder to break and the timing for a perfect shield becomes more lenient.
Enemies
[
edit
]
The following is a list of all known enemies on the board that involve random events and their effects, if known. Some events begin boss battles, granting stat boosts to the player who defeats it. If they fail to defeat this boss, it will reappear elsewhere on the map.
List of battle types
[
edit
]
Most of these matches may also be team battles. If so, they will have "Team" at the start of the match name.
| Match Type | Description |
| --- | --- |
| Smash | A regular match. Items can appear, with some exceptions such as the Special Flag. |
| 300% Smash | A match where players start with 300% damage, akin to Super Sudden Death. |
| Battering Smash | A match where only battering items appear. |
| Boss Galaga Smash | A match where only the Boss Galaga item appears. |
| Explosive Smash | A match where only explosive items appear. |
| Flower Smash | A match where all fighters suffer from a permanent flower effect. |
| Glorious Smash | A match where no items appear and the stage is an Ω form, as in For Glory. |
| High-Launch Smash | A match where the launch rate is set very high, resulting in greater knockback. |
| Home-Run Contest | A multiplayer round of Home-Run Contest, with each player taking turns to get the highest score. |
| Mega Smash | A match where all fighters are giant. |
| Mr. Saturn Smash | A match where only the Mr. Saturn item appears. |
| Pokémon Smash | A match where only the Poké Ball and Master Ball items appear. This type of match is always set on a Pokémon stage. |
| Shooter Smash | A match where only shooting items appear. |
| Target Blast | A multiplayer round of Target Blast, with each player taking turns to see who can get the highest score in a single round. |
| Transformation Smash | A match where only transformation items appear, such as the Metal Box. |
| Warp Star Smash | A match where only the Warp Star item appears. |
| Boss Battle | A match against Yellow Devil, Ridley, or Metal Face. The winner of the battle is either whoever deals the final blow or is the last fighter standing. The winner gains extra stat boosts as well, and this reward will be greater if they initiated the Boss Battle. |
Challenges
[
edit
]
Gallery
[
edit
]
Music changes when a boss appears on the map.
If in a battle, one player has at least one fighter and the others don't have any, the battle ends automatically as soon as it starts, being a single person match. This also happens if players use the Latias & Latios item to put all fighters on the same team.
If a player reflects a Bus to the City trophy by using a Proto Man, all players are called to the Proto Man user's space.
If Mew is summoned during any Smash Tour battle, it will drop absolutely nothing.
Similar to the Wii Remote selection sounds in Brawl, collecting a fighter will have the players hear a phrase or sound specific to that character. For example, Wii Fit Trainer will say "Let's get fired up".
If no input is given by human players, the game will progress forward by itself. The only exceptions to this are the Smash Tour Home-Run Contest and Target Blast minigames, both will wait for human input before progressing. This trick allows one to get rewards and complete challenges from Smash Tour without having to actually play. The 'human player'-computer will collect Checkpoint Bonuses and fighters, chase the Metroid and Nabbit, and generally avoid other players.
In a Team Battle, it is possible to use the Latias & Latios item to make it a 3 VS 1 match.
In a boss battle, the DK Barrel will be temporarily disabled.
When a match begins, the type of battle will be displayed at the top-left corner. This shows up in the pause screen and even in snapshots. This does not occur in the final match.
Fighters that are Blast KO'd during the Final Battle will, for some reason, never finish their KO sounds unless they are the final fighter the player has.
The Ghosts item contains the game title Luigi's Mansion in their name despite there not being any other items named, "Ghosts." This is likely a leftover from their trophy, where they share the name with the Ghosts from PAC-MAN (along with Find Mii in the Nintendo 3DS version).