Iridescent Glint Beetle
From SmashWiki, the Super Smash Bros. wiki
Jump to navigation
Jump to search
Iridescent Glint Beetle (オオガネモチ, Millionaire) is an enemy from Pikmin 2.
Iridescent Glint Beetles are golden, sparkling versions of Iridescent Flint Beetles that drop items such as pellets when hit in the same way Flint Beetles do (but in greater quantities), and are much more rare. Instead of dropping nectar like Flint Beetles, they drop doses of Ultra-Spicy Sprays, and underground variants will drop treasures. They are incapable of directly harming Pikmin. When it appears, its shiny body distracts all nearby idle Pikmin, causing them to chase after it.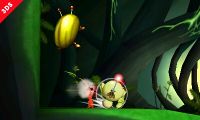 Iridiscent Glint Beetles appear as harmless enemies. When launched they drop gold, with the exact amount dependent on how far they're launched. After being launched five times, or after enough time elapses, they will dig underground and escape.
As one of the possible random events, some Iridescent Glint Beetles appear on the board. If a player walks into any of them it will drop treasures such as items and fighters.
The Iridescent Glint Beetle trophy appears in both versions.


Iridescent Glint Beetle
| No. | Image | Name | Type | Class | Cost | Ability | Series |
| --- | --- | --- | --- | --- | --- | --- | --- |
| 818 | | Iridescent Glint Beetle | | ★★ | 2 | Sticky-Floor Immunity | Pikmin Series |
Names in other languages
[
edit
]
| Language | Name |
| --- | --- |
|  Japanese | オオガネモチ |
|  English | Iridescent Glint Beetle |
|  French | Scarabée cristallisé |
|  German | Psychiflux |
|  Spanish | Escarabajo de oro iridiscente |
|  Italian | Scintillococco |
|  Chinese | Iridescent Glint Beetle |
|  Korean | Iridescent Glint Beetle |
|  Dutch | Bonte glimkever |
|  Russian | Мерцающий сверкожук |