Mode
From SmashWiki, the Super Smash Bros. wiki
Jump to navigation
Jump to search
"Solo" redirects here. For the Hero of Dragon Quest IV who is one of Hero's alternate costumes, see Hero.
Modes (sometimes referred to as Main Menus) are various ways to play Super Smash Bros. games. The list below shows all the modes of each games and compares them.
Comparison
[
edit
]
| | | | | |
| --- | --- | --- | --- | --- |
| Starter | Unlockable | Added via update | As part of another mode | No longer functions |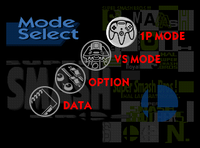 1P Mode
[
edit
]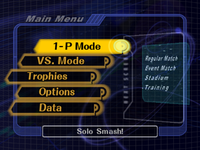 The * indicates that this mode must be unlocked.
1-P Mode
[
edit
]
Vs. Mode
[
edit
]
Trophies
[
edit
]
Options
[
edit
]
Archives (NTSC)
How to Play (PAL)
Only accessible via hacking
[
edit
]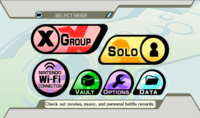 The * indicates that this mode must be unlocked.
Nintendo Wi-Fi
[
edit
]
Options
[
edit
]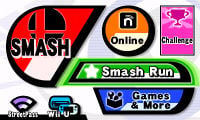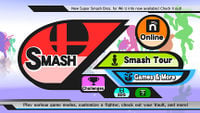 Games & More
[
edit
]
Other modes
[
edit
]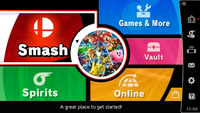 8-Player Smash is available as part of the regular Smash mode, and so it does not occupy a separate menu item as it did in Super Smash Bros. for Wii U.
Games & More
[
edit
]
In competitive play
[
edit
]
Many modes across the Smash series have developed their own competitive communities over the years. The most popular mode by a wide margin is the Vs. Mode of each game, which forms the basis for each game's tournament scene. While the exact rules and structure vary between games and region, the basic outline involves at least two players picking a character and a legal stage and playing until one is declared the winner. 1v1 games (often refered to as "singles") are the most popular format, but other formats such as 2v2 (often refered to as "doubles"), Squad Strike, and occasionally free for all and Smashdown matches also take place. Games involving Special Smash have also developed a niche competitive scene, with specific rules and conditions gaining popularity in side events.
Single player modes have also developed their own unique communities. Most modes involve the acheiving or breaking of some kind of record. Since players do not directly compete with each other in this format, a leaderboard system is often used to track these records. Players will submit their gameplay to the leaderboard for review, where it will be determined if the gameplay is both legitimate and meets all established standards. If it passes, it goes onto the leaderboard. Games that track a high score like Home-Run Contest and Multi-Man Smash have active communities frequently developing new techniques and strategies to acheive the highest possible score. Modes with a clear end point like All-Star Mode, Classic Mode, Target Smash and Events also have communities that also develop new techniques and strategies to complete the modes in the least possible amount of time, often dubbed a speedrun.
Modes that can be played online have mostly the same rules as offline, though some differ slightly to account for the different environment. There are often penalties put in place in the event of internet connectivity issues, with contingency plans set up in the case of major catastrophes. Some communities require certain modes to be played offline with official hardware, as playing online often means using emulators and unverified hardware, which brings the possibility of inconsistent gameplay and cheating.
In the Japanese version of Melee, the Main Menu is instead named Top Menu. Additionally, it was originally going to be named Top Menu in English as well, but the final version of the game reverts the name back to Main Menu.

Ultimate uses the name Top Menu in English, under the Dashboard's "Back to Top Menu" option.