Smash Tag
From SmashWiki, the Super Smash Bros. wiki
Jump to navigation
Jump to search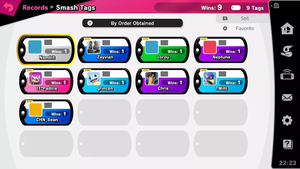 Smash Tags (対戦者タグ, Opponent Tag) are customizable tags that players can make and collect online in Super Smash Bros. Ultimate. Players can customize their own Smash Tags either by going to the Online section of the Options menu or directly from the Online menu, where they can choose their own profile icon as well as a background color. Players can also collect Smash Tags by winning online or local wireless matches depending on what place they were in and how many people they beat in the online and local wireless matches. In matches with more than two players, only the winner gets to collect all the opponents' Smash Tags; the ones placed below (except for the one in last) will only receive tags from those they eliminated.
Smash Tags can be viewed in the vault, and can be sold for in-game gold. The number of wins a player has against another player determines the selling price for a Smash Tag, with one win starting at 12 gold, and each win increasing that amount by 10 gold. If the player owns a Smash Tag from someone on their Nintendo Switch friend list, the tag will have a unique icon as well as a differently colored border.
In addition, Smash Tags themselves are connected to three Online-related Challenges: one is completed by claiming five tags, which will net the player 1,000 Spirit Points; another by claiming ten, which earns 2,000 Spirit Points; and another by claiming fifty, which has a reward of 3,000 Spirit Points.