10-Man Smash
From SmashWiki, the Super Smash Bros. wiki
Jump to navigation
Jump to search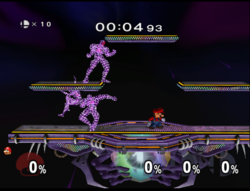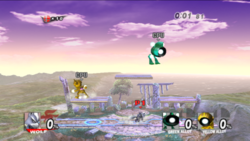 10-Man Melee, 10-Man Brawl, and 10-Man Smash are Multi-Man modes in Super Smash Bros. Melee, Super Smash Bros. Brawl and Super Smash Bros. 4, respectively. They challenge the player to defeat ten opponents (Fighting Wire Frames in Melee, Fighting Alloys in Brawl, and Fighting Mii Team in SSB4) without falling from the stage, Self-destructing, or being KO'd. Multi-Man Mode is always played on the respective version of the Battlefield stage. These are the shortest and perhaps easiest of all Multi-Man events, usually taking between 20 and 30 seconds to complete for an amateur player, though world records are all within roughly 6 and 7 seconds. In 10-Man Melee, each Fighting Wire Frame appears to be weaker than the last. In 10-Man Brawl, the last opponent is always a CPU controlled version of player 1's character. The enemies are not as powerful or aggressive as the ones in 100-Man Brawl/Melee or Endless Brawl/Melee but are still capable of KOing an opponent if in a large pack.
Rewards
[
edit
]
Clearing 10-Man Smash for the first time will result in unlocking Zoroark to appear in Poké Balls and Master Balls.
Clearing 10-Man Smash within 20 seconds will result in unlocking the Quick Smasher Protection Badge Equipment.
Clearing Solo 10-Man Smash with all characters will result in unlocking the Kat & Ana trophy.