Options (Online)
From SmashWiki, the Super Smash Bros. wiki
Jump to navigation
Jump to search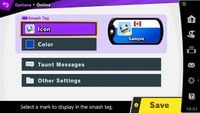 The Online Options menu is an online menu item in Super Smash Bros. Ultimate. Players will be able to adjust their Smash Tags here, they can set the profile picture and the background color of the tag.
In addition, there are two other menu items.
The Taunt Messages tab will allow players to assign messages on the directional-pad. What gets displayed depends on the direct that is pressed on the directional-pad. This can only be done before or after a battle.
The Other Settings tab provides setting on receiving notifications, enabling recommendations, and contains a notice on Online Play.
Gallery
[
edit
]