Video Editor
From SmashWiki, the Super Smash Bros. wiki
Jump to navigation
Jump to search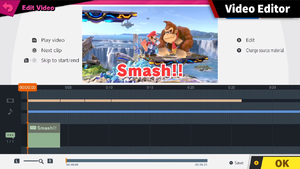 Video Editor is a feature introduced in the 3.0.0 update of Super Smash Bros. Ultimate that allows players to manipulate any replays and snapshots that have been recorded in-game. Multiple replays and snapshots can be spliced together with a selection of transitions. A set of subtitles can also be added along with a music track from the game's soundtrack in conjunction with these replays.
There are five different options when a video is chosen for edit: delete, copy, split here, transition, and audio. And also there are four options when a snapshot is chosen: delete, copy, split here and transition. Once a video is completed and saved, it can be exported and uploaded to either Shared Content or Smash World, where they are subject to the same moderation system as other uploaded content.
Limitations
[
edit
]
There are limitations to the functionality of this feature. Replays played on Custom Stages in Stage Builder cannot be used in this mode. This also applies to replays featuring DLC Fighters that the player does not own. Spliced clips must be at least one second in length to be usable, otherwise it will be deleted after saving. While progress can be saved at any point, only one save file is available at a time. Any previous save data will be automatically overridden. Only one set of subtitles and one music track can be used in a replay. Only snapshots taken from battles can be used in a video. Screenshots taken by the Switch capture button and edited screenshots from the Switch photo album cannot be used. Replays, videos, and snapshots taken before the current update cannot be used due to gameplay changes possibly causing desyncing issues.
Due to these shortcomings, those that wish to use video files often either minimally edit the video natively before transfering the file to a PC with professional editing software, or circumvent the feature entirely by recording footage with a capture card.