Peckish Aristocrab
From SmashWiki, the Super Smash Bros. wiki
Jump to navigation
Jump to search
The Peckish Aristocrab (カニタマ, Onion Crab) is an enemy from the Pikmin series.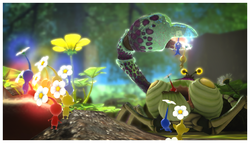 The Peckish Aristocrab first appeared in Pikmin 3. It is a crab-like enemy that can be found in both the Garden of Hope and the Tropical Wilds. It is able to block Pikmin that are thrown at it by using its huge claw as a shield. The claw can also be used to either stab the ground or grab multiple Pikmin and drop them into the Aristocrab's mouth. The Aristocrab can also defend itself by blowing bubbles at both Pikmin and Leaders, trapping them inside and making them float in the air until the bubbles pop. Strategies to defeating it include using Rock Pikmin to bombard it from behind or break its larger claw, and throwing Bomb Rocks into its mouth.
The Peckish Aristocrab's appearance is based on a male fiddler crab, which has one large claw and one small claw. Its bubble attack was inspired by how the fiddler crab is able to foam.
As a stage hazard
[
edit
]
The Peckish Aristocrab will appear randomly on either side of the background, indicated by a stream of bubbles. It will then scuttle into the foreground and across the stage, damaging any players in its way and destroying the pot and stick that appear on the stage. It is possible to remove the Peckish Aristocrab from the stage early by destroying the central bridge, causing the Peckish Aristocrab to scuttle down the side of the platform and into the pit.

Peckish Aristocrab
As a stage hazard
[
edit
]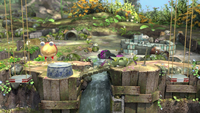 The Peckish Aristocrab reappears as a stage hazard on the returning Garden of Hope stage.
| No. | Image | Name | Type | Class | Slots | Base | Max | Base | Max | Base | Max | Ability | Series |
| --- | --- | --- | --- | --- | --- | --- | --- | --- | --- | --- | --- | --- | --- |
| 820 | | Peckish Aristocrab | | ★★ | 2 | 1662 | 6689 | 666 | 2682 | 902 | 3629 | Electric Weakness | Pikmin Series |
Names in other languages
[
edit
]
| Language | Name |
| --- | --- |
|  Japanese | カニタマ |
|  English | Peckish Aristocrab |
|  French | Crabognon |
|  German | Zwiebelkrabbe |
|  Spanish | Cepucranco |
|  Italian | Granchio cipolla |
|  Chinese (Simplified) | 洋葱蟹 |
|  Chinese (Traditional) | 洋蔥蟹 |
|  Korean | 게양 |
|  Dutch | Knulper |
|  Russian | Голодный аристокраб |