Mega Man (universe)
From SmashWiki, the Super Smash Bros. wiki
Jump to navigation
Jump to search
The Mega Man universe (known in Asian territories as Rockman (ロックマン) and occasionally written as Megaman) refers to the Smash Bros. series' collection of characters, stages, and properties that hail from the eponymous Mega Man series by Capcom. It is a Japanese video game franchise created by Capcom. Originating on the NES, the Mega Man franchise has spawned a multitude of video games across many platforms, as well as a variety of associated media. The series is the third such third-party franchise to contribute elements to a Smash game, with the titular Mega Man being a playable character in Super Smash Bros. 4 and Super Smash Bros. Ultimate.
Franchise description
[
edit
]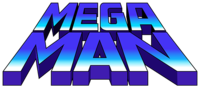 Capcom was originally known for creating arcade games and porting them to home consoles. This changed in the mid-1980s, when Capcom decided to formally enter the Japanese home console market by developing an original property for Nintendo's Famicom, the Japanese equivalent to the NES. A team of only six developers began work on a side-scrolling, weapon-based platformer game which they dubbed Rockman. The developers strove for perfection in all aspects of the project despite the severe technical limitations of the Famicom, and incorporated designs inspired by Osamu Tezuka's manga Astro Boy. The eponymous hero Rockman was colored blue simply because blue had the most available shades within the Famicom's limited color palette.
For the game's simultaneous release in Japan and the United States on December 17, 1987, Capcom U.S.A.'s then-Senior Vice President Joseph Marcini renamed the localized NES version of the game and titular character Mega Man, believing it would have a much wider appeal to young American audiences. Mega Man was released to favorable critical reception, but moderately low sales (around 100,000 copies overall), though they were higher than Capcom originally anticipated.
While Mega Man was not a large enough commercial accomplishment for Capcom to necessarily justify a sequel, the company allowed the development team to create a sequel as an aside to other projects. The team focused on improving the original formula with enhanced graphics and audio, more levels, and new supportive items that addressed consumer concerns over the extreme difficulty of the previous title. Mega Man 2, in stark contrast to the original, was a huge success; it sold over 1.5 million copies worldwide, definitively established Mega Man as a long-running flagship franchise, and propelled Capcom to its present-day status as a world-renowned game developer.
As of 2013, over fifty Mega Man games have been released, with many populating specific "sub-series" and exploring genres outside side-scrolling platforming. Iterations of the Mega Man character himself and other related characters, meanwhile, have appeared in Capcom-involved games outside the main series such as crossover fighting games like the Marvel vs. Capcom series that pits Capcom characters against Marvel Comics characters, and more recently, Nintendo's own Super Smash Bros. series.
Following the release of Mega Man 10 in 2010, series veteran Keiji Inafune had left Capcom, leaving the developers in limbo regarding what to do next with the franchise over the next few years, as no one at Capcom of Japan had immediately stepped up to take the leadership position. A free-to-play PC-exclusive fangame called Street Fighter X Mega Man was endorsed by Capcom in 2012 to celebrate both franchises' 25th anniversaries. Mega Man Universe was a level creation game similar to Super Mario Maker that was ultimately cancelled. And finally, the much-anticipated Mega Man Legends 3 was in development for the Nintendo 3DS and was in its alpha stage before it was ultimately cancelled. It marked a period of uncertainty for the franchise not unlike the Metroid hiatus in the 2010s, with many considering the series and its character "dead" by neglect.
However, the latter half of the decade started showing promise for a return to form for the property, as interest in the character was renewed following his appearance in Super Smash Bros. 4. Starting in 2015, Capcom started releasing Legacy Collections of the Mega Man franchise, curating the titles and archival content from throughout franchise's storied history. This trend started with Mega Man Legacy Collection containing the first six games from the NES era in August 2015; then Mega Man Legacy Collection 2 containing the rest of the numbered entries in August 2017; the two Mega Man X Legacy Collections with all the numbered games in the Mega Man X lineup in July 2018; and Mega Man Zero/ZX Legacy Collection, collecting the four Mega Man Zero and two Mega Man ZX games, in February 2020. The success of these releases resulted in a brand-new numbered installment in the main series, Mega Man 11, which was released in October 2018 for eighth-generation platforms, including the Nintendo Switch.
The most iconic formula of the Mega Man series, which has remained Rockman in Japan, is a side-scrolling platform game where the player controls the blue robot Mega Man, who has a "buster" cannon grafted onto his arm, as he shoots his way through levels packed with enemy robots. Oftentimes, eight levels are immediately available to complete in any order, and at the end of each level is a boss robot with a similar level of advanced construction and power as Mega Man himself, referred to as a "Robot Master". Defeating a Robot Master gains Mega Man a special weapon corresponding to that Robot Master that he may use for the rest of the game, and this weapon is typically the weakness at least one of the other seven Robot Masters. Since one Robot Master uses a weapon that is the weakness of another Robot Master, a rock-paper-scissors mechanic between all of the Robot Masters is formulated due to this.
Once Mega Man has defeated all eight Robot Masters and gained their weapons, he proceeds to a final set of harder stages typically taking place in the villain's fortress lair, featuring both special, harder bosses and a room where all eight Robot Masters are defeated one in a row, before battling and defeating the villain in his latest war machine or ultimate form.
The most prolific continuities and sub-series in the Mega Man franchise are as follows, each of which has its own incarnation on the Mega Man character design:
Mega Man Classic series: The original series depicts Mega Man in his most famous incarnation, that of a young "boy" robot in a near-future setting (variously stated to be the year "200X" or "20XX") designed in a colorful children's anime style. His kind-hearted inventor, Dr. Thomas Light, regularly sends Mega Man on missions to destroy the newest Robot Masters, always having names ending in "Man" (save for one notable exception named "Splash Woman" in Mega Man 9). These Robot Masters were either created or corrupted by the arch-rival of Dr. Light and Mega Man, Dr. Albert W. Wily - the very definition of the archetypal mad scientist out to take over the world. Mega Man is restricted by stilted precise jumping and sliding motions in his games, and in addition to the weapons he procures from Robot Masters, he must occasionally rely on specific allies to overcome stage obstacles, not the least of which is his transforming robotic dog companion, Rush.
Mega Man X series: Taking place a generation later (around the year "21XX"), this darker-toned series centers on an "older" successor to Mega Man, Mega Man X (Rockman X in Japanese, commonly simply called "X"), whom the late Dr. Light has left behind to police a world where more advanced, sapient robots are integrated into human society. Despite being his greatest creation, when X was finished, Dr. Light sealed him in a capsule, as he believed that the world wasn't ready to accept X. X was discovered by Dr. Cain a century later, and he made more robots that can think on their own, like X. These robots are called Reploids, short for replica androids. However, some Reploids have gone "Maverick", or violent, and started to rebel against humans. A special task force called the Maverick Hunters was made to counter the Mavericks. The leader of the Maverick Hunters, Sigma, eventually becomes a Maverick himself after fighting the then-Maverick, Zero, a Reploid made by Dr. Wily, the enemy of the original Mega Man. While Sigma turned more Reploids into Mavericks and eventually became their undisputed leader from within his personal ambition of eliminating the human race and creating a Reploid-only world, Zero stopped being a Maverick himself and soon joined the Maverick Hunters, becoming a good partner and close friend to X. Later on in the series, specifically in Mega Man X7, Axl, a young new generation Reploid prototype joins the Maverick Hunters as well after defecting from his former group Red Alert. In the X series, as well as the undermentioned Mega Man Zero and Mega Man ZX series, the player-character has more fluid movements, such as acceleration along the ground and jumping up along and clinging to walls. Whenever there is trouble, X, Zero, or Axl are sent to fight eight Mavericks that guard certain areas. These Mavericks are the Mega Man X equivalents of the Robot Masters. Most of them are under orders by Sigma, but some are not affiliated with him, such as Repliforce and Red Alert from Mega Man X4 and Mega Man X7 respectively. These Mavericks are fought (and defeated) by X or Zero, who then must battle all of them once again before taking the fight to Sigma in his lair.
Mega Man Zero series: Transitioning from the Mega Man X series, this subseries begins with a more brooding yet still determined Zero reawakening after a century of slumber into an even darker version of the world. Aided by a young female computer prodigy named Ciel, Zero battles for a resistance group against the governing body and "utopia", Neo Arcadia, whose questionable decisions in having to ensure both the safety and security of its human citizens led to many innocent Reploids being retired. At first, Zero had to fight against a defective copy of X who lacked the original's morals and ideals. However, even after defeating Copy X, Zero still had to keep fighting against Neo Arcadia, since it wasn't destroyed. It was eventually revealed (specifically in Mega Man Zero 3) that the real mastermind behind Neo Arcadia is Dr Weil, an evil and psychotic mad scientist who had sought revenge against those who had caused his downfall many years ago. Zero defeats and kills Weil from within their final battle, but dies immediately afterward, as the space station they were fighting in, Ragnarok, broke apart and fell down to Earth.
Mega Man ZX series: Taking place a few hundred years after the Mega Man Zero series, the player takes control of either a male or female character who can merge with Biometals, artifacts that can absorb the traits of a human or Reploid, to obtain new forms and abilities derived from other characters, including those from the earlier subseries. Only two games were ever released under this series banner, both of which were exclusive to the Nintendo DS and the latter game, Mega Man ZX Advent, releasing in 2007. After a cancelled attempt at a third entry (codenamed as ZXC), this series is currently on hiatus.
Mega Man Legends series: This series takes place thousands of years after the Mega Man ZX games, at a point where the Earth is mostly ocean and civilization is dependent on digging into the remaining islands for a power source. The player controls MegaMan Volnutt (or Rock Volnutt in Japan), a robotic Digger, who investigates ruins and does battle against air pirates known as the Bonne family. In another series departure, these games focus on third-person action-adventure elements. After a cancelled attempt at a third entry for the Nintendo 3DS, this series is currently on hiatus.
Mega Man Battle Network series: An alternate reality where spiritual counterparts to classic Mega Man characters (along with three from the Mega Man X series) exist not as robots, but as computer programs that navigate and do battle in cyberspace as though they were physical beings navigating a physical plane, as per the commands of real-world humans at their computers. Dr Wily in this universe is the head of a net-crime organization called the WWW ("World Three"), and the main human protagonist, Lan Hikari (

光熱斗

Hikari Netto), has his "NetNavi" and the main player character, MegaMan.EXE (Rockman.EXE in Japanese), foil the WWW's cyber-schemes by deleting the "Virus" enemies it sends. The gameplay of the primary Battle Network series is an enormous departure from the side-scrolling platforming of the other games in that it operates similar to a grid-based RPG.
Mega Man Star Force series: A series of over-the-shoulder action RPGs set 200 years later in the future of the Battle Network continuity. It stars a human boy named Geo Stelar (

星河スバル

Subaru Hoshikawa) who regularly merges with an electromagnetic alien named Omega-Xis (Warrock in Japanese) to become a blue-suited "Mega Man" of his own, Star Force Mega Man, and fight enemies in an invisible electromagnetic plane overlaid with the real world. After a cancelled attempt at a fourth entry (discovered on June 14, 2019), this series is currently on hiatus.
The Mega Man universe debuts in Smash 4 as the first Capcom series to make it into the Smash Bros. franchise, receiving a character, stage (alongside a boss), an Assist Trophy, and an assortment of trophies and music tracks.
Fighter
[
edit
]
Mega Man (Starter): the title character of Capcom's Mega Man series; an android named Rock created by the illustrious Dr. Light. He was originally designed by Light to serve as a lab assistant, but he was ultimately modified to serve a higher purpose after Light's former colleague - Dr. Wily - went rogue. Equipped with the Mega Buster and the ability to absorb the powers of adversarial Robot Masters, Mega Man foils the plans of the nefarious Wily time after time with a strong sense of justice. He is one of the most iconic video game characters. Similar to Nintendo's Mario and Namco's Pac-Man, Mega Man is often treated as the unofficial mascot of Capcom. Despite being a third-party character, he is closely associated with Nintendo; the first seven Mega Man games released from 1987 - 1995 were originally exclusive to Nintendo consoles and he had a reoccurring presence on the American cartoon series Captain N: The Game Master, appearing alongside Nintendo's Pit and Konami's Simon Belmont. Mega Man was one of the five third-party characters to appear on the Japan-exclusive "If There Was a Smash 2" poll conducted by Masahiro Sakurai between the releases of the original Smash Bros. and Super Smash Bros. Melee. Even though the Mega Man series entered a brief period of dormancy that coincided with the development of Super Smash Bros. 4, Mega Man was deemed significant enough to not only be included as a new fighter, but to also be one of the first shown off. He was revealed to be a newcomer in Smash 4 with the games' unveiling during E3 2013 alongside Villager and Wii Fit Trainer. His weight, gravity, and overall physics are faithful translations of the feel of the original Mega Man games. He has very few physical attacks, instead relying on a vast arsenal of weapons obtained from defeated Robot Masters from across the series. For his up special, he summons the robotic dog Rush to perform Rush Coil. Like Palutena, Mega Man has a wide variety of custom moves, one of which replaces Rush with another companion of his - the robotic bird Beat. Mega Man's Final Smash, Mega Legends, has him fire a continuous beam of energy alongside his alter egos: Mega Man X from the eponymous subseries, MegaMan.EXE from Mega Man Battle Network, Mega Man Volnutt from Mega Man Legends, and Geo Stelar from Mega Man Star Force.
Yellow Devil: a giant, amorphous cyclops built by Dr. Wily. It is the stage boss of Wily Castle. It moves across the stage by dividing into smaller, spherical blobs that resemble into the Yellow Devil at the opposite end of the stage. It attacks players using its subdivisional body and by launching an array of different projectile beams from its eye. Its only weak point is its eye, an attribute carried over from the Mega Man games. After accumulating enough damage, the Yellow Devil explodes. The radius of the blast will trap opponents for the player who landed the final blow. It appears on the Smash Tour board as well in a dedicated "Boss Battle" triggered by the first player to cross its path. The victor is awarded an huge loot of stats. Files left in the 3DS version suggests that it was intended to appear in Smash Run in some unknown capacity alongside the other two stage bosses: Ridley and Metal Face.
Wily Castle (Starter): staged on a metal plateau before Dr. Wily's Skull Castle - the final stage of Mega Man 2. The plateau is flanked by two floating platforms. The main gimmick of the stage is that the Yellow Devil resides here as a stage boss. Otherwise, it is a stage similar to Yoshi's Island, with small floating platforms moving in and out of the stage. The platforms that appear differ in function depending on the version of Smash 4. In the 3DS version, platforms will float above the plateau and to the left and right of it. The layout is similar to the Bright Man Stage from Mega Man 4. In the Wii U version, on-rail platforms move along a set path. They are similar to the moving platforms in the Guts Man Stage from the original Mega Man; there are breaks in the rails that cause the platforms to abruptly fold and drop the the characters and items that were on top of it. It is one of the possible stages to appear in Level 3(

3DS

) and Level 4(

Wii U

) of All-Star Mode as a home stage for Mega Man. Only its Ω form can accommodate 8-Player Smash, which takes place on the plateau.
Assist Trophy
[
edit
]
Elec Man: a Robot Master from the original Mega Man; an android that can discharge electricity from his hands. When summoned, he hops around the stage and fire projectile Thunder Beams at opponents. He does not harm the summoner.
Energy Tank (

Red

): a health-restoring item from Mega Man 2. It heals the user if their damage exceeds 100% in battle.
Proto Man (

Green

) a reoccurring rival of Mega Man's created by Dr. Light and Dr. Wily. He is used on the board. If an opponent tour item specifically targets this item's user, it is reflected back to that item's user.
Outfits
[
edit
]
Headgear
[
edit
]
Original Tracks
[
edit
]
Arrangements and remixes unique to SSB4.
Source Tracks
[
edit
]
Compositions and arrangements directly sourced from Mega Man games with no alterations.
Mega Man Retro Medley: a medley of sourced pieces from the original Mega Man, including: "Game Start", "Elec Man Stage", "Bomb Man Stage", "Cut Man Stage", "Guts Man Stage", "Fire Man Stage", and "Ice Man Stage". It plays on Wily Castle.
Mega Man 2 Retro Medley: a medley of sourced pieces from Mega Man 2, including: "Air Man Stage", "Wood Man Stage", "Quick Man Stage", "Flash Man Stage", "Crash Man Stage", "Metal Man Stage", "Dr. Wily Stage 1", and "Dr. Wily Stage 2". It plays on Wily Castle(

Wii U

).
Mega Man 3 Retro Medley: a medley of sourced pieces from Mega Man 3, including: "Top Man Stage", "Shadow Man Stage", "Spark Man Stage", "Snake Man Stage", and "Hard Man Stage". It plays on Wily Castle(

Wii U

).
Mega Man 4-6 Retro Medley: a medley of sourced pieces from Mega Man 4, 5, and 6, including: "Dive Man Stage", "Skull Man Stage", "Dark Man Stage", and "Flame Man Stage". It plays on Wily Castle(

Wii U

).
Victory Theme
[
edit
]
Victory! Mega Man: the first few bars of "Title" from Mega Man 2, led by electric guitar.
Trophies
[
edit
]
Masterpiece
[
edit
]
The Mega Man franchise returns with a sizable boost in representation. Along with all previous content returning (sans one Assist Trophy), the franchise has expanded its scope to include content from other subseries such as Mega Man X and Mega Man Star Force. Along with the titular character returning as an unlockable fighter, two new Assist Trophies make their debut. The lone Mega Man stage returns now with more hazards and an even larger selection of music tracks, both sourced and rearranged. Rounding out the representation is a large variety of Spirits spanning every major video game subseries in the franchise, with no other third-party series having as many Spirits in Smash as Mega Man.
Fighter
[
edit
]
46.

Mega Man (Unlockable): The iconic Blue Bomber and star of the original series returns as an unlockable fighter after being a starter in Smash 4. He no longer has access to his large variety of Robot Master abilities as custom special moves, but he retains his patient projectile-centered playstyle nonetheless. For his Final Smash, Mega Legends, the Mega Man incarnations are now joined by Proto Man and Bass.
Yellow Devil: The Yellow Devil returns as a stage boss on the Wily's Castle stage. It remains functionally unchanged.
Wily Castle (Starter): The iconic base from Mega Man 2 returns with the stage updated to have the stage hazards of both the 3DS and Wii U versions of Smash 4.
Assist Trophies
[
edit
]
With Elec Man's removal, both of the Mega Man Assist Trophies are new to the Smash Bros. series.
Zero: Zero makes an appearance as an Assist Trophy. He attacks opponents with the Z-Saber and Genmu Zero.
Wily Capsule: Dr. Wily appears in his recurring final machine, the Wily Capsule, attacking with fire, lightning, and ice orbs similar to its appearance in Mega Man 7.
Outfits
[
edit
]
Headgear
[
edit
]
Original Tracks
[
edit
]
Arrangements and remixes unique to Ultimate.
Returning Tracks
[
edit
]
Arrangements and remixes returning from Smash 4.
Source Tracks
[
edit
]
Tracks sourced directly from the Mega Man games.
Victory Theme
[
edit
]
Spirits
[
edit
]
Media with elements appearing in the Super Smash Bros. series

[

edit

]
The Mega Man universe has media represented throughout the Super Smash Bros. series with a total of 36 games and medias. The latest game represented in this universe is Mega Man 10, released on March 1, 2010.
Mega Man is the first third-party universe to have debuted on a Nintendo system and currently one of five third-party universes to have done so; the others are Final Fantasy, Castlevania, Dragon Quest, and Banjo-Kazooie.

Coincidentally, both Mega Man and Final Fantasy debuted on the NES in 1987, with the former being released the day before the latter launched.

Mega Man universe has the most Assist Trophies across the series when compared to any other third-party franchise, with three in total.

It also has the largest amount of Assist Trophies out of all single-character universes.
This also makes it one of two third-party franchises to have more than one Assist Trophy, the other being Sonic the Hedgehog.