Nintendogs (universe)
From SmashWiki, the Super Smash Bros. wiki
Jump to navigation
Jump to search
The Nintendogs universe (ニンテンドッグス, Nintendogs) is a real-time pet simulation franchise developed and published by Nintendo for the Nintendo DS.
Franchise Description
[
edit
]
The origins of the series can be traced by to 1997, where Shigesato Itoi, Tsunekazu Ishihara, and Shigeru Miyamoto worked together on a pet simulation tech demo for the Nintendo 64 codenamed Cabbage. This demo used the internal clock and writable cartridges on the 64DD add-on to add an unprecedented layer of depth and customizability to the pets on consoles. It also had cross-functionality with the Game Boy, though the exact mechanics have never been revealed. After several delays and the failure and discontinuation of the 64DD in 2000, the project was ultimately canceled, but elements were taken and used in a GameCube tech demo, titled Puppy Times at this point, based on the experiences of Miyamoto when his family got a pet dog. Development shifted to the DS after the team thought the project was better suited for the system.
The original idea was for every dog breed to have its own dedicated game, as if the player chose the dog from a kennel. However, developing fifteen different games simultaneously proved too complicated and time consuming, so the project was condensed into three versions: Dachshund & Friends, Shiba & Friends (titled Lab & Friends outside of Japan), and Chihuahua & Friends. It has been re-released twice since then, first as a bundled release with a special edition Nintendo DS with a new version called Nintendogs: Best Friends, and then again as Nintendogs: Dalmatian & Friends. A full sequel, Nintendogs + Cats, released as a launch title for the Nintendo 3DS. This game also came in three different versions: French Bulldog & New Friends, Shiba & New Friends (titled Golden Retriever & New Friends outside of Japan), and Toy Poodle & New Friends.
Assist Trophy
[
edit
]
A Labrador Retriever Nintendog features in Brawl as an Assist Trophy. When summoned, the Nintendog will appear at regular size among the players, before jumping towards the screen and trying to play with the player. This will obscure a player's view of the stage.
Nintendog
A puppy for you to train on your Nintendo DS. They come in a wide variety of breeds, colors, coat styles, and personalities. You can train them, use dog toys to play with them, and feed them treats to establish a real link with your virtual pet. Other features include the ability to enter your dog in disc-catching contests and agility trials on obstacle courses.
: Nintendogs
Stickers
[
edit
]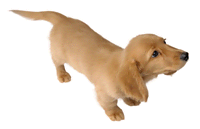 Miniature Dachshund


(Nintendogs)


Chihuahua


(Nintendogs)


Shiba Inu


(Nintendogs)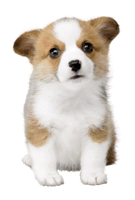 Welsh Corgi


(Nintendogs)
The Nintendogs universe saw a marginal boost in representation in Smash 4, with a new stage, two new songs, and an update to the Assist Trophy.
Stage (for Nintendo 3DS only)

[

edit

]
Living Room (Starter): A stage based on nintendogs + cats appears in Super Smash Bros. for Nintendo 3DS. Various types of cats and dogs appear in the background. Building blocks and toys occasionally fall onto the arena and disappear later.
Assist Trophy
[
edit
]
Nintendog: The Nintendog assist trophy returns, this time as a French Bulldog, with the same role as in Brawl, blocking the screen from the player.
Trophies
[
edit
]
These are all of the trophies from the Nintendogs series.
Super Smash Bros. for Nintendo 3DS
Golden Retriever
American Beagle
Yellow Labrador
Jack Russell
Toy Poodle
Calico
Living Room (Starter): Returns as a retro stage, it received an HD upgrade from its apparition in Smash for 3DS.
Assist Trophy
[
edit
]
Nintendog: The Nintendog returns once again in Ultimate, with the same role as in Brawl and Smash 4. The Nintendog's breed is now of a Toy Poodle.
Original Track
[
edit
]
Returning Tracks
[
edit
]
Spirits
[
edit
]
The following characters from the series are spirits.
| No. | Image | Name | Type | Class | Cost | Ability |
| --- | --- | --- | --- | --- | --- | --- |
| 1,254 | | Toy Poodle | | ★★ | 1 | Stats ↑ after Eating |
| 1,255 | | French Bulldog | | ★★ | 1 | Undamaged Attack ↑ |
| 1,256 | | Labrador Retriever | | ★★ | 1 | Physical Attack ↑ |
Games with elements appearing in the Super Smash Bros. series

[

edit

]
Stages:
Stage elements:

The Beagle, Toy Poodle, Golden Retriever, Shiba Inu and Jack Russell Terrier appear in the background of Living Room.

Assist Trophies:
Trophies:
Music:
Stages:
Assist Trophies:
Trophies:
Spirits:
Nintendogs is the only universe to have a stage and an Assist Trophy, but lack a playable fighter.
Gallery
[
edit
]