Custom Robo (universe)
From SmashWiki, the Super Smash Bros. wiki
Jump to navigation
Jump to search
The Custom Robo universe (カスタム ロボ, Custom Robo) is an action role-playing game franchise developed by NOISE and published by Nintendo.
Franchise Description
[
edit
]
The original game was released in 1999 on Nintendo 64. The game was inspired by many of the developers' childhood fantasies of actually becoming the toys and action figures they played with. The gameplay takes place within "holosseums", small virtual colosseums where two to four miniature robots battle it out with various guns, bombs, and pods. This mechanic is once again inspired by model toys, which also were designed to have a miriad of interchangeable parts. The game was innovative at the time for its vast amount of custom options for each character, allowing potentially hundreds of different playstyles. The game was Japan exclusive, though it did officially release in China on the iQue Player in 2006. A sequel titled Custom Robo V2 also released for the Nintendo 64 and exclusive to Japan in 2000. The game is largely the same as its predecessor, but with more custom parts and the introduction of a tag-team mode.
The next game released on Game Boy Advance in 2002, titled Custom Robo GX. Due to being on inferior hardware, the game is entirely in 2D with sprite based graphics. Despite the departure, the game introduced several new mechanics like sky battles and zero gravity battles. A direct sequel to this game was in the works, but was canceled.
The next game, Custom Robo: Battle Revolution, was released on GameCube in 2004, and was also the first in the series to be released outside of Japan, debuting in North America as simply Custom Robo. While gameplay is mostly similar to the N64 entries, this game is set apart with more emphasis on story and an overall darker tone. The next and final release in the series is Custom Robo Arena, released on Nintendo DS in Japan in 2006 and released in other regions throughout 2007. This is the only game in the series to officially release in Europe, therefore also making it the only entry with a world-wide release. Gameplay is similar to Battle Revolution, including a sizeable story mode, but the presentation and tone is much more lighthearted like the N64 games as a way to bridge the different eras of the series.
Several characters from Custom Robo V2, which was released in Japan only, appear as trophies.
Trophies
[
edit
]
Ray Mk II

The Custom Robo games feature combat between small robots averaging about 12 inches (30cm) in height. Ray Mk II is the upgraded descendant of one of the combatants from the original game. It's a well-balanced Jumper model in the Shining Fighter line of robots. Its stable design lets it excel with a minimum of customization.
: Custom Robo 2 (Japan only)
Bayonette

Tsurugi and Yaiba, twin brothers who were bewitched by the dark power, combined their beloved robots Spear and Lance to form this illegal robot. The brothers used the Strike Vanisher model as a base, but then added a number of stealth capabilities. This successful power-up is nothing short of a Custom Robo miracle.
: Custom Robo 2 (Japan only)
Annie

Annie, a Jumper model in the Stunner line of robots, was the robot used by Nanase, a cadet at the Takuma Academy, a commander training school. At the climax of the story, Nanase fell prey to temptation and stained her hands with the illegal robot Majei. This act ultimately set the stage for her undeniably tragic end.
: Custom Robo 2 (Japan only)
Custom Robo received a slight expansion in terms of content, with an Assist Trophy, three trophies, and a handful of stickers.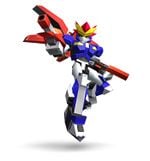 Assist Trophy
[
edit
]
Ray Mk III, hailing from Custom Robo Arena, appears as an Assist Trophy in Brawl. When summoned, it will fly to the center of the stage and fire either a barrage of energy bullets, or a singular missile. These bullets can be reflected or absorbed. Ray Mk III may occasionally fly slightly to the left or right, and fire another attack before returning to his original position. Ray MK III is unlocked as an Assist Trophy after 100 Vs. Matches have been played.
Trophies
[
edit
]
Ray Mk III

The custom robo used by the main character. It's the latest Shining Fighter model in the Ray line of robots, which appears throughout the Custom Robo series. The main character switches from his beloved Ray Mk II to this model after his sister and father develop it. This one has a great balance between built-in abilities and ease and depth of available customization.
: Custom Robo: Arena
Custom Robos

Small robots. Custom robos average about 12 inches (30cm) in height. Battling of custom robos fitted with weapon combos—including guns, bombs, and pods—is a hobby of the future, taking place in a virtual arena called a holosseum. The different customization options allow for many battle strategies. Clearly defined regulations provide for a highly competitive activity.
: Custom Robo
: Custom Robo: Arena
Jameson & A.I.R.S.

Highly illegal modified robos. The Jameson is based on the Lightning Sky. It and the A.I.R.S., a high-end Ray machine, can transform into fighter jets. The A.I.R.S. was developed for military use and thus cannot be used by all commanders. Both of these robos were available via DS Download Stations in Japan.
: Custom Robo: Arena
Stickers
[
edit
]


Ray


(Custom Robo)


Annie


(Custom Robo V2)


Robo Cube


(Custom Robo BR)


Seal Head


(Custom Robo BR)


Rakensen


(Custom Robo BR)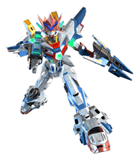 Ray 01


(Custom Robo BR)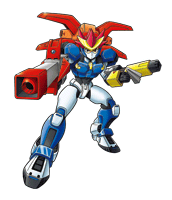 Ray MKIII


(Custom Robo Arena)
Custom Robo receives representation once again after being entirely absent from Super Smash Bros. 4. Though its Assist Trophy did not return, it is still represented by a Mii outfit and a handful of spirits.
Headgear
[
edit
]
Spirits
[
edit
]
The following characters from the series are spirits.
Primary spirits
[
edit
]
| No. | Image | Name | Type | Class | Slots | Base | Max | Base | Max | Base | Max | Ability |
| --- | --- | --- | --- | --- | --- | --- | --- | --- | --- | --- | --- | --- |
| 1,160 | | Ray Mk II | | ★★ | 3 | 1427 | 5710 | 856 | 3426 | 571 | 2284 | Can Be Enhanced at Lv. 99 |
| 1,161 | | Ray Mk III | | ★★★ | 3 | 2864 | 8594 | 1584 | 4752 | 1170 | 3512 | Lightweight |
| 1,162 | | Flare | | ★ | 3 | 941 | 4712 | 489 | 2447 | 416 | 2084 | Weight ↓ |
Support spirit
[
edit
]
| No. | Image | Name | Class | Cost | Ability |
| --- | --- | --- | --- | --- | --- |
| 1,163 | | Bayonette | ★ | 2 | Steel Diver Equipped |
Games with elements appearing in the Super Smash Bros. series

[

edit

]
Trophies:

Several robos that originated from this game, such as Dicky, Bit, Pico, and Bel, appear in the Custom Robos trophy.
Playable characters:
Spirits: