Swapnote (universe)
From SmashWiki, the Super Smash Bros. wiki
Jump to navigation
Jump to search
The Swapnote universe (いつの間に交換日記, Unnoticed Exchange Diary) is a messaging application for the Nintendo 3DS family.
Franchise Description
[
edit
]
Swapnote is the successor to the DS's Pictochat and was first launched on December 21st, 2011 in Japan through the Nintendo eShop. Similar to its predecessor, Swapnote allows players to send hand-drawn pictures to friends via StreetPass or SpotPass. As more pictures are sent, some perks are unlocked, such as the ability to draw messages in 3D; more perks could subsequently be unlocked using Play Coins. Pictures can be taken and edited on Swapnote, and audio can be added into pictures. When the user needs help, a Mii named Nikki would come and help with the problem.
On October 31st, 2013, Nintendo disabled Swapnote's SpotPass functionality; the reason for this is most likely because of Japanese children sharing Friend Codes with strangers who use Swapnote to send obscene photos.
In November 2016, the successor of Swapnote, called Swapdoodle was released, featuring Nikki in a new design.
On December 15, 2020, Nintendo suddenly released an update for the original Swapnote which included renaming it Swapnote Remastered. This update and name change caused confusion due to the online component still being shut down. No further developments have occurred since this update.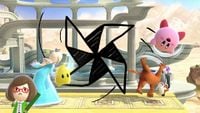 The Swapnote series makes its debut in Ultimate solely with Nikki.
Assist trophy
[
edit
]
Nikki: She appears as an Assist Trophy. When summoned, she uses her pencil to draw a picture, which attacks nearby opponents. She can draw a Bullet Bill, a flock of birds, a pinwheel, a dragon, a ghost, and even a destructible Smash Ball. She will draw up to 3 items before vanishing.
Nikki also appears as a spirit in Ultimate.
| No. | Image | Name | Type | Class | Cost | Ability |
| --- | --- | --- | --- | --- | --- | --- |
| 1,260 | | Nikki | | ★★★ | 1 | Shield Durability ↑ |
Media with elements appearing in the Super Smash Bros. series

[

edit

]
Assist Trophy:

Nikki appears as an Assist Trophy.
A Swapnote stage for Smash 4 is heavily speculated to have been planned due to data found within the game's files, but was cut. While not concrete, this is likely due to the same controversy that led to the app shutting down its online features in 2013, which is the around same time Smash 4 was in development. It is also possible that PictoChat 2 was a replacement for this stage.