Mega Man 2
From SmashWiki, the Super Smash Bros. wiki
Jump to navigation
Jump to search
Mega Man 2 (ロックマン 2: Dr.ワイリーの謎, Rockman 2: Mystery of Dr. Wily) is a 1988 platforming game published by Capcom for the Nintendo Entertainment System and the second game in the Mega Man series.
The game improved on many elements from the original Mega Man game such as graphics, music, and modifications to make the difficulty balance more manageable such as the introduction of E-Tanks, which restore health, and allowing damage invincibility to temporarily protect Mega Man from spikes. The game also introduced transportation items that would later be revived throughout the series as Rush.
The game's story sees Mega Man continuing his fight against Dr. Wily as he introduces eight Robot Masters of his own. Once Mega Man defeats all eight Robot Masters, he infiltrates Dr. Wily's castle and confronts the doctor himself.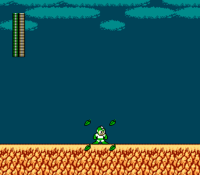 Many of Mega Man's moves originated in Mega Man 2, including Metal Blade, Crash Bomber, and Leaf Shield; they were obtained from defeating Metal Man, Crash Man, and Wood Man respectively.
The design of Wily Castle comes from Dr. Wily's Castle in this game. This area is often the final area of the Mega Man games.
Mettaur appears as an enemy in Smash Run.
"Mega Man 2 Medley," "Air Man Stage," "Quick Man Stage," "Mega Man 2 Retro Medley," "Metal Man Stage," "Crash Man Stage," "Flash Man Stage," and "Wood Man Stage" all originate from this game.
Trophies
[
edit
]
In Smash 4

[

edit

]
Both versions
[
edit
]
Name
Category
Picture
Picture
Description
Mega Man
Fighter

The main hero from Capcom's 1987 action game, Mega Man. He travels from stage to stage, defeating Robot Masters to obtain new weapons. He uses this vast arsenal in Smash Bros. in a variety of ways. Metal Blades, for example, can be fired in eight directions and picked up off the ground!

The main hero from Capcom's 1987 action game Mega Man. He travels from stage to stage, defeating Robot Masters to obtain new weapons. He uses this vast arsenal in Smash Bros. in a variety of ways. Metal Blades, for example, can be fired in eight directions and picked up off the ground!

: Mega Man (12/1987)
: Mega Man 2 (07/1989)

In 1989, Capcom's new action hero, Mega Man, arrived in Europe! He made his way through levels, defeated bosses and took their weapons. He's got plenty of weapons in this game, too. His Metal Blade, for example, can be thrown in eight directions and goes right through foes! If it sticks in the ground, though, anyone can pick it up.

: Mega Man (12/1989)
: Mega Man 2 (12/1990)

Mega Man (Alt.)
Fighter

Mega Man has more than 10 different weapons at his disposal. His forward air attack, Flame Sword, affects a wide area and doesn't leave much of an opening, making it useful in a variety of situations. His Leaf Shield special spins four leaves around him to deflect projectiles or hurt foes. He can also fire the leaves forward.

Mega Man has more than 10 different weapons at his disposal. His front air attack, Flame Sword, affects a wide area and doesn't leave much of an opening, making it useful in a variety of situations. His Leaf Shield special spins four leaves around him to deflect projectiles or hurt foes. He can also fire the leaves forward.

: Mega Man (12/1987)
: Mega Man 2 (07/1989)

Mega Man has more than ten different weapons at his disposal. His forward air attack, Flame Sword, affects a wide area and doesn't leave much of an opening, making it useful in a variety of situations. His Leaf Shield special spins four leaves around him to block attacks and projectiles. He can also fire the leaves forwards.

: Mega Man (12/1989)
: Mega Man 2 (12/1990)

Mettaur
Enemy
Series Related

This enemy comes to Smash Bros. from the Mega Man series, bringing its distinct yellow helmet along with it. Usually hiding under its helmet, every so often a Mettaur will show its face to fire off a few shots. You can't hurt them when they hunker down, but you can grab them...

A familiar foe from the Mega Man series, these guys are pretty distinct with that big yellow helmet. It looks a lot like a hard hat from a construction site. It's pretty great protection—you can't really hurt these guys until they look up from under the helmet. The Cactuspy and slippery New Met are pretty similar.

: Mega Man (12/1987)
: Mega Man 2 (07/1989)

An enemy from the Mega Man series, noteworthy for the yellow helmet covering its whole body. Every so often, a Mettaur will show its face and fire three shots at once. It'll only take damage when its face is showing, so time your attacks carefully. Alternatively, you can just grab it and lob it. Your choice.

A familiar foe in the Mega Man series, noteworthy for the yellow helmet covering its whole body, which looks rather like the hard hats you see on construction sites. You can't hurt it until its face emerges from under the helmet, so watch for your chance to strike. Similar foes include the Cactuspy and the slippery New Met.

: Mega Man (12/1989)
: Mega Man 2 (12/1990)

Dr. Wily
Series Related

A mad scientist from the Mega Man series who develops deadly robots to try and take over the world. He's not above stealing the robots made by other scientists and modifying them for his own evil ends, either. Dr. Wily has a tendency to beg for forgiveness when Mega Man inevitably defeats him; those tears don't look all that genuine, honestly...

A mad scientist from the Mega Man series who develops deadly robots to try to take over the world. He's not above stealing the robots made by other scientists and modifying them for his own evil ends, either. Dr. Wily has a tendency to beg for forgiveness when Mega Man inevitably defeats him, but those tears don't look all that genuine, honestly...

: Mega Man (12/1987)
: Mega Man 2 (07/1989)

A mad scientist from the Mega Man series who develops deadly robots to help him take over the world. He's also not above taking robots made by other scientists and modifying them for his own evil ends. Dr. Wily has a tendency to beg for forgiveness when Mega Man inevitably defeats him, but somehow he never learns.

: Mega Man (12/1989)
: Mega Man 2 (12/1990)

Energy Tank
Series Related

These restore Mega Man's health. You can keep any you find and use them from the menu at any time. They first appeared in Mega Man 2. Later titles added items like Mystery Tanks, which also restore weapon power, and Mini E Tanks, which grant you an Energy Tank when you collect four.

: Mega Man 2 (07/1989)
: Mega Man 4 (01/1992)

These are filled with simulated solar power that restores Mega Man's health. You can keep any you find and use them from the menu at any time. They first appeared in Mega Man 2. Later titles added items like Mystery Tanks, which also restore weapon power, and Mini E Tanks, which grant you an Energy Tank when you collect four.

: Mega Man 2 (12/1990)
: Mega Man 4 (08/1993)
Name
Picture
Description
Dr. Light
Series Related

The genius scientist Dr. Thomas Light developed a variety of robots for peaceful purposes. Sadly, most of them were then reprogrammed by Dr. Wily and became warlike bringers of chaos. In order to combat them, Dr. Light saw no option but to convert his own robot assistant, Mega, into the heroic warrior Mega Man.

: Mega Man (12/1987)
: Mega Man 2 (07/1989)

The genius scientist Dr. Thomas Light developed a variety of robots for peaceful purposes. Sadly, most of them were then reprogrammed by Dr. Wily and became warlike bringers of chaos. In order to combat them, Dr. Light saw no option but to convert his own robot assistant, Rock, into the heroic warrior Mega Man.

: Mega Man (12/1989)
: Mega Man 2 (12/1990)

Roll
Series Related

A household robot that Mega Man thinks of as a sister. This trophy is based on the original Roll from Mega Man games 1 to 7. Her appearance and backstory may differ somewhat between titles, but she always has long, blonde hair, a red outfit, and a kind, reliable personality. In some games, you can even play as her!

: Mega Man (12/1987)
: Mega Man 2 (07/1989)

A household robot that Mega Man thinks of as a sister. This trophy is based on the original Roll from Mega Man games 1 to 7. Her appearance and backstory may differ somewhat between titles, but she always has long blonde hair, a red outfit and a kind, reliable personality. In some games, you can even play as her!

: Mega Man (12/1989)
: Mega Man 2 (12/1990)
Spirits
[
edit
]
Primary spirits
[
edit
]
| No. | Image | Name | Type | Class | Slots | Base | Max | Base | Max | Base | Max | Ability |
| --- | --- | --- | --- | --- | --- | --- | --- | --- | --- | --- | --- | --- |
| 883 | | Metal Man | | ★★ | 2 | 1700 | 6824 | 595 | 2388 | 1105 | 4436 | No Effect |
| 888 | | Wood Man | | ★★ | 2 | 1816 | 7315 | 786 | 3165 | 961 | 3869 | Fire Weakness |
Support spirits
[
edit
]
| No. | Image | Name | Class | Cost | Ability |
| --- | --- | --- | --- | --- | --- |
| 884 | | Air Man | ★★ | 2 | Fog Immunity |
| 885 | | Quick Man | ★★ | 1 | Move Speed ↑ |
| 886 | | Crash Man | ★★ | 1 | Bomber Equipped |
| 887 | | Flash Man | ★★ | 2 | Screen-Flip Immunity |