Flower
From SmashWiki, the Super Smash Bros. wiki
Jump to navigation
Jump to search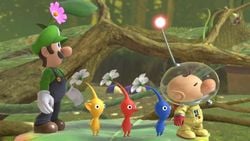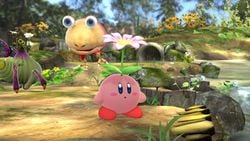 Flower is an attack effect in the Super Smash Bros. series, which debuted in Super Smash Bros. Melee and has appeared in every subsequent game. Fighters hit by flowering attacks are inflicted with the flower status condition (known as RipStickFlower internally from Super Smash Bros. Brawl onward) for a certain amount of time, based on the attack's damage.
Examples of flowering attacks include hits from Lip's Stick and, starting in Brawl, Jigglypuff's Rest.
Status condition
[
edit
]
Fighters with the flower condition have a flower visibly emerging from the top of their head. In Melee, Brawl, and SSB4, the flower is a white lily. In Ultimate, the flower is a pink daisy with a visible stamen.
A fighter with the flower condition takes damage over time (1% every 21 frames), until they are freed from the condition. The flower becomes bigger if a fighter that already has the condition is hit with a flowering attack again. Any fighter hit by a flowering attack can be inflicted with the flower status condition, with the exception of Alloys in Brawl.
Starting in Brawl, Flower is one of the rules that can be set in Special Smash, which causes all fighters to permanently have the flower status condition. Additionally, in Super Smash Bros. for Nintendo 3DS's Smash Run and for Wii U's Smash Tour, one of the possible battle types is "Flower Smash", which causes all fighters to permanently have the flower condition, like the Special Smash rule.
Flower duration
[
edit
]
The amount of time the flower condition remains is dependent on how much damage the flowering attack did. The formula for flower frames is damage * 36 in Melee, and 20 + damage * 40 from Brawl onward; both formulas' results are rounded down, and in Ultimate, the 1v1 multiplier is taken into account for the flowering attack's damage. Subsequent flowering attacks can add to the duration even when the opponent already has the effect, allowing them to stack, which is indicated by the flower on their head becoming progressively larger. However, the effect has a duration cap of 3000 frames, equal to 50 seconds. Button mashing also reduces its duration, taking off 13 frames per input in Melee, and 16 frames per input from Brawl onward (28.8 for buttons in Smash 4 and Ultimate, but they cannot be inputted as quickly as stick inputs).
List of flowering attacks
[
edit
]
By characters
[
edit
]
By items
[
edit
]
By enemies and bosses
[
edit
]
Enemy/Boss
Attack(s)
Games
Crazy Hand
Squeezing grab release
Fabric of space-time vortex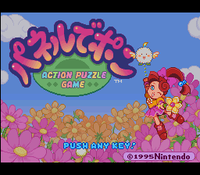 The design of the flower effect in Ultimate matches the pink flowers seen on the title screen of Panel de Pon.