Flame
From SmashWiki, the Super Smash Bros. wiki
Jump to navigation
Jump to search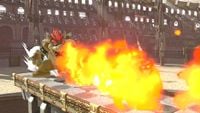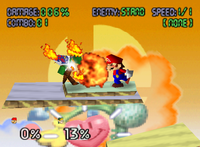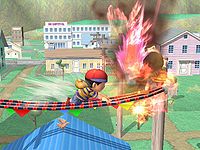 Flame, also known as fire, is a kind of effect in the Super Smash Bros. series that debuted in Super Smash Bros. Targets hit by flame attacks are momentarily set on fire, flashing red and orange, and in Ultimate, will appear visibly scorched.
In addition, flame attacks have several other effects:
Flame attacks are boosted by Flame Attack stickers in Super Smash Bros. Brawl's The Subspace Emissary and in Super Smash Bros. Ultimate by the primary spirit trait Fire Attack ↑, the support spirit skill Fire & Explosion Attack ↑, as well as certain Spirit Battle conditions. Flame attacks are resisted by Flame Resist stickers in Brawl and the spirit trait or skill Fire/Explosion Resist ↑ in Ultimate. These attacks also deal more damage to fighters equipped with a primary spirit with the trait Fire Weakness in Ultimate.
Flame is by far the most common "elemental" attack in the Super Smash Bros. series, with over half of Brawl's roster having access to at least one flame attack. Most explosive-type attacks use the flame effect.
List of flame attacks
[
edit
]
By characters
[
edit
]
Character
Move(s)
Games
Banjo & Kazooie
Rear Egg
Bowser
Fire Breath
Fire Shot
Fire Roar
Bowser Jr.
Mechakoopa (explosion)
Abandon Ship! (Clown Car explosion)
Meteor Ejection (Clown Car explosion)
Impatient Mechakoopa (explosion)
Big Mechakoopa (explosion)
Captain Falcon
Forward smash
Falcon Dive
Falcon Kick
Falcon Punch
Raptor Boost
Falcon Dash Punch
Mighty Falcon Punch
Heavy Raptor Boost
Wind-up Raptor Boost
Explosive Falcon Dive
Charizard
Flamethrower
Forward tilt (sweetspot)
Neutral aerial (sweetspot)
Back aerial (sweetspot, second hit in Brawl)
Down throw
Fire Blast (in both Triple Finish and Mega Charizard X)
Forward aerial
Flare Blitz
Blast Burn
Dark Samus
Missile
Bomb
Diddy Kong
Rocketbarrel Boost
Rocketbarrel Barrage (ending explosion)
Peanut Popgun (overcharge explosion)
Exploding Popgun (overcharge explosion)
Jumbo Peanuts (overcharge explosion)
Rocketbarrel Attack
Rocketbarrel Kaboom
Hyper Rocketbarrel
Donkey Kong
Hot Slap (flame pillars)
Dr. Mario
Ol' One-Two
Duck Hunt
Trick Shot (explosion)
Wild Gunman (sombrero gunman)
High-Explosive Shot
Zigzag Shot
Quick Draw Aces (sombrero gunman)
Mega Gunman (sombrero gunman)
Falco
Fire Bird
Landmaster shots
Fast Fire Bird
Distant Fire Bird
Fox
Fire Fox
Landmaster shots
Fox Burst (explosion)
Ganondorf
Volcano Kick (up-tilt)
Giga Bowser
Forward smash
Pummel
Forward throw
Fire Breath
Greninja
Exploding Attack
Hero
Frizz/Frizzle/Kafrizz
Command Selection (Sizz, Sizzle, Bang, Kaboom, Flame Slash)
Ike
Eruption
Furious Eruption
Incineroar
Cross Chop
Revenge
Max Malicious Moonsault
Isabelle
Lloid Trap (explosion)
Jigglypuff
Rest
Wakie Wakie
Ken
Shoryuken (heavy input)
Shinryuken
King Dedede
Jet Hammer (hammer head when fully charged)
Armored Jet Hammer (hammer head when fully charged)
Dash Jet Hammer (hammer head when fully charged)
Dedede Burst (ending explosion)
Dede-Rush (missiles)
Kirby
Dash attack
Cook Kirby
Hammer Flip (fully charged)
Giant Hammer (fully charged)
Kirby (Copy Abilities)
Fireball
Falcon Punch
Chef (pan)
Fire Breath
Eruption
Flamethrower
Robo-Beam (close range)
Flare Blade
Hand Grenade
Peanut Popgun (overcharge explosion)
Shakunetsu Hadoken
Trick Shot (explosion)
Plasma Breath
Frizz / Frizzle / Kafrizz
Punch (laser)
Flare / Megaflare / Gigaflare
Flame Nova
Magic (Firaga)
Little Mac
Up smash (sweetspot)
Flaming Straight Lunge
Link
Bomb
Giant Bomb
Meteor Bomb
Lucas
PK Fire
PK Starstorm
Luigi
Fireball
Fire Jump Punch (sweetspot)
Green Missile
Bouncing Fireball
Floating Missile
Quick Missile
Fiery Jump Punch (sweetspot)
Mario
Fireball
Forward smash (sweetspot)
Mario Finale
Fast Fireball
Fire Orb
Explosive Punch
Scalding F.L.U.D.D.
Mega Man
Down smash
Forward aerial
Crash Bomber
Mega Legends (trapping hit)
Hyper Bomb
Mii Brawler
Exploding Side Kick
Burning Dropkick
Mii Gunner
Jab (third hit)
Up tilt
Down tilt
Dash attack
Up smash
Down smash
Back aerial
Down aerial (sweetspot)
Floor attacks and trip attack
Flame Pillar
Gunner Missile
Lunar Launch
Grenade Launch
Stealth Burst
Cannon Uppercut (launch blast)
Bomb Drop
Cannon Jump Kick (launch blast)
Mii Swordfighter
Blurring Blade
Min Min
Punch (

Ramram

/

Dragon

)
Mr. Game & Watch
Forward smash (sweetspot)
Chef (pan)
Judge #6
XXL Chef (pan)
Short-Order Chef (pan)
Forward aerial (bomb explosion)
Ness
PK Fire
Down throw
PK Starstorm
PK Bonfire
PK Fire Burst
Olimar
With a Red Pikmin, all Pikmin-based attacks (all smashes, all aerial attacks except neutral air, pummel, all throws, Pikmin Throw and customs)
End of Day (take-off and crash land)
Pikmin Chain (red Pikmin)
Explosive Pluck
Pac-Man
On-Fire Hydrant
Dire Hydrant
Palutena
Explosive Flame
Celestial Firework
Rocket Jump
Peach
Peach Bomber
Flying Peach Bomber
Piranha Plant
Back aerial
Petey Piranha (Flame breath)
Pit
Three Sacred Treasures (energy pillars)
Pyra
Neutral attack (rabid jab and finishser)
Dash attack
Forward tilt
Forward smash
Up smash
Down smash (sword)
Forward aerial
Back aerial
Down aerial
Pummel
Forward throw (hitbox)
Flame Nova
Blazing End
Prominence Revolt (pillar)
Burning Sword (pillar)
Ridley
Forward smash
Plasma Breath
R.O.B.
Up smash
Neutral aerial
Back aerial
Down aerial
Robo Beam (close range)
Fire Gyro
Robin
Jab finisher (Fire Tome)
Arcfire
Arcfire+
Fire Wall
Pair Up (last hit)
Roy
Up smash
Flare Blade
Double-Edge Dance (last hits)
Blazer
Counter
Critical Hit
Down aerial
Ryu
Shakunetsu Hadoken
Samus
Up smash
Forward aerial
Bomb
Down tilt
Missile
Forward smash (sweetspot)
Relentless Missile
Turbo Missile
Slip Bomb
Mega Bomb
Up throw (blast)
Sephiroth
Flare / Megaflare / Gigaflare
Sheik
Vanish
Burst Grenade
Gravity Grenade
Skimming Grenade
Simon
Holy Water
Snake
Forward smash
Up smash (shell)
Hand Grenade (explosion)
Remote Missile
C4
Down smash
Grenade Launcher
Sonic
Burning Spin Dash
Sora
Magic (Firaga)
Steve
Down tilt
Up smash (magma block)
Down smash
TNT
House of Boom (ending explosion)
Toon Link
Bomb
Fire Bow
Time Bomb
Short-Fused Bomb
Villager
Up smash
Lloid Rocket
Liftoff Lloid
Pushy Lloid
Extreme Balloon Trip
Wii Fit Trainer
Volatile Breathing
Wolf
Landmaster (shot)
Young Link
Fire Bow
Bomb
Down aerial (above Young Link with the hilt of the sword)
Yoshi
Super Dragon (fireballs and fire breath)
Zelda
Up aerial
Din's Fire
Farore's Wind (hitbox upon reappearance)
Nayru's Passion
Din's Flare
Din's Blaze
Zero Suit Samus
Plasma Whip (sweetspot)
Forward smash (sweetspot of second hit)
Plasma Dash
By items
[
edit
]
By enemies and bosses
[
edit
]
By stage hazards
[
edit
]
In addition to natural stage hazards, the Spirit Battle condition "The floor is lava" creates a hazard that inflicts flame damage.