Water (effect)
From SmashWiki, the Super Smash Bros. wiki
Jump to navigation
Jump to search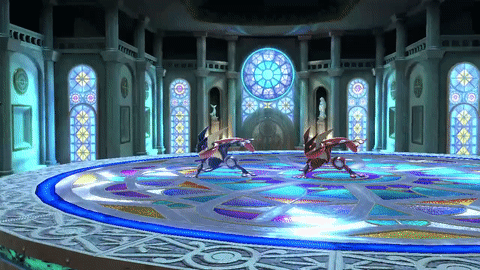 Water is an attack effect in the Super Smash Bros. series that encompasses water-based attacks. The water type and water effect are entirely separate: for example, a move can be Weapon-type with a Water effect, Water-type with a Battering effect, or even Water-type with a Water effect. Targets hit by Water attacks will flash blue and emit a small shockwave surrounded by water droplets.
Moves with a water effect are affected by type effectiveness in Super Smash Bros. Brawl; that is, they deal 1.1x knockback to Charizard and 0.9x knockback to Ivysaur. Additionally, Blue Pikmin are immune to attacks with a water effect, which will not flinch. Like all effects, enemies and bosses in Brawl's The Subspace Emissary each have their own damage multiplier for moves with a water effect.
Water attacks are affected by the primary spirit skill Water Attack ↑ and the support spirit trait Water & Ice Attack ↑ as well as certain Spirit Battle conditions in Super Smash Bros. Ultimate. In Super Smash Bros. Ultimate, water attacks are resisted by the spirit skill or trait Water/Freezing Resist ↑ and deal more damage to fighters equipped with a primary spirit with the trait Water Weakness.
Out of all the effects in Brawl, water is one of the most useful in the Subspace Emissary—it deals extra damage to fire-based enemies, some mechanical enemies (particularly the R.O.B. Squad), and about half of the bosses.
List of water-effect attacks
[
edit
]
By characters
[
edit
]
By enemies
[
edit
]
There are no stickers that provide resistance to water attacks, meaning that unless Battering-resistance stickers cover both effects (seeing as they use some of the same visual effects), Hydro Jyks are the only enemy whose attack cannot be guarded against by stickers.
Despite appearances, the Poké Ball Pokémon Oshawott's Surf and the WarioWare, Inc. microgame Kitty Cover's rain do not inflict water damage. Additionally, the drowning damage taken by characters such as Sonic and Incineroar in Ultimate is not water damage.