Paralyze
From SmashWiki, the Super Smash Bros. wiki
Jump to navigation
Jump to search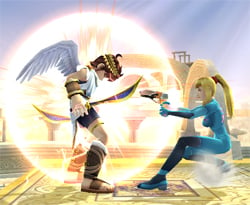 For the effect causing characters to be dazed for a period of time, see Stun.
Paralyze is an attack effect in the Super Smash Bros. series that debuted in Super Smash Bros. Brawl and has appeared in every subsequent game. Fighters hit by paralyze attacks are inflicted with the paralysis status condition for an amount of time based on the attack's knockback. While paralyze attacks typically do minimal damage and knockback, they freeze their victims on the spot momentarily, granting an opening for a fighter to followup with a combo or a powerful move. This makes them strong utility moves for fighters who have access to them.
Outside of Final Smashes and custom moves, Zero Suit Samus's Paralyzer and down smash, Corrin's Dragon Fang Shot, the bell from Pac-Man's Bonus Fruit, and Kazuya's Electric Wind God Fist are the only fighter attacks with the paralyze effect. Additionally, several Assist Trophies and Poké Ball Pokémon, stage hazards, and Smash Run enemies have the paralyze effect.
In Super Smash Bros. Ultimate, the Support Spirit skill Zap-Floor Immunity prevents the equipped fighter from being paralyzed, but does not affect the damage they take from paralyzing attacks.
Status condition
[
edit
]
Paralyzed fighters freeze in place while shaking back and forth briefly, before taking the knockback of the attack.
Any fighter hit by a paralyzing attack will be inflicted with paralysis. In Brawl and Smash 4, if a fighter that was paralyzed is hit by a paralyzing attack again before they land, grab a ledge, or can act out of the effect will only cause damage to them with no knockback or paralysis; in Ultimate, the fighter takes knockback alongside the damage, merely without being paralyzed, allowing such moves to still function as traditional launchers until that fighter can be paralyzed again.
The duration of paralysis in frames is k * ((d / 2.6) + 14) * h * c * 0.05 in Brawl, k * ((d / 2.6) + 14) * h * c * 0.025 in Smash 4, and k * h * c + 1 in Ultimate[1], rounded down, where k is the attack's knockback, d is its damage, h is its hitlag multiplier, and c is the crouch canceling hitlag modifier (0.67 if active, and 1 otherwise). For example, a move that deals 4% damage, 60 units of knockback, and has a normal hitlag multiplier will paralyze targets for 46 frames in Brawl, 23 frames in Smash 4 and 61 frames in Ultimate (if not crouch canceled in all cases). As such, moves that have knockback scaling (rather than set knockback like Zero Suit Samus's Paralyzer) and deal a high amount of hitlag will paralyze the opponent for longer as their percent increases. Paralysis is weight independent, but the amount of knockback dealt is still affected by knockback multipliers and knockback resistance (such as from the Metal Box). In Super Smash Bros. 4 and Super Smash Bros. Ultimate, since crouch canceling multiplies knockback taken by 0.85× alongside its effect on hitlag, it becomes a particularly effective countermeasure against paralysis, reducing its duration by 0.5695×. Paralysis duration is capped at 80 frames in Brawl, 76 frames in Smash 4, and 90 frames in Ultimate.
List of paralyzing attacks
[
edit
]
By characters
[
edit
]
By items
[
edit
]
By enemies and bosses
[
edit
]
By stage hazards
[
edit
]
In addition to natural stage hazards, the Spirit Battle condition "The floor is electrified" creates a hazard that inflicts paralyzing damage.