Sleep
From SmashWiki, the Super Smash Bros. wiki
Jump to navigation
Jump to search
For the status condition caused by moves with the sleep effect, see asleep.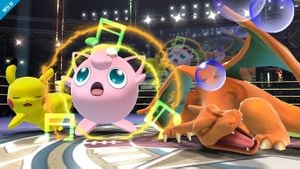 Sleep is an attack effect that has appeared in every game in the Super Smash Bros. series. Fighters hit by a sleep attack fall asleep for an amount of time based on the victim's total damage and the knockback value of the move used. If a fighter that is already asleep is hit by a sleep attack, its current sleep condition will not be increased in duration or reset. In Super Smash Bros., every fighter's sleeping animation was identical to their stun animation, albeit with music notes appearing over their heads. From Super Smash Bros. Melee onwards, every fighter would get a unique sleeping animation.
Since enemies are immune to all status conditions, sleep attacks instead trip Smash Run enemies. In Super Smash Bros. Ultimate, the Support Spirit skill Slumber Immunity prevents the equipped fighter from being put to sleep.
List of sleep attacks
[
edit
]
By characters
[
edit
]
By items
[
edit
]
By enemies and bosses
[
edit
]
By stage hazards
[
edit
]
The Spirit Battle condition "The floor is sleep-inducing" creates a hazard that causes players that touch it to fall asleep.