Bury
From SmashWiki, the Super Smash Bros. wiki
Jump to navigation
Jump to search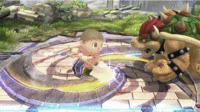 For more detail on the status condition caused by moves with the bury effect, see buried.
Bury is an attack effect in the Super Smash Bros. series that debuted in Super Smash Bros. Melee and has appeared in every subsequent game. Grounded fighters hit by a bury attack are buried for an amount of time based on the victim's total damage; non-grounded fighters hit by a bury attack instead take knockback as usual.
Bury hitboxes are weight independent and ignore all forms of armor.
In Super Smash Bros. Ultimate, the Support Spirit skill Bury Immunity prevents the equipped fighter from being buried, but does not affect the damage it takes from bury attacks (except Pitfalls, which instead have no effect).
Bury attacks typically meteor smash airborne opponents, often giving them good edgeguarding abilities. This is solely a design convention and is not a property of the bury effect.
Plunge is an attack effect similar to the bury effect that also causes victims to become buried. However, if an opponent standing on a soft platform is hit by a plunge attack, instead of being buried they briefly have the appearance of being buried before falling straight down.
The plunge effect is exclusive to the Pitfall item, and in Ultimate, the traps dug by Shovel Knight.
List of burying attacks
[
edit
]
By characters
[
edit
]
By items
[
edit
]
By enemies and bosses
[
edit
]
By stages
[
edit
]
Gallery
[
edit
]
Despite Lucas's down throw showing the opponent embedded in the ground in SSB4 and Ultimate, this is purely aesthetic and does not use the bury effect or cause the buried condition. Even fighters with a Bury Immunity Spirit and grabable Assist Trophies will be shown embedded in the ground, despite being unable to be buried.
When the bury effect was introduced in Melee, it was exclusively used for two attacks, Donkey Kong's Headbutt and Togepi's Magnitude.

Subsequently, Donkey Kong has the distinction of being the only character to have always had a bury attack in every game since the effect's introduction.