Rocketbarrel Barrage
From SmashWiki, the Super Smash Bros. wiki
Jump to navigation
Jump to search
Rocketbarrel Barrage (バレルジェットパニック, Barrel Jet Panic) is Diddy Kong's Final Smash in Super Smash Bros. Brawl and Super Smash Bros. 4.
Overview
[
edit
]
When activated, Diddy Kong will be able to fly around with his Rocketbarrel Pack and fire powerful shots from his Peanut Popguns. Each peanut does 8%


/5%


damage, while making contact with the Rocketbarrel itself causes 18%


/12%


damage and has more knockback than the peanuts; the final explosion does 20%.
While using the Final Smash, Diddy Kong only shoots downwards and falls very slowly. Similar to Super Sonic, Diddy Kong cannot fly past blast lines. Moving around causes Diddy Kong to angle himself, allowing different shooting angles depending on his flight path; however this usually amounts to Diddy Kong moving and shooting in opposite directions. Therefore, it is difficult to keep an opponent in Diddy Kong's attack range for very long.
When the attack ends, Diddy Kong's Rocketbarrel Pack violently explodes, sending the Rocketbarrels flying in different directions. This deals no damage to Diddy Kong but just flings him into the air, which also causes helplessness in Brawl. Some peanuts left over from the attack can be consumed for a small amount of health recovery. Sakurai suggested not to fire randomly because opponents can also eat any peanuts that miss and heal themselves, although the peanuts heal very little damage compared to the damage they inflict.
Instructional quotes
[
edit
]
| | | |
| --- | --- | --- |
| instruction booklet | | Strap on the rocketbarrels and take to the sky. While flying around, you can use your peanut popguns to blast everyone you see. |
| case foldout | | Fly around in the air while shooting peanuts. |
Trophies
[
edit
]

Rocketbarrel Barrage

Diddy Kong's Final Smash. Equipping his rocketbarrels and dual peanut popguns, Diddy can fly around attacking opponents in rapid-fire fashion. He can tilt the barrel jets left or right to control his flight and shoot peanuts straight down, too. This is a technique that tests one's ability to control both movement and attack direction.
: Super Smash Bros. Brawl

Rocketbarrel Barrage

Diddy Kong's Final Smash is an attack on all fronts! Diddy takes to the air with his Barrel Jet, tackling opponents as he fires explosive shots from his Peanut Popguns. His Final Smash is nearing its end when he begins flashing, so get as close to your foes as you can—the Barrel Jet will explode at the end of this Final Smash!
With a Peanut Popgun in each hand, Diddy showers his foes with a hail of explosive destruction. This Final Smash lets him fly freely through the air, dealing damage to anyone in his way. When his body starts to flash, that means the Final Smash is about to end, so try to catch your foes in the Rocketbarrel Pack's explosion!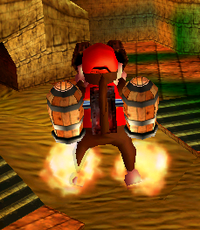 Rocketbarrel Barrage comes from Donkey Kong 64 as an exclusive move for Diddy Kong. When Diddy Kong jumps into a barrel that has his face on it, he bursts out of the barrel with a barrel jet pack, and two peanut popguns. Diddy Kong could fly around the area, and shoot at enemies with his peanut popguns. However, this special ability runs off of Crystal Coconuts, and when the Crystal Coconuts run out, Diddy Kong's special ability disappears. Diddy Kong also uses this move to help defeat King K. Rool by shooting at spotlights to make them fall on him.
Gallery
[
edit
]
Names in other languages
[
edit
]
Language
Name
 Japanese

バレルジェットパニック

, Barrel Jet Panic
 English
Rocketbarrel Barrage
 French (PAL)
Barrage Rapido Rocket
 French (NTSC)
Barrage Tonneau-propulseur
 German
Raketenrocker-Feuerwucht
 Spanish
Barrilada
 Italian
Assalto Razzobarili
 Korean

나무통제트 패닉

, Barrel Jet Panic
Rocketbarrel Barrage is one of the only Final Smashes that appears in the Subspace Emissary. Diddy Kong used it on the Smash Skiff carrying Donkey Kong's trophy, clearing the six Primids off.
When Diddy Kong is using Rocketbarrel Barrage on Pirate Ship, he is able to fly underneath the ship.
Rocketbarrel Barrage is the only Final Smash that leaves the user helpless in Brawl, unless End of Day (which causes a unique state similar to helplessness) is counted.
External links
[
edit
]
Final Smashes


The Mighty Jinjonator
 ·


Infernal Climax
 ·


 Giga Bowser (




), Giga Bowser Punch (


)

 ·


Shadow Mario Paint
 ·


Progenitor God Ruptured Heaven
 ·


Blue Falcon
 ·


 Mega Evolution (Charizard) (


)

 ·


Awakening Aether
 ·


 Omnislash (


), Omnislash / Omnislash Ver. 5 (


)

 ·


Torrential Roar
 ·


Daisy Blossom
 ·


Dark Pit Staff
 ·


Phazon Laser
 ·


 Rocketbarrel Barrage (




), Hyper Rocketbarrel (


)

 ·


 Konga Beat (




), Jungle Rush (


)

 ·


Doctor Finale
 ·


NES Zapper Posse
 ·


 Landmaster (




), Team Star Fox (


)

 ·


 Landmaster (




), Team Star Fox (


)

 ·


 Beast Ganon (




), Ganon, The Demon King (


)

 ·


Secret Ninja Attack
 ·


Gigaslash
 ·


Iceberg
 ·


Great Aether
 ·


Max Malicious Moonsault
 ·


Killer Wail
 ·


Dream Town Hall
 ·


Puff Up
 ·


All-Out Attack
 ·


Final Blaster
 ·


Shippu Jinraikyaku / Shinryuken
 ·


 Waddle Dee Army (


), Dedede Burst (


), Dede-Rush (


)

 ·


Blast-o-Matic
 ·


 Cook Kirby (


), Ultra Sword (




)

 ·


 Triforce Slash (




), Ancient Bow and Arrow (


)

 ·


 Giga Mac (


), Giga Mac Rush (


)

 ·


 Aura Storm (




), Mega Evolution (Lucario) (


)

 ·


PK Starstorm
 ·


Critical Hit
 ·


 Negative Zone (


), Poltergust 5000 (


), Poltergust G-00 (


)

 ·


Mario Finale
 ·


Critical Hit
 ·


Mega Legends
 ·


 Galaxia Darkness (




), Darkness Illusion (


)

 ·


Psystrike
 ·


Omega Blitz
 ·


Full Blast
 ·


Final Edge
 ·


ARMS Rush
 ·


Octopus
 ·


Sacred Arrow
 ·


PK Starstorm
 ·


End of Day
 ·


Super Pac-Man
 ·


Black Hole Laser
 ·


Peach Blossom
 ·


Volt Tackle
 ·


Volt Tackle
 ·


Petey Piranha
 ·


 Palutena's Army (


), Three Sacred Treasures (


), Lightning Chariot (


)

 ·


Triple Finish
 ·


Burning Sword
 ·


Grand Cross
 ·


Plasma Scream
 ·


 Diffusion Beam (


), Super Diffusion Beam (


), Guided Robo Beam (


)

 ·


Pair Up
 ·


 Power Star (


), Grand Star (


)

 ·


Critical Hit
 ·


Shin Shoryuken / Shinku Hadoken
 ·


Zero Laser
 ·


Supernova
 ·


 Light Arrow (




), Sheikah Dance (


)

 ·


Chain Attack
 ·


Grand Cross
 ·


 Grenade Launcher (


), Covering Fire (


)

 ·


Super Sonic
 ·


Sealing the Keyhole
 ·


House of Boom
 ·


Triple Wolf
 ·


Triforce Slash
 ·


Dream Home
 ·


Wario-Man
 ·


Wii Fit
 ·


 Landmaster (


), Team Star Wolf (


)

 ·


 Super Dragon (




), Stampede! (


)

 ·


Triforce Slash
 ·


 Light Arrow (




), Triforce of Wisdom (


)

 ·


 Power Suit Samus (


), Gunship (


), Zero Laser (


)