Final Blaster
From SmashWiki, the Super Smash Bros. wiki
Jump to navigation
Jump to search
Final Blaster (ファイナルブラスター, Final Blaster) is Kazuya's Final Smash in Super Smash Bros. Ultimate.
Overview
[
edit
]
Kazuya, in Devil Kazuya form, fires a beam in front of himself. Should this initial beam make contact with an opponent, Kazuya will say ここが貴様の墓場だ! ("This will be your burial ground!"), and fire several beams in a wide pattern in front of himself, which eventually converge into a final wide blast and launch any opponents hit. If it the initial beam misses, the move will fail.
Instructional quote
[
edit
]
| | | |
| --- | --- | --- |
| Move List | | Unleash a long-ranged beam from the forehead. If the beam hits an opponent, more beams from the wings and chest will be unleashed, covering a wide range and damaging any foes they hit. |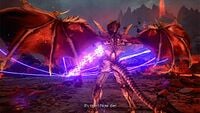 Final Blaster first appeared in Tekken 7 as Kazuya's Rage Art during the final battle in story mode with his father Heihachi Mishima. The form he takes on is also based on the new Devil form he uses after being irritated over Heihachi's tenacity and ability to weather his attacks. The background change is based on the volcano stage Brimstone & Fire, a backdrop Heihachi personally chose for their fight.
Kazuya later uses a variant of the same move against guest character Shin Akuma from the Street Fighter series, who serves as a bonus boss fight after the main story mode.
Gallery
[
edit
]
Names in other languages
[
edit
]
Language
Name
 Japanese

ファイナルブラスター

, Final Blaster
 English
Final Blaster
 French
Final Blaster
 German
Final Blaster
 Spanish
Final Blaster
 Italian
Final Blaster
 Chinese
Final Blaster
 Korean
Final Blaster
 Dutch
Ultieme Duivelsstraal
 Russian

Луч погибели
The model for Devil Kazuya used in the Final Smash is different from the model used in all other situations. This model is based on Devil Kazuya's appearance in the story mode of Tekken 7, which is more detailed and scaly than normal.
Final Blaster is the fifth Final Smash to pause the music during the move, the others being Konga Beat, Waddle Dee Army, Peach Blossom, and Daisy Blossom. Unlike those however, the music is not replaced by another jingle and is simply muted. However, it is hard to tell due to the sound effects and Kazuya yelling.

If voices and sound effects are set to 0 in the Settings, the music will not pause.

Despite his reveal trailer featuring subtitles during Final Blaster, subtitles do not appear ingame while using the move.
Burning Sword, Sacred Arrow, and Final Blaster are the only Final Smashes that start off with a cinematic but end in-game. The opposite holds true for Infernal Climax.

Along with Petey Piranha, these are also the only Final Smashes from DLC characters in Ultimate to contain non-cinematic elements.
Final Smashes


The Mighty Jinjonator
 ·


Infernal Climax
 ·


 Giga Bowser (




), Giga Bowser Punch (


)

 ·


Shadow Mario Paint
 ·


Progenitor God Ruptured Heaven
 ·


Blue Falcon
 ·


 Mega Charizard X (


)

 ·


Awakening Aether
 ·


 Omnislash (


), Omnislash / Omnislash Ver. 5 (


)

 ·


Torrential Roar
 ·


Daisy Blossom
 ·


Dark Pit Staff
 ·


Phazon Laser
 ·


 Rocketbarrel Barrage (




), Hyper Rocketbarrel (


)

 ·


 Konga Beat (




), Jungle Rush (


)

 ·


Doctor Finale
 ·


NES Zapper Posse
 ·


 Landmaster (




), Team Star Fox (


)

 ·


 Landmaster (




), Team Star Fox (


)

 ·


 Beast Ganon (




), Ganon, The Demon King (


)

 ·


Secret Ninja Attack
 ·


Gigaslash
 ·


Iceberg
 ·


Great Aether
 ·


Max Malicious Moonsault
 ·


Killer Wail
 ·


Dream Town Hall
 ·


Puff Up
 ·


All-Out Attack
 ·


Final Blaster
 ·


Shippu Jinraikyaku / Shinryuken
 ·


 Waddle Dee Army (


), Dedede Burst (


), Dede-Rush (


)

 ·


Blast-o-Matic
 ·


 Cook Kirby (


), Ultra Sword (




)

 ·


 Triforce Slash (




), Ancient Bow and Arrow (


)

 ·


 Giga Mac (


), Giga Mac Rush (


)

 ·


 Aura Storm (




), Mega Lucario (


)

 ·


PK Starstorm
 ·


Critical Hit
 ·


 Negative Zone (


), Poltergust 5000 (


), Poltergust G-00 (


)

 ·


Mario Finale
 ·


Critical Hit
 ·


Mega Legends
 ·


 Galaxia Darkness (




), Darkness Illusion (


)

 ·


Psystrike
 ·


Omega Blitz
 ·


Full Blast
 ·


Final Edge
 ·


ARMS Rush
 ·


Octopus
 ·


Sacred Arrow
 ·


PK Starstorm
 ·


End of Day
 ·


Super Pac-Man
 ·


Black Hole Laser
 ·


Peach Blossom
 ·


Volt Tackle
 ·


Volt Tackle
 ·


Petey Piranha
 ·


 Palutena's Army (


), Three Sacred Treasures (


), Lightning Chariot (


)

 ·


Triple Finish
 ·


Burning Sword
 ·


Grand Cross
 ·


Plasma Scream
 ·


 Diffusion Beam (


), Super Diffusion Beam (


), Guided Robo Beam (


)

 ·


Pair Up
 ·


 Power Star (


), Grand Star (


)

 ·


Critical Hit
 ·


Shin Shoryuken / Shinku Hadoken
 ·


Zero Laser
 ·


Supernova
 ·


 Light Arrow (




), Sheikah Dance (


)

 ·


Chain Attack
 ·


Grand Cross
 ·


 Grenade Launcher (


), Covering Fire (


)

 ·


Super Sonic
 ·


Sealing the Keyhole
 ·


House of Boom
 ·


Triple Wolf
 ·


Triforce Slash
 ·


Dream Home
 ·


Wario-Man
 ·


Wii Fit
 ·


 Landmaster (


), Team Star Wolf (


)

 ·


 Super Dragon (




), Stampede! (


)

 ·


Triforce Slash
 ·


 Light Arrow (




), Triforce of Wisdom (


)

 ·


 Power Suit Samus (


), Gunship (


), Zero Laser (


)