Blast-o-Matic
From SmashWiki, the Super Smash Bros. wiki
Jump to navigation
Jump to search
The Blast-o-Matic (ブラストマティック, Blast-o-Matic) is King K. Rool's Final Smash in Super Smash Bros. Ultimate. It also appears as a collectible support spirit that increases the damage dealt to giant opponents.
Overview
[
edit
]
When this Final Smash is used, King K. Rool will stomp, stunning any nearby opponents, and lunge forward while catching those in his path. If at least one opponent was caught, a cutscene plays in which K. Rool is sitting on his throne laughing in Crocodile Isle and presses a button twice. The Blast-o-Matic cannon on the isle then fires on Donkey Kong Island. All captured opponents are shown to be trapped in the eyes of the stone sculpture of Donkey Kong as the Blast-o-Matic's laser blasts through it, destroying the island and dealing massive damage to them.
Instructional quote
[
edit
]
| | | |
| --- | --- | --- |
| Move List | | King K. Rool charges forward. He then fires the Blast-o-Matic from his fortress, striking any fighters he hit with his first attack. This blast completely destroys Donkey Kong Island, dealing serious damage and launching fighters. |
| No. | Image | Name | Type | Class | Cost | Ability | Series |
| --- | --- | --- | --- | --- | --- | --- | --- |
| 164 | | Blast-o-Matic | | ★★★★ | 1 | Giant Killer | Donkey Kong Series |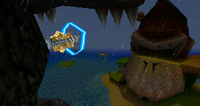 In Donkey Kong 64, due to his numerous defeats against Donkey Kong, King K. Rool sought revenge by destroying Donkey Kong Island (Kong Isle in Donkey Kong 64). He had Snide, his chief technician, develop the Blast-o-Matic, a high power laser cannon capable of destroying Kong Isle. K. Rool later incorporated the Blast-o-Matic into Crocodile Isle and set course to Kong Isle; however, a disagreement between the two Kritters in charge of Crocodile Isle's steering wheel caused the naval fortress to crash into a rock, damaging the Blast-o-Matic. When Crocodile Isle arrived at Kong Isle, K. Rool ordered his minions to capture Donkey Kong's friends and to steal his Banana Hoard in order to give his Kremlings time to fix the Blast-o-Matic before Donkey Kong can stop him. During the Game Over sequence of Donkey Kong 64, or when the Kongs fail to disarm the fully repaired Blast-o-Matic in Hideout Helm, K. Rool readies the laser cannon to fire on Kong Isle; however, the destruction of the isle wasn't actually shown. Instead, the Game Over text appears and the screen fades to black before the Blast-o-Matic fires.
This Final Smash is based on the implied destruction of Kong Isle during the Game Over sequence of Donkey Kong 64 with minor differences, such as Crocodile Isle being set on a natural island rather than being a naval fortress, Donkey Kong Island more closely resembling its appearance from Donkey Kong Country, and K. Rool hitting the chair with his opposite arm.
Gallery
[
edit
]
Names in other languages
[
edit
]
Language
Name
 Japanese

ブラストマティック

, Blast-o-Matic
 English
Blast-o-Matic
 French
Blast-o-Matic
 German
Kaputt-O-Matik
 Spanish
Machacadora
 Italian
Blast-O-Matic
 Chinese (Simplified)

爆裂射线

 Chinese (Traditional)

爆裂射線

 Korean

블래스트매틱

, Blast-o-Matic
 Dutch
Blast-o-Matic
 Russian

Крокобластер
Despite the Blast-o-Matic originating in Donkey Kong 64, it had never actually been depicted firing until Super Smash Bros. Ultimate, roughly 19 years after its debut.
In early builds of the game, the target(s) would take damage before the laser actually hit Donkey Kong Island.[1] This was fixed for the final game.
References
[
edit
]
Final Smashes


The Mighty Jinjonator
 ·


Infernal Climax
 ·


 Giga Bowser (




), Giga Bowser Punch (


)

 ·


Shadow Mario Paint
 ·


Progenitor God Ruptured Heaven
 ·


Blue Falcon
 ·


 Mega Charizard X (


)

 ·


Awakening Aether
 ·


 Omnislash (


), Omnislash / Omnislash Ver. 5 (


)

 ·


Torrential Roar
 ·


Daisy Blossom
 ·


Dark Pit Staff
 ·


Phazon Laser
 ·


 Rocketbarrel Barrage (




), Hyper Rocketbarrel (


)

 ·


 Konga Beat (




), Jungle Rush (


)

 ·


Doctor Finale
 ·


NES Zapper Posse
 ·


 Landmaster (




), Team Star Fox (


)

 ·


 Landmaster (




), Team Star Fox (


)

 ·


 Beast Ganon (




), Ganon, The Demon King (


)

 ·


Secret Ninja Attack
 ·


Gigaslash
 ·


Iceberg
 ·


Great Aether
 ·


Max Malicious Moonsault
 ·


Killer Wail
 ·


Dream Town Hall
 ·


Puff Up
 ·


All-Out Attack
 ·


Final Blaster
 ·


Shippu Jinraikyaku / Shinryuken
 ·


 Waddle Dee Army (


), Dedede Burst (


), Dede-Rush (


)

 ·


Blast-o-Matic
 ·


 Cook Kirby (


), Ultra Sword (




)

 ·


 Triforce Slash (




), Ancient Bow and Arrow (


)

 ·


 Giga Mac (


), Giga Mac Rush (


)

 ·


 Aura Storm (




), Mega Lucario (


)

 ·


PK Starstorm
 ·


Critical Hit
 ·


 Negative Zone (


), Poltergust 5000 (


), Poltergust G-00 (


)

 ·


Mario Finale
 ·


Critical Hit
 ·


Mega Legends
 ·


 Galaxia Darkness (




), Darkness Illusion (


)

 ·


Psystrike
 ·


Omega Blitz
 ·


Full Blast
 ·


Final Edge
 ·


ARMS Rush
 ·


Octopus
 ·


Sacred Arrow
 ·


PK Starstorm
 ·


End of Day
 ·


Super Pac-Man
 ·


Black Hole Laser
 ·


Peach Blossom
 ·


Volt Tackle
 ·


Volt Tackle
 ·


Petey Piranha
 ·


 Palutena's Army (


), Three Sacred Treasures (


), Lightning Chariot (


)

 ·


Triple Finish
 ·


Burning Sword
 ·


Grand Cross
 ·


Plasma Scream
 ·


 Diffusion Beam (


), Super Diffusion Beam (


), Guided Robo Beam (


)

 ·


Pair Up
 ·


 Power Star (


), Grand Star (


)

 ·


Critical Hit
 ·


Shin Shoryuken / Shinku Hadoken
 ·


Zero Laser
 ·


Supernova
 ·


 Light Arrow (




), Sheikah Dance (


)

 ·


Chain Attack
 ·


Grand Cross
 ·


 Grenade Launcher (


), Covering Fire (


)

 ·


Super Sonic
 ·


Sealing the Keyhole
 ·


House of Boom
 ·


Triple Wolf
 ·


Triforce Slash
 ·


Dream Home
 ·


Wario-Man
 ·


Wii Fit
 ·


 Landmaster (


), Team Star Wolf (


)

 ·


 Super Dragon (




), Stampede! (


)

 ·


Triforce Slash
 ·


 Light Arrow (




), Triforce of Wisdom (


)

 ·


 Power Suit Samus (


), Gunship (


), Zero Laser (


)