Covering Fire
From SmashWiki, the Super Smash Bros. wiki
Jump to navigation
Jump to search
Not to be confused with Cover Fire, Samus's up smash.
Covering Fire (援護射撃, Covering Fire) is Snake's Final Smash in Super Smash Bros. Ultimate, replacing Grenade Launcher from Super Smash Bros. Brawl.
Overview
[
edit
]
When activated, Snake will toss a flare grenade before crouching and putting his hand up to his ear, which will cause a crosshair to appear onscreen; the player can guide this crosshair to lock on to opponents, and, after a brief moment, missiles will launch from the foreground and attack the targeted players. Regardless of if the flare grenade remains onscreen or tossed offscreen, the crosshair and missiles will still follow after Snake has thrown it. The player will have full control of Snake as the missiles are launching, allowing them to combo into or out of the missiles, or lay down traps in the chaos. If performed in the air, Snake will remain in place for the duration of the crosshair phase, resuming his fall after the missiles have launched.
If no players were targeted, the missiles will fire at where the crosshair was last positioned.
Instructional quote
[
edit
]
| | | |
| --- | --- | --- |
| Move List | | Snake calls for reinforcements, and then uses a targeting reticle to lock on to foes up to five times. Missiles are launched at the targets. If you don't lock on anyone, the missiles fly toward the reticle's last location. |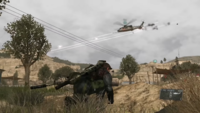 In Metal Gear Solid V: The Phantom Pain, Venom Snake is able to have the Diamond Dogs develop a UTH-66 Blackfoot tactical helicopter equipped with AS missiles, which are missiles that lock onto targets on the ground. He is also able to develop flare grenades that summon the helicopter to provide cover fire for him wherever the flare is thrown. This is loosely based on a real-world military tactic called "Painting the Target" where some type of indicator is placed down for an awaiting aircraft to identify, usually with a laser that can detect heat signatures and spread outward to cover any unforseen changes in trajectory, which then launches an explosive in the general direction of the laser spread until it is close enough to lock-on to the target. In Ultimate, Snake throws out a flare grenade that presumably summons a helicopter that allows the player to fire homing missiles on opponents.
The UI for the missiles bears a resemblance to the one used for the FIM-92 Stinger homing missile launcher. The bars indicating the time remaining and missiles locked on are based on the health and stamina bars in Metal Gear Solid 3: Snake Eater.
Gallery
[
edit
]
Names in other languages
[
edit
]
| Language | Name |
| --- | --- |
|  Japanese | 援護射撃 |
|  English | Covering Fire |
|  French | Tir de suppression |
|  German | Feuerschutz |
|  Spanish | Fuego de cobertura |
|  Italian | Missili di supporto |
|  Chinese (Simplified) | 掩护射击 |
|  Chinese (Traditional) | 掩護射擊 |
|  Korean | 원호 사격 |
|  Dutch | Luchtsteun |
|  Russian | Огневая поддержка |
Final Smashes


The Mighty Jinjonator
 ·


Infernal Climax
 ·


 Giga Bowser (




), Giga Bowser Punch (


)

 ·


Shadow Mario Paint
 ·


Progenitor God Ruptured Heaven
 ·


Blue Falcon
 ·


 Mega Charizard X (


)

 ·


Awakening Aether
 ·


 Omnislash (


), Omnislash / Omnislash Ver. 5 (


)

 ·


Torrential Roar
 ·


Daisy Blossom
 ·


Dark Pit Staff
 ·


Phazon Laser
 ·


 Rocketbarrel Barrage (




), Hyper Rocketbarrel (


)

 ·


 Konga Beat (




), Jungle Rush (


)

 ·


Doctor Finale
 ·


NES Zapper Posse
 ·


 Landmaster (




), Team Star Fox (


)

 ·


 Landmaster (




), Team Star Fox (


)

 ·


 Beast Ganon (




), Ganon, The Demon King (


)

 ·


Secret Ninja Attack
 ·


Gigaslash
 ·


Iceberg
 ·


Great Aether
 ·


Max Malicious Moonsault
 ·


Killer Wail
 ·


Dream Town Hall
 ·


Puff Up
 ·


All-Out Attack
 ·


Final Blaster
 ·


Shippu Jinraikyaku / Shinryuken
 ·


 Waddle Dee Army (


), Dedede Burst (


), Dede-Rush (


)

 ·


Blast-o-Matic
 ·


 Cook Kirby (


), Ultra Sword (




)

 ·


 Triforce Slash (




), Ancient Bow and Arrow (


)

 ·


 Giga Mac (


), Giga Mac Rush (


)

 ·


 Aura Storm (




), Mega Lucario (


)

 ·


PK Starstorm
 ·


Critical Hit
 ·


 Negative Zone (


), Poltergust 5000 (


), Poltergust G-00 (


)

 ·


Mario Finale
 ·


Critical Hit
 ·


Mega Legends
 ·


 Galaxia Darkness (




), Darkness Illusion (


)

 ·


Psystrike
 ·


Omega Blitz
 ·


Full Blast
 ·


Final Edge
 ·


ARMS Rush
 ·


Octopus
 ·


Sacred Arrow
 ·


PK Starstorm
 ·


End of Day
 ·


Super Pac-Man
 ·


Black Hole Laser
 ·


Peach Blossom
 ·


Volt Tackle
 ·


Volt Tackle
 ·


Petey Piranha
 ·


 Palutena's Army (


), Three Sacred Treasures (


), Lightning Chariot (


)

 ·


Triple Finish
 ·


Burning Sword
 ·


Grand Cross
 ·


Plasma Scream
 ·


 Diffusion Beam (


), Super Diffusion Beam (


), Guided Robo Beam (


)

 ·


Pair Up
 ·


 Power Star (


), Grand Star (


)

 ·


Critical Hit
 ·


Shin Shoryuken / Shinku Hadoken
 ·


Zero Laser
 ·


Supernova
 ·


 Light Arrow (




), Sheikah Dance (


)

 ·


Chain Attack
 ·


Grand Cross
 ·


 Grenade Launcher (


), Covering Fire (


)

 ·


Super Sonic
 ·


Sealing the Keyhole
 ·


House of Boom
 ·


Triple Wolf
 ·


Triforce Slash
 ·


Dream Home
 ·


Wario-Man
 ·


Wii Fit
 ·


 Landmaster (


), Team Star Wolf (


)

 ·


 Super Dragon (




), Stampede! (


)

 ·


Triforce Slash
 ·


 Light Arrow (




), Triforce of Wisdom (


)

 ·


 Power Suit Samus (


), Gunship (


), Zero Laser (


)