Killer Wail
From SmashWiki, the Super Smash Bros. wiki
Jump to navigation
Jump to search
Killer Wail (メガホンレーザー, Megaphone Laser) is Inkling's Final Smash in Super Smash Bros. Ultimate.
Overview
[
edit
]
The Inkling pulls out a large megaphone-like machine and places it on the ground. The machine then emits large damaging sound waves which can be angled. Then, Killer Wail replaces the sound waves with a blast of ink, covering other fighters in it. While somewhat similar to Zero Laser in function, it differs in allowing the Inkling to act normally while the Killer Wail is active.
Instructional quote
[
edit
]
| | | |
| --- | --- | --- |
| Move List | | The Inkling sets up the Killer Wail, which fires a sonic blast. The beam damages and launches anyone caught in its path. The angle can be adjusted up or down. You can also move away from the beam and attack on your own. |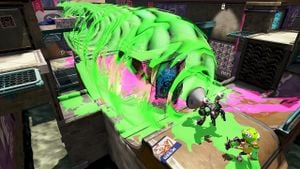 The Killer Wail appears as a special weapon in the original Splatoon. Like all special weapons, it is charged by inking enough ground. When used, it lets out damaging sound waves which damages opponents and passes through walls. Like its appearance in Ultimate, Killer Wail does not cover surfaces in ink, but opponents it does not immediately splat will be covered in ink. Unlike in Ultimate, it cannot be moved at all once deployed.
The weapon does not return in Splatoon 2 and Splatoon 3, being indirectly replaced by the Sting Ray and Killer Wail 5.1, respectively. However, in Splatoon 2, a weapon similar to the Killer Wail called the Princess Cannon appears at the end of the final boss battle of the game's Octo Expansion DLC and on the Splatfest/Private battle-exclusive stage MC.Princess Diaries, used by Pearl to destroy the final boss or unleash an extremely large and powerful Wail on the opposing team, depending on which makes it to her first at the final minute or less, respectively.
Gallery
[
edit
]
In other languages
[
edit
]
Language
Name
 Japanese

メガホンレーザー

, Megaphone Laser
 English
Killer Wail
 French (PAL)
Haut-perceur
 French (NTSC)
Laser-perçant
 German
Heulboje
 Spanish (PAL)
Tintófono
 Spanish (NTSC)
Berreón
 Italian
Tintofono
 Chinese (Simplified)

扩音器镭射

, Megaphone Laser
 Chinese (Traditional)

擴音器雷射

, Megaphone Laser
 Korean

메가폰 레이저

, Megaphone Laser
 Dutch
Megalofoon
 Russian

Мегалофон
Using Killer Wail does not instantly refill the ink tank, unlike in Splatoon, where using a special weapon usually does.
Final Smashes


The Mighty Jinjonator
 ·


Infernal Climax
 ·


 Giga Bowser (




), Giga Bowser Punch (


)

 ·


Shadow Mario Paint
 ·


Progenitor God Ruptured Heaven
 ·


Blue Falcon
 ·


 Mega Evolution (Charizard) (


)

 ·


Awakening Aether
 ·


 Omnislash (


), Omnislash / Omnislash Ver. 5 (


)

 ·


Torrential Roar
 ·


Daisy Blossom
 ·


Dark Pit Staff
 ·


Phazon Laser
 ·


 Rocketbarrel Barrage (




), Hyper Rocketbarrel (


)

 ·


 Konga Beat (




), Jungle Rush (


)

 ·


Doctor Finale
 ·


NES Zapper Posse
 ·


 Landmaster (




), Team Star Fox (


)

 ·


 Landmaster (




), Team Star Fox (


)

 ·


 Beast Ganon (




), Ganon, The Demon King (


)

 ·


Secret Ninja Attack
 ·


Gigaslash
 ·


Iceberg
 ·


Great Aether
 ·


Max Malicious Moonsault
 ·


Killer Wail
 ·


Dream Town Hall
 ·


Puff Up
 ·


All-Out Attack
 ·


Final Blaster
 ·


Shippu Jinraikyaku / Shinryuken
 ·


 Waddle Dee Army (


), Dedede Burst (


), Dede-Rush (


)

 ·


Blast-o-Matic
 ·


 Cook Kirby (


), Ultra Sword (




)

 ·


 Triforce Slash (




), Ancient Bow and Arrow (


)

 ·


 Giga Mac (


), Giga Mac Rush (


)

 ·


 Aura Storm (




), Mega Evolution (Lucario) (


)

 ·


PK Starstorm
 ·


Critical Hit
 ·


 Negative Zone (


), Poltergust 5000 (


), Poltergust G-00 (


)

 ·


Mario Finale
 ·


Critical Hit
 ·


Mega Legends
 ·


 Galaxia Darkness (




), Darkness Illusion (


)

 ·


Psystrike
 ·


Omega Blitz
 ·


Full Blast
 ·


Final Edge
 ·


ARMS Rush
 ·


Octopus
 ·


Sacred Arrow
 ·


PK Starstorm
 ·


End of Day
 ·


Super Pac-Man
 ·


Black Hole Laser
 ·


Peach Blossom
 ·


Volt Tackle
 ·


Volt Tackle
 ·


Petey Piranha
 ·


 Palutena's Army (


), Three Sacred Treasures (


), Lightning Chariot (


)

 ·


Triple Finish
 ·


Burning Sword
 ·


Grand Cross
 ·


Plasma Scream
 ·


 Diffusion Beam (


), Super Diffusion Beam (


), Guided Robo Beam (


)

 ·


Pair Up
 ·


 Power Star (


), Grand Star (


)

 ·


Critical Hit
 ·


Shin Shoryuken / Shinku Hadoken
 ·


Zero Laser
 ·


Supernova
 ·


 Light Arrow (




), Sheikah Dance (


)

 ·


Chain Attack
 ·


Grand Cross
 ·


 Grenade Launcher (


), Covering Fire (


)

 ·


Super Sonic
 ·


Sealing the Keyhole
 ·


House of Boom
 ·


Triple Wolf
 ·


Triforce Slash
 ·


Dream Home
 ·


Wario-Man
 ·


Wii Fit
 ·


 Landmaster (


), Team Star Wolf (


)

 ·


 Super Dragon (




), Stampede! (


)

 ·


Triforce Slash
 ·


 Light Arrow (




), Triforce of Wisdom (


)

 ·


 Power Suit Samus (


), Gunship (


), Zero Laser (


)