Full Blast
From SmashWiki, the Super Smash Bros. wiki
Jump to navigation
Jump to search
Not to be confused with Kazuya's Final Smash, Final Blaster.
Full Blast (フルスロットル, Full Throttle), is the Mii Gunner's Final Smash.
Overview
[
edit
]
Once activated, the Mii Gunner fires a powerful laser beam along with two smaller blasters that fire smaller lasers, which revolve around the main laser. The laser itself can be angled by tilting the control stick up or down. The beams push back opponents that get caught in it up to the final blow. This Final Smash is similar to Samus's Zero Laser, but the beam can be angled faster at the cost of being smaller. Angling the laser does more damage as opposed to not angling, as it increases the likelihood of the smaller lasers to hit.
Instructional quotes
[
edit
]
| | | |
| --- | --- | --- |
| case foldout | | Fire three beams, blasting anyone in front of you. |
| Move List | | The Mii Gunner unleashes a long-range beam of powerful thermal energy. The laser can be aimed up or down. Any opponents captured in the beam are hit repeatedly for significant damage. |

Full Blast

The Mii Gunner's Final Smash unleashes a wide, long-range beam of painful energy. The laser will hit several times, pushing back opponents before launching them with the last blow. You can adjust the laser beam's angle, so punish a foe who thought he or she was safe by trying to duck under the beam!
Mii Gunner's Final Smash is a set of laser beams fired straight ahead that reach all the way across the screen. These can hit repeatedly and push foes back, ultimately launching them at the end. While firing the beams, you can tilt them up and down, so fine-tune the angle to really go for your foes!
Gallery
[
edit
]
Full Blast as shown by the Move List in Ultimate.
Names in other languages
[
edit
]
Language
Name
 Japanese

フルスロットル

, Full Throttle
 English
Full Blast
 French (PAL)
Hyper laser
 French (NTSC)
Pleine puissance
 German
Extremstrahl
 Spanish
Rayo sideral
 Italian
Potenza massima
 Chinese (Simplified)

火力全开

 Chinese (Traditional)

火力全開

 Korean

풀 스로틀

, Full Throttle
 Dutch
Volle Lading
 Russian

Максимальная мощь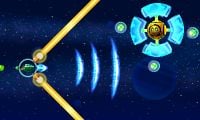 The smaller lasers bear a slight resemblance in design and function to the side guns seen in Mii Force, though it's likely coincidental.
Final Smashes


The Mighty Jinjonator
 ·


Infernal Climax
 ·


 Giga Bowser (




), Giga Bowser Punch (


)

 ·


Shadow Mario Paint
 ·


Progenitor God Ruptured Heaven
 ·


Blue Falcon
 ·


 Mega Evolution (Charizard) (


)

 ·


Awakening Aether
 ·


 Omnislash (


), Omnislash / Omnislash Ver. 5 (


)

 ·


Torrential Roar
 ·


Daisy Blossom
 ·


Dark Pit Staff
 ·


Phazon Laser
 ·


 Rocketbarrel Barrage (




), Hyper Rocketbarrel (


)

 ·


 Konga Beat (




), Jungle Rush (


)

 ·


Doctor Finale
 ·


NES Zapper Posse
 ·


 Landmaster (




), Team Star Fox (


)

 ·


 Landmaster (




), Team Star Fox (


)

 ·


 Beast Ganon (




), Ganon, The Demon King (


)

 ·


Secret Ninja Attack
 ·


Gigaslash
 ·


Iceberg
 ·


Great Aether
 ·


Max Malicious Moonsault
 ·


Killer Wail
 ·


Dream Town Hall
 ·


Puff Up
 ·


All-Out Attack
 ·


Final Blaster
 ·


Shippu Jinraikyaku / Shinryuken
 ·


 Waddle Dee Army (


), Dedede Burst (


), Dede-Rush (


)

 ·


Blast-o-Matic
 ·


 Cook Kirby (


), Ultra Sword (




)

 ·


 Triforce Slash (




), Ancient Bow and Arrow (


)

 ·


 Giga Mac (


), Giga Mac Rush (


)

 ·


 Aura Storm (




), Mega Evolution (Lucario) (


)

 ·


PK Starstorm
 ·


Critical Hit
 ·


 Negative Zone (


), Poltergust 5000 (


), Poltergust G-00 (


)

 ·


Mario Finale
 ·


Critical Hit
 ·


Mega Legends
 ·


 Galaxia Darkness (




), Darkness Illusion (


)

 ·


Psystrike
 ·


Omega Blitz
 ·


Full Blast
 ·


Final Edge
 ·


ARMS Rush
 ·


Octopus
 ·


Sacred Arrow
 ·


PK Starstorm
 ·


End of Day
 ·


Super Pac-Man
 ·


Black Hole Laser
 ·


Peach Blossom
 ·


Volt Tackle
 ·


Volt Tackle
 ·


Petey Piranha
 ·


 Palutena's Army (


), Three Sacred Treasures (


), Lightning Chariot (


)

 ·


Triple Finish
 ·


Burning Sword
 ·


Grand Cross
 ·


Plasma Scream
 ·


 Diffusion Beam (


), Super Diffusion Beam (


), Guided Robo Beam (


)

 ·


Pair Up
 ·


 Power Star (


), Grand Star (


)

 ·


Critical Hit
 ·


Shin Shoryuken / Shinku Hadoken
 ·


Zero Laser
 ·


Supernova
 ·


 Light Arrow (




), Sheikah Dance (


)

 ·


Chain Attack
 ·


Grand Cross
 ·


 Grenade Launcher (


), Covering Fire (


)

 ·


Super Sonic
 ·


Sealing the Keyhole
 ·


House of Boom
 ·


Triple Wolf
 ·


Triforce Slash
 ·


Dream Home
 ·


Wario-Man
 ·


Wii Fit
 ·


 Landmaster (


), Team Star Wolf (


)

 ·


 Super Dragon (




), Stampede! (


)

 ·


Triforce Slash
 ·


 Light Arrow (




), Triforce of Wisdom (


)

 ·


 Power Suit Samus (


), Gunship (


), Zero Laser (


)