Sealing the Keyhole
From SmashWiki, the Super Smash Bros. wiki
Jump to navigation
Jump to search
Sealing the Keyhole (鍵穴の封印, Sealing the keyhole) is Sora's Final Smash in Super Smash Bros. Ultimate.
Overview
[
edit
]
Sora shouts "Let's go!" and shoots a beam from his Keyblade. Up to three opponents can be caught in this beam or the keyhole-shaped portal that manifests at its end, which turns into a large, white door with the Smash logo on the front. The door closes and Sora shoots a second beam into a keyhole on the door, then twists his Keyblade as if he is locking the door. Sora then turns around, striking a pose and laughing triumphantly (or saying "どうだ?", "How's that?" in Japanese) as the door explodes behind him.
The Final Smash does roughly 60% damage in total. Enemies with over 100% damage at the end of the Final Smash are instantly KO'd; otherwise, they take average knockback.
Instructional quote
[
edit
]
| | | |
| --- | --- | --- |
| Move List | | Hit opponents with a beam and launch them toward a Keyhole. Up to three opponents can be affected by the Keyhole, and if their damage is high enough, they'll be instantly KO'd. |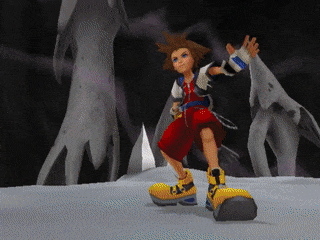 The Final Smash references the Keyblade's ability to seal Keyholes. Throughout Kingdom Hearts, Keyholes can be found in various worlds, and Sora is required to use his Keyblade to seal each one of them in order to prevent the Heartless from destroying the heart of that world. After the final boss battle, Ansem, Seeker of Darkness finds and opens the Door to Darkness, a doorway that acts as a portal to Kingdom Hearts and demands he be filled with the darkness he believes is behind it. However, light is behind the door, obliterating Ansem. Darkness starts spilling out soon after, and Sora and friends try to close the door to prevent the darkness from escaping. They achieve this with Sora, Donald, and Goofy pushing one end, while Riku and Mickey pulling on the other. With Sora using his Kingdom Key and Mickey using his Kingdom Key D, they successfully manage to close and seal the door, but end up separated as a result.
Gallery
[
edit
]
Names in other languages
[
edit
]
| Language | Name |
| --- | --- |
|  Japanese | 鍵穴の封印 |
|  English | Sealing the Keyhole |
|  French | Sceau de Serrure |
|  German | Schlüssellochsiegel |
|  Spanish | Sellar la cerradura |
|  Italian | Sigillare la serratura |
|  Chinese (Simplified) | 封印钥匙孔 |
|  Chinese (Traditional) | 封印鑰匙孔 |
|  Korean | 열쇠 구멍의 봉인 |
|  Dutch | Sleutelgatverzegeling |
|  Russian | Заключение |
This is one of two cinematic Final Smashes capable of performing Finish Zoom, the other being House of Boom.

If the Final Smash activates Finish Zoom, the Instant KO will not be performed.
Final Smashes


The Mighty Jinjonator
 ·


Infernal Climax
 ·


 Giga Bowser (




), Giga Bowser Punch (


)

 ·


Shadow Mario Paint
 ·


Progenitor God Ruptured Heaven
 ·


Blue Falcon
 ·


 Mega Charizard X (


)

 ·


Awakening Aether
 ·


 Omnislash (


), Omnislash / Omnislash Ver. 5 (


)

 ·


Torrential Roar
 ·


Daisy Blossom
 ·


Dark Pit Staff
 ·


Phazon Laser
 ·


 Rocketbarrel Barrage (




), Hyper Rocketbarrel (


)

 ·


 Konga Beat (




), Jungle Rush (


)

 ·


Doctor Finale
 ·


NES Zapper Posse
 ·


 Landmaster (




), Team Star Fox (


)

 ·


 Landmaster (




), Team Star Fox (


)

 ·


 Beast Ganon (




), Ganon, The Demon King (


)

 ·


Secret Ninja Attack
 ·


Gigaslash
 ·


Iceberg
 ·


Great Aether
 ·


Max Malicious Moonsault
 ·


Killer Wail
 ·


Dream Town Hall
 ·


Puff Up
 ·


All-Out Attack
 ·


Final Blaster
 ·


Shippu Jinraikyaku / Shinryuken
 ·


 Waddle Dee Army (


), Dedede Burst (


), Dede-Rush (


)

 ·


Blast-o-Matic
 ·


 Cook Kirby (


), Ultra Sword (




)

 ·


 Triforce Slash (




), Ancient Bow and Arrow (


)

 ·


 Giga Mac (


), Giga Mac Rush (


)

 ·


 Aura Storm (




), Mega Lucario (


)

 ·


PK Starstorm
 ·


Critical Hit
 ·


 Negative Zone (


), Poltergust 5000 (


), Poltergust G-00 (


)

 ·


Mario Finale
 ·


Critical Hit
 ·


Mega Legends
 ·


 Galaxia Darkness (




), Darkness Illusion (


)

 ·


Psystrike
 ·


Omega Blitz
 ·


Full Blast
 ·


Final Edge
 ·


ARMS Rush
 ·


Octopus
 ·


Sacred Arrow
 ·


PK Starstorm
 ·


End of Day
 ·


Super Pac-Man
 ·


Black Hole Laser
 ·


Peach Blossom
 ·


Volt Tackle
 ·


Volt Tackle
 ·


Petey Piranha
 ·


 Palutena's Army (


), Three Sacred Treasures (


), Lightning Chariot (


)

 ·


Triple Finish
 ·


Burning Sword
 ·


Grand Cross
 ·


Plasma Scream
 ·


 Diffusion Beam (


), Super Diffusion Beam (


), Guided Robo Beam (


)

 ·


Pair Up
 ·


 Power Star (


), Grand Star (


)

 ·


Critical Hit
 ·


Shin Shoryuken / Shinku Hadoken
 ·


Zero Laser
 ·


Supernova
 ·


 Light Arrow (




), Sheikah Dance (


)

 ·


Chain Attack
 ·


Grand Cross
 ·


 Grenade Launcher (


), Covering Fire (


)

 ·


Super Sonic
 ·


Sealing the Keyhole
 ·


House of Boom
 ·


Triple Wolf
 ·


Triforce Slash
 ·


Dream Home
 ·


Wario-Man
 ·


Wii Fit
 ·


 Landmaster (


), Team Star Wolf (


)

 ·


 Super Dragon (




), Stampede! (


)

 ·


Triforce Slash
 ·


 Light Arrow (




), Triforce of Wisdom (


)

 ·


 Power Suit Samus (


), Gunship (


), Zero Laser (


)