Gunship (Final Smash)
From SmashWiki, the Super Smash Bros. wiki
Jump to navigation
Jump to search
Gunship (スターシップ, Starship) is Zero Suit Samus's Final Smash in Super Smash Bros. 4. It replaces Power Suit Samus from Super Smash Bros. Brawl, since Samus and Zero Suit Samus are no longer transforming characters.
Overview
[
edit
]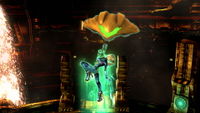 When activated, Zero Suit Samus jumps into her Gunship and proceeds to fire several energy beam shots at her opponents, which are aimed beforehand by moving a cursor around onscreen. The move is overall very similar to Snake's Grenade Launcher. After Zero Suit Samus fires 5 blasts or a few seconds have passed, the Final Smash will end.
Instructional quote
[
edit
]
| | | |
| --- | --- | --- |
| case foldout | | Jump into your Gunship and shoot lasers at your opponents. |

Gunship (Zero Suit Samus)

Samus's spaceship carries her through space and serves as her base of operations during her missions. Zero Suit Samus will call down and board her Gunship with her Final Smash. Once she's in the pilot's seat, she has a short time to unleash up to five powerful shots from the ship's weapons. Foes aren't safe even hiding off-screen!
Samus's Gunship is her way of travelling through space and her base of operations when exploring hostile planets. In Zero Suit Samus's Final Smash, she can use her Gunship to fire powerful beams at other fighters, hitting them multiple times, even if they're hiding off-screen! At least they can be thankful it doesn't go on forever.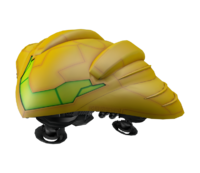 Samus's Gunship has been a staple of Metroid games since Metroid II: Return of Samus, but in most games, it acted as a glorified save/ammo restore point. In Metroid Prime 3: Corruption, it became a bigger gameplay element: not only did Samus use it to travel between multiple planets, but it could be remotely controlled to use missiles to air strike enemies and structures. The Final Smash is partially based off of this, but with two major differences: Samus is in the ship herself and it uses dual lasers instead of missiles. The Gunship's design, like most Metroid content in SSB4, is based upon its appearance in Metroid: Other M.
Names in other languages
[
edit
]
Language
Name
 Japanese

スターシップ

, Starship
 English
Gunship
 French (NTSC)
Vaisseau
 Spanish (NTSC)
Nave de combate
A glitch can occur if an opponent ends the match during a Final Smash that will leave the user of the Final Smash frozen. This glitch can only occur during an Online With Friends match.
Final Smashes


The Mighty Jinjonator
 ·


Infernal Climax
 ·


 Giga Bowser (




), Giga Bowser Punch (


)

 ·


Shadow Mario Paint
 ·


Progenitor God Ruptured Heaven
 ·


Blue Falcon
 ·


 Mega Evolution (Charizard) (


)

 ·


Awakening Aether
 ·


 Omnislash (


), Omnislash / Omnislash Ver. 5 (


)

 ·


Torrential Roar
 ·


Daisy Blossom
 ·


Dark Pit Staff
 ·


Phazon Laser
 ·


 Rocketbarrel Barrage (




), Hyper Rocketbarrel (


)

 ·


 Konga Beat (




), Jungle Rush (


)

 ·


Doctor Finale
 ·


NES Zapper Posse
 ·


 Landmaster (




), Team Star Fox (


)

 ·


 Landmaster (




), Team Star Fox (


)

 ·


 Beast Ganon (




), Ganon, The Demon King (


)

 ·


Secret Ninja Attack
 ·


Gigaslash
 ·


Iceberg
 ·


Great Aether
 ·


Max Malicious Moonsault
 ·


Killer Wail
 ·


Dream Town Hall
 ·


Puff Up
 ·


All-Out Attack
 ·


Final Blaster
 ·


Shippu Jinraikyaku / Shinryuken
 ·


 Waddle Dee Army (


), Dedede Burst (


), Dede-Rush (


)

 ·


Blast-o-Matic
 ·


 Cook Kirby (


), Ultra Sword (




)

 ·


 Triforce Slash (




), Ancient Bow and Arrow (


)

 ·


 Giga Mac (


), Giga Mac Rush (


)

 ·


 Aura Storm (




), Mega Evolution (Lucario) (


)

 ·


PK Starstorm
 ·


Critical Hit
 ·


 Negative Zone (


), Poltergust 5000 (


), Poltergust G-00 (


)

 ·


Mario Finale
 ·


Critical Hit
 ·


Mega Legends
 ·


 Galaxia Darkness (




), Darkness Illusion (


)

 ·


Psystrike
 ·


Omega Blitz
 ·


Full Blast
 ·


Final Edge
 ·


ARMS Rush
 ·


Octopus
 ·


Sacred Arrow
 ·


PK Starstorm
 ·


End of Day
 ·


Super Pac-Man
 ·


Black Hole Laser
 ·


Peach Blossom
 ·


Volt Tackle
 ·


Volt Tackle
 ·


Petey Piranha
 ·


 Palutena's Army (


), Three Sacred Treasures (


), Lightning Chariot (


)

 ·


Triple Finish
 ·


Burning Sword
 ·


Grand Cross
 ·


Plasma Scream
 ·


 Diffusion Beam (


), Super Diffusion Beam (


), Guided Robo Beam (


)

 ·


Pair Up
 ·


 Power Star (


), Grand Star (


)

 ·


Critical Hit
 ·


Shin Shoryuken / Shinku Hadoken
 ·


Zero Laser
 ·


Supernova
 ·


 Light Arrow (




), Sheikah Dance (


)

 ·


Chain Attack
 ·


Grand Cross
 ·


 Grenade Launcher (


), Covering Fire (


)

 ·


Super Sonic
 ·


Sealing the Keyhole
 ·


House of Boom
 ·


Triple Wolf
 ·


Triforce Slash
 ·


Dream Home
 ·


Wario-Man
 ·


Wii Fit
 ·


 Landmaster (


), Team Star Wolf (


)

 ·


 Super Dragon (




), Stampede! (


)

 ·


Triforce Slash
 ·


 Light Arrow (




), Triforce of Wisdom (


)

 ·


 Power Suit Samus (


), Gunship (


), Zero Laser (


)