Awakening Aether
From SmashWiki, the Super Smash Bros. wiki
Jump to navigation
Jump to search
Awakening Aether (覚醒天空, Awakening Heavens) is Chrom's Final Smash in Super Smash Bros. Ultimate.
Overview
[
edit
]
When this Final Smash is used, Chrom will dash forward while shouting "Anything can change!", "Now I'm mad!", or "Your end has come!" and strike forward with his sword, and any opponent that he hits with it will be stunned. If all of his opponents are hit, the camera angle changes to resemble that of attacks in Fire Emblem Awakening (unless he got the Final Smash by filling up his Final Smash Meter). Chrom then backflips away, then dashes forward while attacking the stunned opponents again with a more powerful strike, sending them flying.
Instructional quotes
[
edit
]
| | | |
| --- | --- | --- |
| Move List | | Chrom quickly charges forward, slashes upward, then swings his blade diagonally to launch opponents upward. If the first hit misses, the move doesn't activate. If it hits, the move can hit multiple opponents. |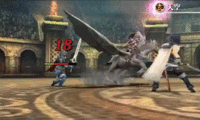 Aether is a skill from the Fire Emblem series, originating in Path of Radiance as Ike's mastery skill. Chrom can learn the skill in Awakening as a Level 5 Great Lord. Lucina always begins with the skill as her inherited skill from Chrom, as well as Kjelle or Cynthia if Chrom is their father (regardless of whether or not he has it equipped as a skill), and Morgan if Lucina is her mother. In addition, certain versions of Chrom can learn it naturally in Fire Emblem Heroes, while others can learn it through skill inheritance.
In Awakening, Aether has a completely different animation unlike any of its other appearances, which this Final Smash is based on. However, it was never referred to as "Awakening Aether", which makes it likely that it was named this in Smash to not conflate it with Ike's Aether. All three of the lines Chrom can yell when activating this move are lines he says when performing a critical hit or activating an attacking skill (such as Aether) in Awakening. However, in Awakening, he said "Now I'm angry!" instead of "Now I'm mad!". Unlike Aether in the main series, Chrom does not recover damage or have any knockback multiplier on the attack, simply mimicking the attack animation.
Gallery
[
edit
]
Awakening Aether as shown by the Move List in Super Smash Bros. Ultimate.
Names in other languages
[
edit
]
| Language | Name |
| --- | --- |
|  Japanese | 覚醒天空 |
|  English | Awakening Aether |
|  French | Éther de l'Éveil |
|  German | Aithir des Erwachens |
|  Spanish | Éter del despertar |
|  Italian | Etere del Resveglio |
|  Chinese (Simplified) | 觉醒天空 |
|  Chinese (Traditional) | 覺醒天空 |
|  Korean | 각성 에테르 |
|  Dutch | Ontwakende Aether |
|  Russian | Небеса Пробуждения |
During his initial release trailer, Chrom's voiceline for calling out "Aether!" is said in a single phrase.[1] However, the final release of the game has him split the word into two syllables, one from the initial flip backwards and the other for the actual attack, through adding a pause in the middle of the same voice clip. In the Japanese version, the voice clip had a pause in both the trailer and the final release, likely because the Japanese name for "Aether", "

天空

", has a pause in between its two syllables.

A similar issue was shown with Ike's Aether in Super Smash Bros. Brawl, where a cutscene from the Subspace Emissary used his Great Aether voice line, despite the scene showing him using his normal Aether.

During Awakening Aether, a special camera angle will activate during the second half of the attack, as a nod to the camera angles used in Awakening. However, if Chrom, or his opponent, are near a wall or a large part of the stage when Awakening Aether hits, the camera angle won't activate, and the standard camera angle will be in its place. It's possible that this was done to stop the in-game camera from clipping through the object(s), and obstructing the player's view.
This is the only Final Smash to belong to a variant of Marth, but not be a variation of Critical Hit.

However, similar to Marth and Lucina's Critical Hit, Awakening Aether involves Chrom dashing forward to strike.
Final Smashes


The Mighty Jinjonator
 ·


Infernal Climax
 ·


 Giga Bowser (




), Giga Bowser Punch (


)

 ·


Shadow Mario Paint
 ·


Progenitor God Ruptured Heaven
 ·


Blue Falcon
 ·


 Mega Charizard X (


)

 ·


Awakening Aether
 ·


 Omnislash (


), Omnislash / Omnislash Ver. 5 (


)

 ·


Torrential Roar
 ·


Daisy Blossom
 ·


Dark Pit Staff
 ·


Phazon Laser
 ·


 Rocketbarrel Barrage (




), Hyper Rocketbarrel (


)

 ·


 Konga Beat (




), Jungle Rush (


)

 ·


Doctor Finale
 ·


NES Zapper Posse
 ·


 Landmaster (




), Team Star Fox (


)

 ·


 Landmaster (




), Team Star Fox (


)

 ·


 Beast Ganon (




), Ganon, The Demon King (


)

 ·


Secret Ninja Attack
 ·


Gigaslash
 ·


Iceberg
 ·


Great Aether
 ·


Max Malicious Moonsault
 ·


Killer Wail
 ·


Dream Town Hall
 ·


Puff Up
 ·


All-Out Attack
 ·


Final Blaster
 ·


Shippu Jinraikyaku / Shinryuken
 ·


 Waddle Dee Army (


), Dedede Burst (


), Dede-Rush (


)

 ·


Blast-o-Matic
 ·


 Cook Kirby (


), Ultra Sword (




)

 ·


 Triforce Slash (




), Ancient Bow and Arrow (


)

 ·


 Giga Mac (


), Giga Mac Rush (


)

 ·


 Aura Storm (




), Mega Lucario (


)

 ·


PK Starstorm
 ·


Critical Hit
 ·


 Negative Zone (


), Poltergust 5000 (


), Poltergust G-00 (


)

 ·


Mario Finale
 ·


Critical Hit
 ·


Mega Legends
 ·


 Galaxia Darkness (




), Darkness Illusion (


)

 ·


Psystrike
 ·


Omega Blitz
 ·


Full Blast
 ·


Final Edge
 ·


ARMS Rush
 ·


Octopus
 ·


Sacred Arrow
 ·


PK Starstorm
 ·


End of Day
 ·


Super Pac-Man
 ·


Black Hole Laser
 ·


Peach Blossom
 ·


Volt Tackle
 ·


Volt Tackle
 ·


Petey Piranha
 ·


 Palutena's Army (


), Three Sacred Treasures (


), Lightning Chariot (


)

 ·


Triple Finish
 ·


Burning Sword
 ·


Grand Cross
 ·


Plasma Scream
 ·


 Diffusion Beam (


), Super Diffusion Beam (


), Guided Robo Beam (


)

 ·


Pair Up
 ·


 Power Star (


), Grand Star (


)

 ·


Critical Hit
 ·


Shin Shoryuken / Shinku Hadoken
 ·


Zero Laser
 ·


Supernova
 ·


 Light Arrow (




), Sheikah Dance (


)

 ·


Chain Attack
 ·


Grand Cross
 ·


 Grenade Launcher (


), Covering Fire (


)

 ·


Super Sonic
 ·


Sealing the Keyhole
 ·


House of Boom
 ·


Triple Wolf
 ·


Triforce Slash
 ·


Dream Home
 ·


Wario-Man
 ·


Wii Fit
 ·


 Landmaster (


), Team Star Wolf (


)

 ·


 Super Dragon (




), Stampede! (


)

 ·


Triforce Slash
 ·


 Light Arrow (




), Triforce of Wisdom (


)

 ·


 Power Suit Samus (


), Gunship (


), Zero Laser (


)