Solgaleo
From SmashWiki, the Super Smash Bros. wiki
Jump to navigation
Jump to search
Solgaleo (ソルガレオ, Solgaleo) is a Legendary Pokémon from the Alola region.
Solgaleo is a Psychic/Steel-type Legendary Pokémon introduced in Generation VII, and is categorized within the Pokédex at #791 as the "Sunne Pokémon". It serves as the mascot for Pokémon Sun. It evolves from Cosmoem when leveled up in Pokémon Sun, Pokémon Ultra Sun, or Pokémon Sword starting at level 53. It is one of Cosmog's final forms, the other being Lunala. Necrozma fuses with Solgaleo using the N-Solarizer to become Dusk Mane Necrozma.
Sunsteel Strike is Solgaleo's signature move. It has 100 power and 100% accuracy and allows its user to ignore the target's Abilities when dealing damage.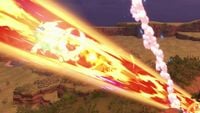 Once summoned, Solgaleo appears on stage and unleashes its signature move, Sunsteel Strike (メテオドライブ, Meteor Drive) towards its opposing fighters, and will teleport to another place on the stage, repeating the process until it disappears. Sunsteel Strike takes the form of a fiery aura circling Solgaleo before it launches itself forward in a sudden beam of flame, which is extremely hard to dodge due to its sheer speed.
Solgaleo cannot be summoned on Green Greens, Luigi's Mansion, Tomodachi Life, or Wuhu Island.
| No. | Image | Name | Type | Class | Slots | Base | Max | Base | Max | Base | Max | Ability | Series |
| --- | --- | --- | --- | --- | --- | --- | --- | --- | --- | --- | --- | --- | --- |
| 557 | | Solgaleo | | ★★★ | 3 | 3051 | 9155 | 971 | 2913 | 1803 | 5410 | Fire Attack ↑ | Pokémon Series |
Gallery
[
edit
]
Names in other languages
[
edit
]
Language
Name
 Japanese

ソルガレオ

, Solgaleo
 English
Solgaleo
 French
Solgaleo
 German
Solgaleo
 Spanish
Solgaleo
 Italian
Solgaleo
 Chinese (Simplified)

索尔迦雷欧

 Chinese (Traditional)

索爾迦雷歐

 Korean

솔가레오

, Solgaleo
 Dutch
Solgaleo
 Russian

Солгалео
Non-playable Pokémon in Super Smash Bros. Ultimate
Poké Ball
Abra

 ·

Abomasnow

 ·

Arceus

 ·

Bellossom

 ·

Bewear

 ·

Chespin

 ·

Darkrai

 ·

Deoxys

 ·

Ditto

 ·

Eevee

 ·

Electrode

 ·

Entei

 ·

Exeggutor

 ·

Fennekin

 ·

Fletchling

 ·

Gardevoir

 ·

Genesect

 ·

Giratina

 ·

Gogoat

 ·

Goldeen

 ·

Inkay

 ·

Keldeo

 ·

Kyogre

 ·

Kyurem

 ·

Latias and Latios

 ·

Lugia

 ·

Lunala

 ·

Marshadow

 ·

Meloetta

 ·

Meowth

 ·

Metagross

 ·

Mew

 ·

Mimikyu

 ·

Moltres

 ·

Oshawott

 ·

Palkia

 ·

Pyukumuku

 ·

Raichu

 ·

Scizor

 ·

Snivy

 ·

Snorlax

 ·

Solgaleo

 ·

Spewpa

 ·

Staryu

 ·

Suicune

 ·

Swirlix

 ·

Tapu Koko

 ·

Togedemaru

 ·

Togepi

 ·

Victini

 ·

Vulpix

 ·

Xerneas

 ·

Zoroark
Stage elements
Saffron City: Butterfree

 ·

Chansey

 ·

Charmander

 ·

Electrode

 ·

Fearow

 ·

Moltres

 ·

Pidgey

 ·

Porygon

 ·

Venusaur
Pokémon Stadium 2: Cubone

 ·

Drifloon

 ·

Dugtrio

 ·

Electivire

 ·

Hoppip

 ·

Magnezone

 ·

Skarmory

 ·

Snorunt

 ·

Snover
Spear Pillar: Azelf

 ·

Cresselia

 ·

Dialga

 ·

Mesprit

 ·

Palkia

 ·

Uxie
Unova Pokémon League: Milotic

 ·

Reshiram

 ·

Shaymin

 ·

Whimsicott

 ·

Zekrom
Prism Tower: Emolga

 ·

Helioptile

 ·

Magnemite

 ·

Yveltal

 ·

Zapdos
Kalos Pokémon League: Axew

 ·

Blastoise

 ·

Blaziken

 ·

Clawitzer

 ·

Dragonite

 ·

Garchomp

 ·

Honedge

 ·

Ho-Oh

 ·

Hydreigon

 ·

Infernape

 ·

Klinklang

 ·

Manaphy

 ·

Piplup

 ·

Pyroar

 ·

Rayquaza

 ·

Registeel

 ·

Scizor

 ·

Steelix

 ·

Tepig

 ·

Wailord
Spirits
Gen 1: Abra

 ·

Alolan Exeggutor

 ·

Alolan Raichu

 ·

Alolan Vulpix

 ·

Arbok

 ·

Arcanine

 ·

Articuno, Zapdos, & Moltres

 ·

Blastoise

 ·

Chansey

 ·

Charmander

 ·

Clefairy

 ·

Cubone

 ·

Ditto

 ·

Dragonite

 ·

Dugtrio

 ·

Eevee

 ·

Electrode

 ·

Farfetch'd

 ·

Gengar

 ·

Geodude

 ·

Goldeen

 ·

Gyarados

 ·

Hitmonlee

 ·

Kangaskhan

 ·

Lapras

 ·

Machamp

 ·

Magneton

 ·

Mega Kangaskhan

 ·

Metapod

 ·

Meowth

 ·

Mew

 ·

Pidgey

 ·

Pinsir

 ·

Psyduck

 ·

Porygon

 ·

Rapidash

 ·

Sandshrew

 ·

Slowpoke

 ·

Snorlax

 ·

Staryu

 ·

Tauros

 ·

Venusaur

 ·

Vulpix

 ·

Weezing
Gen 2: Ampharos

 ·

Bellossom

 ·

Celebi

 ·

Chikorita

 ·

Heracross

 ·

Ho-Oh

 ·

Houndoom

 ·

Lugia

 ·

Marill

 ·

Miltank

 ·

Raikou, Entei, & Suicune

 ·

Scizor

 ·

Skarmory

 ·

Smeargle

 ·

Steelix

 ·

Sudowoodo

 ·

Togepi

 ·

Tyranitar

 ·

Unown

 ·

Wobbuffet

 ·

Wooper
Gen 3: Absol

 ·

Blaziken

 ·

Flygon

 ·

Gardevoir

 ·

Groudon

 ·

Jirachi

 ·

Kyogre

 ·

Latias & Latios

 ·

Metagross

 ·

Milotic

 ·

Primal Groudon

 ·

Primal Kyogre

 ·

Rayquaza

 ·

Salamence

 ·

Shedinja
Gen 4: Abomasnow

 ·

Arceus

 ·

Cresselia

 ·

Darkrai

 ·

Dialga

 ·

Garchomp

 ·

Giratina

 ·

Manaphy

 ·

Palkia

 ·

Piplup

 ·

Regigigas

 ·

Rotom

 ·

Shaymin

 ·

Uxie, Mesprit, & Azelf
Gen 5: Black Kyurem

 ·

Chandelure

 ·

Cobalion, Terrakion, & Virizion

 ·

Genesect

 ·

Hydreigon

 ·

Keldeo

 ·

Kyurem

 ·

Landorus

 ·

Meloetta

 ·

Oshawott

 ·

Reshiram

 ·

Thundurus

 ·

Tornadus

 ·

Victini

 ·

White Kyurem

 ·

Zekrom

 ·

Zoroark
Gen 6: Aegislash

 ·

Chespin

 ·

Dedenne

 ·

Diancie

 ·

Hoopa

 ·

Inkay

 ·

Mega Diancie

 ·

Volcanion

 ·

Xerneas

 ·

Yveltal

 ·

Zygarde
Gen 7: Bewear

 ·

Lunala

 ·

Magearna

 ·

Marshadow

 ·

Mimikyu

 ·

Necrozma

 ·

Nihilego

 ·

Pyukumuku

 ·

Rowlet

 ·

Solgaleo

 ·

Tapu Koko

 ·

Togedemaru
Gen 8: Grookey, Scorbunny, & Sobble

 ·

Corviknight

 ·

Morpeko

 ·

Zacian & Zamazenta