Togedemaru
From SmashWiki, the Super Smash Bros. wiki
Jump to navigation
Jump to search
Togedemaru


Togdemaru's official artwork from Pokémon Sun and Moon.
Games
Ultimate
Japanese voice actor
Mika Kanai
Article on Bulbapedia
Togedemaru (Pokémon)
Togedemaru (トゲデマル, Togedemaru) is a creature from the Pokémon franchise.
Togedemaru is an Electric/Steel-type Pokémon introduced in Generation VII, and is categorized within the Pokédex at #777 as the "Roly-Poly Pokémon". Its appearance follows a design similar to electric rodents from other generations in that its face bears a resemblance to Pikachu's, being among the few Pokémon in each region commonly referred to as a "Pikaclone".
Its attack resembles Zing Zap, its signature move.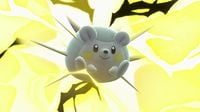 Togedemaru appears in Ultimate, attacking opponents by using its signature move, Zing Zap (びりびりちくちく, Shocking and Prickly), a strong electric blast that crashes down on Togedemaru, resulting in an electric field appearing around it that causes damage to opponents upon contact. It then bounces to another location, and repeats the process.
| No. | Image | Name | Type | Class | Slots | Base | Max | Base | Max | Base | Max | Ability | Series |
| --- | --- | --- | --- | --- | --- | --- | --- | --- | --- | --- | --- | --- | --- |
| 554 | | Togedemaru | | ★ | 1 | 912 | 4566 | 267 | 1335 | 594 | 2973 | Electric Attack ↑ | Pokémon Series |
Gallery
[
edit
]
Names in other languages
[
edit
]
Language
Name
 Japanese

トゲデマル

, Togedemaru
 English
Togedemaru
 French
Togedemaru
 German
Togedemaru
 Spanish
Togedemaru
 Italian
Togedemaru
 Chinese (Simplified)

托戈德玛尔

 Chinese (Traditional)

托戈德瑪爾

 Korean

토게데마루

, Togedemaru
 Dutch
Togedemaru
 Russian

Тогедемару
Non-playable Pokémon in Super Smash Bros. Ultimate
Poké Ball
Abra

 ·

Abomasnow

 ·

Arceus

 ·

Bellossom

 ·

Bewear

 ·

Chespin

 ·

Darkrai

 ·

Deoxys

 ·

Ditto

 ·

Eevee

 ·

Electrode

 ·

Entei

 ·

Exeggutor

 ·

Fennekin

 ·

Fletchling

 ·

Gardevoir

 ·

Genesect

 ·

Giratina

 ·

Gogoat

 ·

Goldeen

 ·

Inkay

 ·

Keldeo

 ·

Kyogre

 ·

Kyurem

 ·

Latias and Latios

 ·

Lugia

 ·

Lunala

 ·

Marshadow

 ·

Meloetta

 ·

Meowth

 ·

Metagross

 ·

Mew

 ·

Mimikyu

 ·

Moltres

 ·

Oshawott

 ·

Palkia

 ·

Pyukumuku

 ·

Raichu

 ·

Scizor

 ·

Snivy

 ·

Snorlax

 ·

Solgaleo

 ·

Spewpa

 ·

Staryu

 ·

Suicune

 ·

Swirlix

 ·

Tapu Koko

 ·

Togedemaru

 ·

Togepi

 ·

Victini

 ·

Vulpix

 ·

Xerneas

 ·

Zoroark
Stage elements
Saffron City: Butterfree

 ·

Chansey

 ·

Charmander

 ·

Electrode

 ·

Fearow

 ·

Moltres

 ·

Pidgey

 ·

Porygon

 ·

Venusaur
Pokémon Stadium 2: Cubone

 ·

Drifloon

 ·

Dugtrio

 ·

Electivire

 ·

Hoppip

 ·

Magnezone

 ·

Skarmory

 ·

Snorunt

 ·

Snover
Spear Pillar: Azelf

 ·

Cresselia

 ·

Dialga

 ·

Mesprit

 ·

Palkia

 ·

Uxie
Unova Pokémon League: Milotic

 ·

Reshiram

 ·

Shaymin

 ·

Whimsicott

 ·

Zekrom
Prism Tower: Emolga

 ·

Helioptile

 ·

Magnemite

 ·

Yveltal

 ·

Zapdos
Kalos Pokémon League: Axew

 ·

Blastoise

 ·

Blaziken

 ·

Clawitzer

 ·

Dragonite

 ·

Garchomp

 ·

Honedge

 ·

Ho-Oh

 ·

Hydreigon

 ·

Infernape

 ·

Klinklang

 ·

Manaphy

 ·

Piplup

 ·

Pyroar

 ·

Rayquaza

 ·

Registeel

 ·

Scizor

 ·

Steelix

 ·

Tepig

 ·

Wailord
Spirits
Gen 1: Abra

 ·

Alolan Exeggutor

 ·

Alolan Raichu

 ·

Alolan Vulpix

 ·

Arbok

 ·

Arcanine

 ·

Articuno, Zapdos, & Moltres

 ·

Blastoise

 ·

Chansey

 ·

Charmander

 ·

Clefairy

 ·

Cubone

 ·

Ditto

 ·

Dragonite

 ·

Dugtrio

 ·

Eevee

 ·

Electrode

 ·

Farfetch'd

 ·

Gengar

 ·

Geodude

 ·

Goldeen

 ·

Gyarados

 ·

Hitmonlee

 ·

Kangaskhan

 ·

Lapras

 ·

Machamp

 ·

Magneton

 ·

Mega Kangaskhan

 ·

Metapod

 ·

Meowth

 ·

Mew

 ·

Pidgey

 ·

Pinsir

 ·

Psyduck

 ·

Porygon

 ·

Rapidash

 ·

Sandshrew

 ·

Slowpoke

 ·

Snorlax

 ·

Staryu

 ·

Tauros

 ·

Venusaur

 ·

Vulpix

 ·

Weezing
Gen 2: Ampharos

 ·

Bellossom

 ·

Celebi

 ·

Chikorita

 ·

Heracross

 ·

Ho-Oh

 ·

Houndoom

 ·

Lugia

 ·

Marill

 ·

Miltank

 ·

Raikou, Entei, & Suicune

 ·

Scizor

 ·

Skarmory

 ·

Smeargle

 ·

Steelix

 ·

Sudowoodo

 ·

Togepi

 ·

Tyranitar

 ·

Unown

 ·

Wobbuffet

 ·

Wooper
Gen 3: Absol

 ·

Blaziken

 ·

Flygon

 ·

Gardevoir

 ·

Groudon

 ·

Jirachi

 ·

Kyogre

 ·

Latias & Latios

 ·

Metagross

 ·

Milotic

 ·

Primal Groudon

 ·

Primal Kyogre

 ·

Rayquaza

 ·

Salamence

 ·

Shedinja
Gen 4: Abomasnow

 ·

Arceus

 ·

Cresselia

 ·

Darkrai

 ·

Dialga

 ·

Garchomp

 ·

Giratina

 ·

Manaphy

 ·

Palkia

 ·

Piplup

 ·

Regigigas

 ·

Rotom

 ·

Shaymin

 ·

Uxie, Mesprit, & Azelf
Gen 5: Black Kyurem

 ·

Chandelure

 ·

Cobalion, Terrakion, & Virizion

 ·

Genesect

 ·

Hydreigon

 ·

Keldeo

 ·

Kyurem

 ·

Landorus

 ·

Meloetta

 ·

Oshawott

 ·

Reshiram

 ·

Thundurus

 ·

Tornadus

 ·

Victini

 ·

White Kyurem

 ·

Zekrom

 ·

Zoroark
Gen 6: Aegislash

 ·

Chespin

 ·

Dedenne

 ·

Diancie

 ·

Hoopa

 ·

Inkay

 ·

Mega Diancie

 ·

Volcanion

 ·

Xerneas

 ·

Yveltal

 ·

Zygarde
Gen 7: Bewear

 ·

Lunala

 ·

Magearna

 ·

Marshadow

 ·

Mimikyu

 ·

Necrozma

 ·

Nihilego

 ·

Pyukumuku

 ·

Rowlet

 ·

Solgaleo

 ·

Tapu Koko

 ·

Togedemaru
Gen 8: Grookey, Scorbunny, & Sobble

 ·

Corviknight

 ·

Morpeko

 ·

Zacian & Zamazenta