1v1 multiplier
From SmashWiki, the Super Smash Bros. wiki
Jump to navigation
Jump to search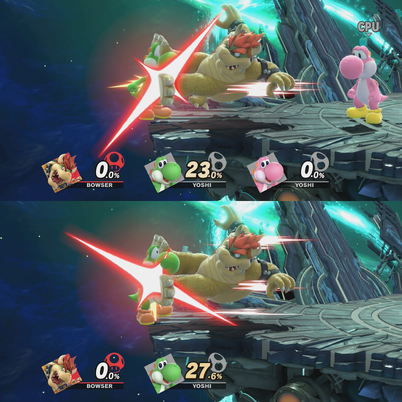 The 1v1 multiplier, officially known as 1-on-1 damage (refered to as White-Knuckle 1-on-1 in the initial design document[1]), is a mechanic in Super Smash Bros. Ultimate. First revealed by Masahiro Sakurai at E3 2018, its purpose is to speed up matches between two players. When a match is started with only two players, and items are off, characters take 1.2× damage from all sources. It does not activate if a match is started with more than 2 players and items off even after two players are left standing.
Unlike most other damage multipliers, the 1v1 multiplier modifies damage taken, rather than damage given, and is ignored in many calculations. As a result, it has some unintuitive interactions:
Shields and stage elements are unaffected by the multiplier, though most other player-created objects are (such as Pikmin).
In Training Mode, it actively toggles on and off depending on how many CPU opponents are selected to appear (taking effect during any period there is only one CPU), and spawning items does not affect its presence. This also makes training the only mode where damage from non-character items can be altered by the 1v1 multiplier.
The main purposes of this mechanic are to encourage an offense-based playstyle, increase the speed of individual games, and overall amplify the tension of a 1v1 fight. A game where all attacks do increased damage will naturally end quicker and more abruptly.
References
[
edit
]