Fighter number
From SmashWiki, the Super Smash Bros. wiki
Jump to navigation
Jump to search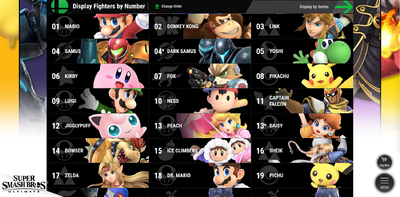 Fighter numbers are a method of identifying and sorting characters in Super Smash Bros. Ultimate.
Definition
[
edit
]
As explained by Masahiro Sakurai, the numbers order characters based on "the order in which they joined the series". They are ordered in the following way:
The fighter numbers are used to order characters on Ultimate's character selection screen and promotional material. The Mii Fighters are the only fighters whose placement on the selection screen does not correspond with their numbers, as they are instead shown as the last characters on the selection screen, likely due to their customizable nature. The only major in-game usage of the fighter numbers is that Echo Fighters, due to not having their own fighter number, can be optionally stacked onto the character they are based on in the character selection screens for Vs. Mode, Special Smash (except for Smashdown), Tourney, and Online modes (except for Quickplay). The only place that the fighter numbers are explicitly shown in-game is on the Move List.
A similar system is used for ordering stages on Ultimate's selection screen, where all stages are ordered by when they first appeared in the series (with the exception of stages which debuted in and are shared between both versions of Super Smash Bros. 4, which are mixed in with stages that debuted exclusively in Super Smash Bros. for Wii U).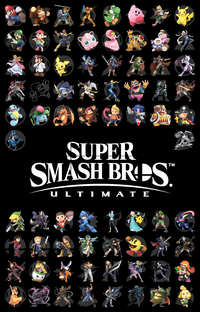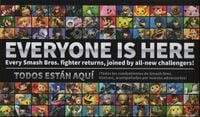 Coincidentally, Greninja and Inkling have the same fighter numbers as their respective costume numbers in Super Mario Maker.
Had Echo Fighters been numbered normally (i.e. not grouped with their base fighters), they could be placed accordingly:

Dark Pit would have been either between Palutena and Pac-Man or between Shulk and Bowser Jr. Although he was officially revealed after the launch of Super Smash Bros. for Nintendo 3DS, his status as a playable character was teased directly after the reveal of Palutena.
Richter's position would have been unchanged, as he was revealed directly after his base fighter Simon and before Chrom, making him the only Echo Fighter with this trait.
Chrom and Dark Samus would have been between Richter and King K. Rool, with Dark Samus listed after Chrom.
Ken would have been between Isabelle and Incineroar.
If Echo Fighters had been numbered normally, the final number would have been 89 instead of 82.

Oddly, on the back of the North American physical case of Ultimate, several fighters are misplaced from their fighter number order:
The Super Smash Bros. 4 Official Site and the character lineup that replaces the opening movie in Super Smash Bros. for Nintendo 3DS order the starting characters in a similar way. The major exceptions are that Zelda is ordered before Sheik in SSB4, the third-party characters and Miis are ordered after everyone else, and on the website Lucina (the only unlockable character who was revealed before launch) is ordered after Robin despite being revealed first. The lineup in for 3DS similarly orders the unlockable characters by their debuts, though with Duck Hunt before Bowser Jr. and the three clones ordered after the other unlockables.
Although the amount of fighter numbers and the amount of playable characters differ due to Echo Fighters not counting for fighter numbers and transformation characters counting for multiple, competitively speaking the amount of characters counted on the tier list is identical to fighter numbers, despite the different criteria. Lucina, Chrom, and Ken are counted as separate characters due to their significant differences, adding three, while removing two out of three of Pokémon Trainer's Pokémon and either Pyra or Mythra subtracts the three from Lucina, Chrom, and Ken.

Additionally, by sheer coincidence, Rosalina & Luma's fighter number and tier list position in the first Ultimate tier list are the same number.