Nintendo All-Star! Dairantō Smash Brothers OST
From SmashWiki, the Super Smash Bros. wiki
Jump to navigation
Jump to search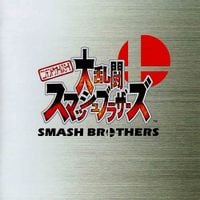 Nintendo All-Star! Dairantou Smash Brothers OST (ニンテンドウオールスター!大乱闘スマッシュブラザーズ オリジナルサウンドトラック) is the official release of the Super Smash Bros. soundtrack, released exclusively in Japan on January 21, 2000. Limited edition copies--signed by Smash Bros. creator Masahiro Sakurai, composer Hirokazu Ando, and musician Yukitaka Otake, who produced the CD--were given to ten people who applied via the questionnaire on the Japanese Smash 64 website.
The album is split into two discs. The first disc includes a majority of the game's music, as well as some various fanfares. The second disc includes four original remixes and a compilation of all the game's sound effects.
Track Listing
[
edit
]
All track titles, with the exceptions of How to Play and CLUB MIX How to Play, have been unofficially translated from their original Japanese text.
Disc 1 Tracklist
[
edit
]
A list of all music tracks can be found here.
Disc 2 Tracklist
[
edit
]
Credits
[
edit
]
CLUB MIXes arranged by Shinji Yoshimura vAin.
External links
[
edit
]