Smashing...Live!
From SmashWiki, the Super Smash Bros. wiki
Jump to navigation
Jump to search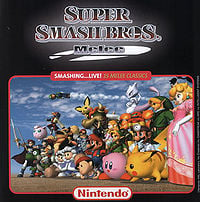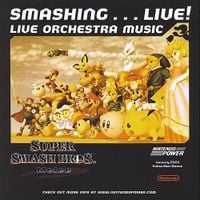 Smashing...Live! is the official soundtrack of Super Smash Bros. Melee. The soundtrack consists of fifteen arranged tracks, some of which are medleys containing more than one song in each; the total running time is 61:53.
The album, performed by the New Japan Philharmonic, is a recording of a live concert held on August 27, 2002 at the Tokyo Bunka Kaikan, making Smashing...Live! among the few soundtracks for video games that doesn't feature songs ripped directly from the game. At the end of every track (sans "Jungle Garden"), the audience applauds the ensemble; in the track "Rainbow Cruise", the audience also claps to the beat of the song once it "loops". A cough (possibly coming from a small child) is faintly audible near the beginning of "Fire Emblem".
Its initial Japanese release was in December 2002, as a gift to subscribers of the Famitsu Cube+Advance magazine. In January 2003, it was given as a gift to subscribers of Nintendo Power and Official Nintendo Magazine; these releases were the only ones of their kind in the American and PAL territories.
Track listing
[
edit
]
The EarthBound series is the only franchise with a playable character to not have music featured in the performance.
External links
[
edit
]