Ω form
From SmashWiki, the Super Smash Bros. wiki
Jump to navigation
Jump to search
Ω forms (Omega forms, also known as Final Destination forms) (終点化, lit. Final Destination forms) are alternate versions of stages in Super Smash Bros. 4 and Super Smash Bros. Ultimate which have a Final Destination-like layout (referred to as a "floating island" by Masahiro Sakurai[1]), consisting of a single flat platform with all stage hazards removed.
Pressing the

(horizontal Wii Remote),

(Wii Remote with Nunchuk) or

(every other controller) on the stage select screen in Smash 4 will fill the circular cursor with either Ω, 終点 (Japanese), or DF (PAL French version, 3DS only), allowing Ω form stages to be selected. There is also an option in the rules to have the game automatically select Ω form stages at random; this is how stages are selected in For Glory mode. Ω form stages can also be selected at random by enabling the Ω form cursor and selecting Random on the stage select screen. Final Destination itself can be selected as a Ω form stage, but this doesn't change its layout.
In Super Smash Bros. Ultimate, Ω forms are accompanied by a new stage option known as Battlefield forms.
Differences
[
edit
]
Smash 4

[

edit

]
Ω form stages are not all functionally identical, as the shape of the platform's underside varies, with some stages having walls all the way down to the lower blast line. This can have a significant impact on characters' recovery, especially those with the ability to wall jump; for example, Little Mac gains a tremendous advantage on a Ω form stage with walls; despite his notoriously weak recovery, he has a very strong wall jump, aiding his recovery significantly. This advantage, however, is strangely not applicable to Pac-Land as it is impossible to wall jump, despite the presence of walls.
Certain Ω stages also have top blast lines at slightly different heights compared to Final Destination. Ω Battlefield, Duck Hunt, Hyrule Castle, Jungle Hijinxs, Kalos Pokémon League, Luigi's Mansion, Lylat Cruise, Onett, Pokémon Stadium 2, Skyloft, Temple, Town and City, Umbra Clock Tower, Suzaku Castle, Windy Hill Zone, Castle Siege, Boxing Ring, Gamer and Midgar all have lower blast lines, while Halberd, Coliseum, and Palutena's Temple have higher blast lines. However these differences are far too minor to realistically affect gameplay, with the exception of Pokémon Stadium 2. Ω stages with grass along the platform where battles occur also increase characters' traction, with the exception of Super Mario Maker.
Most Ω form stages have Star KOs and Screen KOs enabled, even in cases where the original stage disabled them.
Ultimate

[

edit

]
In the introduction of Ω form and Battlefield form stages in the E3 2018 Nintendo Direct, Masahiro Sakurai stated that they differ only in music and aesthetics.[2] Unlike in Smash 4, the terrain and blast lines no longer vary between stages, with the exception of a bug causing the blast lines on Garreg Mach Monastery to be different pre-8.0.0. This means all Ω forms are the same length as Final Destination, in turn being shortened to the same length as Battlefield.
Despite this, stages that have the 2D flattening effect in the regular stages also have it in their Ω form, which alters how hitboxes function. Most stages where Star and Screen KOs are disabled continue to have them disabled as well.
As in Super Smash Bros. for Wii U, Ω form stages become roughly 50% bigger when in matches containing 5 or more players.
Assist Trophies and Poké Ball summons that are typically unavailable on certain stages can appear on Ω form stages. The tool that Steve uses varies depending on the Ω form stage he is on.
Tournament legality
[
edit
]
Smash 4

[

edit

]
There is some debate on how Ω form stages should be handled in competitive play. Those who opt for the ban of Ω form stages note how not all stages are the same, as mentioned above. This means that recoveries and stage-spikes would be massively different, and the different stages' blast zones could create unforeseen variation in when characters are KO'd. However, in practice, Ω form stages are usually treated as equivalent to Final Destination.
Ω form stages were notably banned at EVO 2015, although this was primarily because of copyright reasons involving the rights to stream music played on certain stages.
Ultimate

[

edit

]
Stages that have the 2D flattening effect on their Ω forms are typically banned for tournament use, as the effect significantly alters the function of hitboxes. These being:
Fountain of Dreams was banned due to framerate issues before update 8.0.0.
Windy Hill Zone is also most often banned due to the dense grass hiding traps set by Isabelle, Snake, and Steve.
Gamer is sometimes banned due to the camera angle differing from other Ω form stages.
Garreg Mach Monastery was banned due to having a slightly lower ceiling than Final Destination and the other Ω forms prior to 8.0.0.[3][4]
Otherwise, Ω forms are treated the same as Final Destination and are struck alongside it when either are picked.
Gallery
[
edit
]
Bold denotes unlockable stages.
Bold denotes unlockable stages.
Ultimate

[

edit

]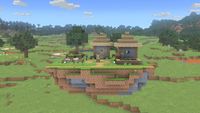 The E3 2013 Developer Direct showed footage of Mario, Mega Man, and Wii Fit Trainer fighting on Battlefield Ω before the official announcement of the Ω forms of stages in the Super Smash Bros. Direct.
Suzaku Castle is the only stage to retain interactive elements from its original form in its Ω form, as the signs that appear behind the fighters can still be destroyed. Since these signs merely break when an attack occurs nearby, and do not physically interact with the fighters, they do not affect gameplay.
The platforms fought on in the Ω forms of Corneria and Venom are identical, reflecting the fact that both stages have players fighting on the Great Fox in their standard forms. Not including Big Battlefield, this is the only case in which 2 stages share the same main platform in their Ω forms.

The main platforms for Brinstar and Brinstar Depths, as well as Big Blue and Port Town Aero Dive, are very similar in design, however in both cases there are minor differences between them.

When playing with more than four fighters on a stage's Ω form, the stage will be scaled a bit larger (1.5× larger in Ultimate).However, the stage will not be scaled larger when playing with more than four fighters on a Special Orders battle in for Wii U.
The Final Destination in the E3 2018 Demo for Super Smash Bros. Ultimate was the Ω form of Battlefield, as the game's real Final Destination stage was likely not finished at the time of initial demo.

Ultimate's iteration of Final Destination was later revealed in the Super Smash Bros. Ultimate Direct aired on August 8, 2018, the first time throughout the series that the stage had been officially revealed before the game's release.

Minecraft World's Ω and battlefield forms are 16 blocks wide, and Steve can place 16 Blocks along the length of these stages. Each block is 1 meter in Minecraft, meaning that in Ultimate, Final Destination, Battlefield, and all of their stage variants are 16 meters in length.
Minecraft World's Ω form is the only Ω form stage to use a different model when fighting with 5 or more players, rather than just scaling the normal model up. This is to keep the blocks in the stage to scale with their standard size.

While the exercise equipment in the background of Wii Fit Studio also doesn't scale when fighting with 5 or more players, the rest of the stage does scale normally.

The letter Ω is symbolic of endings and finality, due to being the last letter of the Greek alphabet. The name "Ω form" references this symbolism to allude to the name of Final Destination.
Peach, Daisy, Toon Link, Mii Gunner and King K. Rool are the only fighters whose unlocking battles in World of Light do not take place on an Ω form nor on Final Destination itself.
See also
[
edit
]
References
[
edit
]