Randomness
From SmashWiki, the Super Smash Bros. wiki
Jump to navigation
Jump to search
"Luck" redirects here. For the Project M Diddy Kong main from Texas, see Smasher:Luck.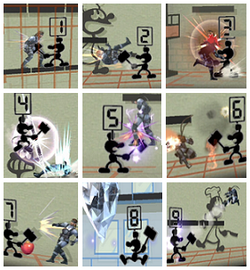 Randomness is the concept of unpredictable events. It is a critical factor in many video games, including the Super Smash Bros. series. Random events challenge players to think quickly and cause a game to never be played the same way twice.
Mechanics of computer-generated random numbers
[
edit
]
Computers are unable to generate truly random numbers. They can only create a series of pseudo-random numbers. If a computer were to start out with a certain seed (initial number), one could predict the entire sequence of pseudorandom numbers to follow. It is believed this is how Replays are saved; the system only saves the seed instead of all random events.
Random events in the Smash Bros. series

[

edit

]
General
[
edit
]
Computer players do things randomly: the higher the computer's level, the more likely it is to do a specified action.
Random items appear in predetermined places at random times, with preset ratios.
When strong enough knockback to cause tumbling is inflicted on a character with at least 100% damage after getting hit, there is a 30% chance they will be sent reeling instead. The difference alters the character's hurt box and in Smash 4, where reeling decreases hitstun by one frame and prevents characters from teching on the ground while in hitstun.
Tripping is a random event that may occur in two ways:

In Brawl only, whenever characters initiate a dash or turn around from a run, with chances of 1% and 1.25% respectively.
From Brawl onward, by any attack with knockback that keeps targets on the ground. These have both a base trip chance of 13.5% (7% starting in version 1.1.4 of Smash 4), which requires knockback to be higher than 55 units, and a bonus trip chance exclusive to specific attacks, which is added to the base chance to determine the final trip chance (for example, a move with a bonus trip chance of 30% will have an effective trip chance of 43.5% or 37% respectively).

KOs that occur on the upper blast line are randomly chosen from being a Star KO, a Screen KO, or from Smash 4 onward, a Blast KO. Also in Smash 4 onward, this randomness is removed if the victim takes high enough knockback, instead forcing a Blast KO.
In the Name Entry, a name can be picked randomly from a predefined list.
It is random when characters will do one of their idle poses and which one they will do.
It is random where characters will appear when starting a match.
Random character/stage select
[
edit
]


The following are random occurrences during character and stage selection.
In SSB, there was no feature to allow players to select a random character directly. However, computer players were selected randomly once entered. Random stage select would choose one of the eight or nine available stages.
In Melee, once all characters are unlocked, placing one's selection token on either of the two blank corners of the selection grid would move the token onto a random character. CP players would be randomized. Random stage select would select from any of the unlocked stages. Once all stages are unlocked, the player can choose which stages to exclude from the selection list.
In Brawl, Smash 4 and Ultimate, the character selection screen has a designated space for choosing a random character. A "?" appears on the player's selection bracket and no one will know who that player will be until the match begins. (The system will choose and begin loading the character as soon as Random is selected, however.) This random function also selects a random costume for the character, and is how CPUs are entered by default. Randomly choosing a stage behaves the same as Melee, but the player cannot choose to leave out individual custom stages. In addition, custom stages saved on the SD card cannot be randomly chosen.

When the player selects the Mushroomy Kingdom stage in Brawl, it will randomly choose between the above ground level and the underground level, though which stage it chooses can be controlled through holding a specific button. The same applies to which Pokémon will appear when Spear Pillar is chosen, and which Metal Gear will appear when Shadow Moses Island is selected.
In Brawl, when Pokémon Trainer is selected without selecting any of his Pokémon, he will start off with a random one. This was changed in Ultimate, where it starts with Squirtle by default and the player can change which Pokémon starts the match.
Mii Fighters are never chosen through random. They are the only characters with this property.

In Smash 4, when playing a local battle with CPUs, if the player is fighting CPUs with randomly selected characters while the player is using the same character for every match, the random character selection will never choose the player's character. This only seems to work for 1 player.
Random events intrinsic to a fighter
[
edit
]
The following are random occurrences that apply to individual fighters.
Random events intrinsic to a stage
[
edit
]
The following are random occurrences that occur in specific stages.
In Super Smash Bros.

[

edit

]
In Hyrule Castle, the tornado hazard appears at random.
When entering a pipe in Mushroom Kingdom, the destination pipe is chosen at random.
On Saffron City, the Pokémon that appears from the door to the Silph Co. building is chosen at random.
In Super Smash Bros. Melee

[

edit

]
In Super Smash Bros. Brawl

[

edit

]
All returning Melee stages retain their random elements from Melee.
In Super Smash Bros. 4

[

edit

]
All returning stages from previous games (including DLC stages) retain their random elements.
In Super Smash Bros. Ultimate

[

edit

]
All returning stages from previous games (including DLC stages) retain their random elements. Most of these elements can be turned on or off via the Hazards toggle.
Random events intrinsic to an item
[
edit
]
The following is random behavior of specific items.
In all Super Smash Bros. games

[

edit

]
Which items appear from container items is chosen randomly from what items turned on. There is also a random chance of containers not containing any items and instead being explosive (with the exception of Sandbag).
Characters have a random chance of dropping an item when hit, which depends on the damage the attack deals. In SSB and Melee, this chance is determined by the formula damage/60 for all items, meaning an attack that deals at least 60% damage will guarantee that the item is dropped. In Brawl and Smash 4, the formula is CEIL(damage)/70, but certain items use their own formula:

In Brawl, the Dragoon parts and Smash Ball use INT(damage)/50.
In Smash 4, the Dragoon and Daybreak parts use INT(damage)/100.

What Pokémon a Poké Ball spawns is random, with each Pokémon having a different chance of appearing. If the Pokémon targets a specific player, which opponent is targeted is also chosen at random. Certain rare Pokémon (namely Mew, Celebi and Jirachi) have fixed chances of appearing, depending on the games:

1/151

in Smash 64 (in which only Mew appears),

1/251

in Melee (which includes Celebi) and

1/493

in Brawl (which includes Jirachi).
In Super Smash Bros. Melee

[

edit

]
When food spawns, the specific food that appears is random.
The Hammer head on a Hammer has a

1/8

chance of dropping off when the Hammer is picked up.
In Super Smash Bros. Brawl

[

edit

]
All returning items from Melee retain any random elements they had in Melee.
In Super Smash Bros. 4

[

edit

]
All returning items from previous games retain any random elements they had.
In Super Smash Bros. Ultimate

[

edit

]
All returning items from previous games retain any random elements they had.
Green Shell may now rebound off a struck opponent instead of traveling continuously.
Beastball will target a random opponent if there is more than one opponent.
Abra will get close to an opponent, teleporting with them to a random spot, often times off stage.
Randomness in competitive play
[
edit
]
Some randomness that can't be controlled and/or has little impact on gameplay is considered acceptable (if undesirable) in competitive play. For instance, Star and Screen KOs occur randomly and cannot be disabled, so the mechanic is always active. However, excessive, uncontrollable randomness is usually considered degenerative to competitive play. The reasoning is that if randomness has too much of an impact on gameplay, the winner of the match could simply win by being luckier with random events, rather than outplaying their opponent. Therefore, to prevent people from winning by being the luckier player and to ensure the more skilled player wins, steps are taken to limit the effect of randomness in competitive play. These steps include turning off all items, using stage striking instead of random selection to choose the stage for the first game in a tournament set, and banning stages whose random events have too large of an impact on gameplay within the stage (such as WarioWare, Inc.).