Instant KO
From SmashWiki, the Super Smash Bros. wiki
Jump to navigation
Jump to search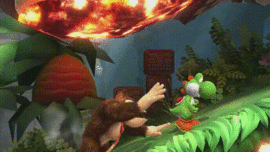 An instant KO is a type of KO which occurs instantaneously and in-place, without the fighter passing a blast line or being launched at all. A character suffering an instant KO will disappear into a colorful starburst explosion and then (if they have any stocks left) respawn as normal. Instant KOs were introduced as stage hazards in Super Smash Bros. Brawl, and a greater variety of attacks and conditions causing instant KOs were added in Super Smash Bros. 4 and Super Smash Bros. Ultimate, the latter game introducing instant variations of Screen KOs, Blast zone and Star KOs. Several instant KOs require the opponent to be at a certain damage threshold in order to be instantly KO'd; otherwise they will be launched as usual.
In Super Smash Bros. Brawl

[

edit

]
Stage hazards
[
edit
]
Several levels in The Subspace Emissary feature moving walls, blocks, elevators, and similar solid platforms. If they are caught between two of these objects as they collide together, the player will be crushed and instantly KO'd.
In Super Smash Bros. 4

[

edit

]
Final Smashes
[
edit
]
If Bayonetta's Infernal Climax completes, any opponent caught by Gomorrah with 100% or more damage at the end of the attack will be instantly KO'd.
Enemies
[
edit
]
Stage hazards
[
edit
]
In Super Smash Bros. Ultimate

[

edit

]
Playable characters' standard moves
[
edit
]
Final Smashes
[
edit
]
Poké Ball summon Mimikyu will instantly KO the fighter it grabs hold of if they reach 90% damage after its attack.
Death's Scythe will instantly KO when striking a fighter at or above 70% damage with the tip of the scythe using a fully charged smash attack, 80% damage using an uncharged smash attack, and 120% using a tilt attack.
Stage hazards
[
edit
]
Ultimate is the first game in the series where Stamina Mode can be played with multiple stocks. Under these conditions, fighters who lose all HP with more than one stock left suffer an instant KO and respawn, taking away one stock. When the last stock is lost, the standard Stamina Mode KO occurs with the fighter falling to the ground and lying there motionless, then exploding and disappearing for good (unless they can use Share stock in a team battle) after a short pause.
Gallery
[
edit
]
In SSB4 and Ultimate, when he is instant KO'd, Mega Man has a unique animation where he explodes into orbs and makes the same sound as when he dies in his home series (this also occurs when he is blast KO'd). In Ultimate, Inkling also has a unique instant KO animation; they burst into a puddle of ink and their squid-shaped spirit flies upward briefly before disappearing, as in the Splatoon games.
References
[
edit
]