Spike
From SmashWiki, the Super Smash Bros. wiki
Jump to navigation
Jump to search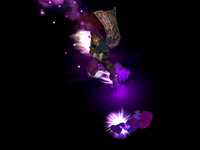 A spike is an attack that sends the opponent downwards but cannot have its knockback interrupted via meteor cancelling. As a result, they are significantly more dangerous than the similar meteor smash. They have similar effects to meteor smashes when performed on grounded opponents; for example, they also cannot be crouch-cancelled.
In most games of the Super Smash Bros. series, there are no spikes — all attacks that hit downwards are meteor smashes. However, in Super Smash Bros. Melee, a technical oversight results in two types of downwards attacks — those that can be meteor cancelled, and those that cannot - the first group are meteor smashes, while the second group are spikes. Despite this clear distinction, many players erroneously use the term "spike" to mean "meteor smash" regardless of the game, referring to spikes as "true spikes" to reflect their inability to be cancelled.
Technical information
[
edit
]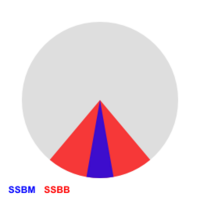 In Melee, hitboxes that send opponents at an angle between 260 and 280 degrees are recognized by the game as meteor smashes. However, there exist some hitboxes that send opponents downward, but at a diagonal trajectory outside this angle window (for example, 290 degrees). As a result, the game does not recognize them as meteor smashes, and are thus unable to be meteor cancelled.
It is most likely due to the degree/angle they are sent at being akin to the volleyball strategy of the same name (instead of directly downward), is possibly why they are named as "spikes"; spikes in volleyball are also unable to normally be returned, in the same way spikes in Smash Bros. cannot be meteor cancelled.
In Brawl however, the angle window for what the game recognizes as meteor smashes was increased to being between 230 and 310 degrees, enough so to cover the downward diagonal trajectory the spikes in Melee had. As a result, the spiking hitboxes in Melee that retained their trajectories are recognized as meteor smashes in Brawl, and are capable of being meteor cancelled. Certain bosses in Brawl are able to launch opponents just outside the angle for meteor smashes.
Spikes have the benefits of meteor smashes: knocking the opponent downward with gravity assisting the knockback. But they do so without the drawback of the opponent having the ability to completely negate the knockback with a jump or recovery move. As a result, spikes are extremely effective KO moves in edge guarding situations — recovering from even moderately powerful spikes is usually impossible above extremely low percents. Because of this, many smashers who main characters with practical spikes try to integrate spikes into play as often as possible.
List of spikes in Super Smash Bros. Melee

[

edit

]
Characters with usable spikes
[
edit
]
Other spikes
[
edit
]
Spikes in other games
[
edit
]
As noted prior, the angle window for meteor cancelling was widened in Brawl to cover the downward diagonal trajectory the spikes in Melee had. All downward attacks that were previously spikes in Melee are now able to be meteor canceled in Brawl, and playable characters do not possess attacks that send opponents diagonally downwards outside the meteor cancelling window, as a result playable characters cannot perform spikes in Brawl. Spikes still function like they do in Melee being impossible to meteor cancel. They can also lock floored opponents which meteor smashes cannot do in Brawl.
Meteor cancelling does not exist in the original Super Smash Bros., and was removed in Super Smash Bros. 4, and it continues to be absent in Super Smash Bros. Ultimate. This makes all meteor smashes in Smash 64 and Ultimate functionally equivalent to spikes. In Smash 4 however, spikes cannot be teched by grounded opponents unlike with meteor smashes although this distinction is no longer present in Ultimate due to grounded opponents losing the ability to tech meteor smashes. Additionally, spikes do not make the meteor smash hit sound effect when they connect. As a result of the lack of spikes outside of Melee (at least in competitive play), the two terms (spikes and meteor smashes) are often used interchangeably among competitive players, though they are officially referred to as meteor smashes.
In Brawl and Smash 4, several boss and enemy hitboxes have angles such as -70 and -90, which appear to be intentional ways of circumventing the meteor smash recognition window for the former game, making such attacks act as spikes. As playable characters do not possess any such attacks, however, spikes are considered a removed element in such games. As an additional note, all meteor smashes in Smash 64 use negative angles for their own meteor smashes.
List of spikes by enemies and bosses in Brawl

[

edit

]
Petey - downwards portion of jumps
Rayquaza - start of digging and explosion attacks
Ticken - ground pound attack (aerial portion)
List of spikes by enemies and bosses in Smash 4

[

edit

]
Note that at the present time, while most hitboxes are known, their associated moves may not be.
See also
[
edit
]
Meteor smash - an attack that deals downward knockback but that can be recovered from through meteor cancelling.
Semi-spike - an attack that hits the opponent at a low horizontal angle that hinders recovery opportunities.
Stage spike - a spike performed by bouncing an opponent off an angled part of a stage to send them downward.