Hello, Sunshine
From SmashWiki, the Super Smash Bros. wiki
Jump to navigation
Jump to search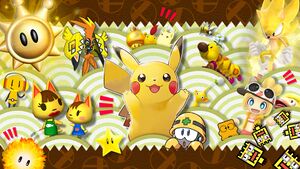 Hello, Sunshine was a Spirit Board event focused on yellow spirits. It ran from 6 a.m. on January 29, 2021 to 6 a.m. on February 1, 2021 (UTC), and was repeated from 6 a.m. on October 21, 2022 to 6 a.m. on October 24, 2022 (UTC). During the event, defeating spirits on the Spirit Board which were part of the event awarded more Gold than usual.
Description
[
edit
]
North America
[
edit
]
Yellow-colored spirits are brightening up the Spirit Board!
PAL regions
[
edit
]
Spirits in yellow hues are beaming onto the Spirit Board! Defeat them in battle to earn more gold than usual.
Periodically appearing spirits
[
edit
]
Randomly appearing spirits
[
edit
]
Spirit
Battle parameters
No.
Image
Name
Series
Enemy Fighter(s)
Type
Power
Stage
Rules
Conditions
Music
67

Shine Sprite
Super Mario Series
•Rosalina & Luma
•Kirby Team

13,100
Delfino Plaza (roof)
•Temporary Invincibility
•Sudden Final Smash
•Item: Stars
•Defeat the main fighter to win
•The enemy will suddenly have a Final Smash
•The enemy will occasionally be invincible
Delfino Plaza (Remix)
778

Super Sonic
Sonic The Hedgehog Series
•Gold Sonic

13,700
Windy Hill Zone
•Sudden Final Smash
•The enemy will suddenly have a Final Smash
Live & Learn
556

Tapu Koko
Pokémon Series
•Pikachu

9,600
Temple (Battlefield form)
•Hazard: Zap Floor
•The floor is electrified
•The enemy's electric attacks have increased power
•Only certain Pokémon will emerge from Poké Balls (Tapu Koko)
Battle! (Island Kahuna)
20

Super Star
Super Mario Series
•Rosalina & Luma

9,200
Peach's Castle
•Attack Power ↑
•Temporary Invincibility
•Item: Super Star
•The enemy will occasionally be invincible when the enemy's at high damage
•All fighters are easy to launch
•The enemy's FS Meter charges quickly
Main Theme - Super Mario 64
1,127

Diskun
Disk System
•Young Link
•Pit
•Simon
•Samus

9,100
Temple (Battlefield form)
N/A
•Take your strongest team into this no-frills battle
Famicom Medley
1,298

Partner Pikachu
Pokémon Series
•Pikachu (150 HP)
•Mii Brawler (Moveset 1113, SSB T-shirt) (100 HP)

8,000
Saffron City
•Sudden Final Smash
•Item: Poké Ball
•The enemy will suddenly have a Final Smash when the enemy's at high damage
•The enemy's electric attacks have increased power
•Stamina battle
Main Theme - Pokémon Red & Pokémon Blue (Melee)
1,302

Golden Dash Mushroom
Super Mario Series
•Gold Mii Brawler (Moveset 2122, Super Mushroom Hat, Standard Outfit, No Voice)

10,000
Figure-8 Circuit (Ω form)
•Attack Power ↑
•Uncontrollable Speed
•Item: Mario Kart
•The enemy has super armor and is hard to launch or make flinch
•The enemy is very fast and can't stop quickly
•The enemy has increased attack power
Mario Circuit - Mario Kart 8
71

Luma
Super Mario Series
•Kirby Team

3,500
Mario Galaxy
•Item: Stars
•Take your strongest team into this no-frills battle
Rosalina in the Observatory / Luma's Theme
108

Starlow
Mario & Luigi Series
•Pac-Man
•Luigi
•Mario

3,300
Brinstar (Battlefield form)
•Tiny
•Giant
•The enemy is giant
•The enemy is tiny after a little while
Tough Guy Alert!
289

Little Birdie
Metroid Series
•Tiny Ridley

3,700
Distant Planet
•Defense ↑
•Attack Power ↑
•Giant
•The enemy is giant after a little while
•The enemy has increased attack power after a little while
•The enemy has increased defense after a little while
Vs. Ridley
562

Detective Pikachu
Detective Pikachu
•Pikachu Team ×4

4,100
Gamer (Book stacks layout, hazards off)
N/A
•Defeat the main fighter to win
•Timed battle (1:30)
Shop
346

Heavy Lobster
Kirby Series
•Lemmy

3,600
Halberd
•Item: Fire Flower
•The enemy starts the battle with a Fire Flower
Meta Knight's Revenge
805

Yellow Pikmin
Pikmin Series
•Tiny Pichu Team ×12 (10 HP)

4,100
Garden of Hope (Battlefield form)
•Hazard: Zap Floor
•The floor is electrified
•Stamina battle
•The enemy favors neutral air attacks
Main Theme - Pikmin (Original)
819

Yellow Wollywog
Pikmin Series
•King Dedede ×3

3,800
Distant Planet
N/A
•The enemy favors up specials
Garden of Hope (Remix)
854

Kaitlin & Katie
Animal Crossing Series
•Isabelle
•Tiny Isabelle

4,100
Smashville
•Hazard: Fog
•The stage is covered in fog
Tour - Animal Crossing: New Leaf
468

Ampharos
Pokémon Series
•Giant Pichu

4,500
Prism Tower (Battlefield form)
•Hazard: Zap Floor
•The floor is electrified
•The enemy is giant
Pokémon Gold / Pokémon Silver Medley
58

Hothead
Super Mario Series
•Curry Pac-Man

2,000
Mushroom Kingdom U (Slide Lift Tower)
•Item: Hothead
•The enemy breathes fire
•The enemy is easily distracted by items
•The enemy starts the battle with a Hothead
Castle / Boss Fortress - Super Mario World / SMB 3
60

Wiggler
Super Mario Series
•Yoshi

1,600
Yoshi's Island (Melee)
•Attack Power ↑
•Item: Lip's Stick
•The enemy becomes powerful when badly damaged
Ground Theme - Super Mario World
1,261

Noise
Kiki Trick
•Mega Man

1,600
Hanenbow
N/A
•Only certain Pokémon will emerge from Poké Balls (Meloetta)
PERFORMANCE
109

Broque Monsieur
Mario & Luigi Series
•Pac-Man

1,800
Mario Bros. (Battlefield form)
•Defense ↑
•Item: Blocks
•The enemy has increased defense
•The enemy shields often
•The enemy's shield has extra durability
Tough Guy Alert!
160

Zinger
Donkey Kong Series
•Pikachu

1,800
The Great Cave Offensive (Ω form)
•Item: Unira
•The enemy's throwing-type items have increased power
Stickerbush Symphony
293

Kanden
Metroid Prime Series
•Samus

1,700
Brinstar
•Item: Motion-Sensor Bomb
•The enemy is easily distracted by items
Psycho Bits
821

Mockiwi
Pikmin Series
•Giant Pac-Man (100 HP)
•Ally: Olimar (50 HP)

1,500
Garden of Hope
N/A
•Join forces with a CPU ally
•Stamina battle
•The enemy is giant
Over Wintry Mountains
285

X Parasite
Metroid Series
•Kirby Team ×10

2,100
Lylat Cruise
N/A
•The enemy favors neutral specials
•Defeat an army of fighters
Sector 1
1,039

Bisk
Splatoon Series
•Pac-Man

1,700
Saffron City
•Move Speed ↑
•The enemy's kicks and knee strikes have increased power
•The enemy has increased move speed after a little while
Endolphin Surge
744

Fronks
WarioWare Series
•Tiny Pichu Team ×4

1,900
WarioWare, Inc. (hazards off)
N/A
•Take your strongest team into this no-frills battle
Mike's Song
875

Mettaur
Mega Man Series
•Pac-Man (120 HP)

1,800
Wrecking Crew
N/A
•Stamina battle
•The enemy shields often
•The enemy doesn't like to jump
Cut Man Stage
1,084

Coraline
StreetPass Mii Plaza Series
•Isabelle
•Mii Gunner (Moveset 1111, Pirate Hat, Splatoon 2 Outfit, No Voice)

1,800
Wuhu Island (Speedboat)
N/A
•The enemy favors side specials
Mii Plaza
1,249

Zip
FlingSmash
•Pac-Man

2,200
Golden Plains
•Assist Trophy Enemies (Chain Chomp)
•Hazard: Low Gravity
•Gravity is reduced after a little while
•Hostile assist trophies will appear
Mole Patrol
In other languages
[
edit
]
| Language | Name | Meaning |
| --- | --- | --- |
|  Japanese | 元気いっぱい! 黄色いスピリッツ | Full of energy! Yellow Spirits |
|  English (NTSC) | Hello, Sunshine | — |
|  English (PAL) | Hello Sunshine | — |
|  French | Jaunes et jolis | Yellow and beautiful |
|  German | Man schwimmt in Gelb! | You swim in yellow! |
|  Spanish | Dorados como el sol | Golden as the sun |
|  Italian | Gialli come il sole | Yellow like the sun |
|  Chinese (Simplified) | 活力十足的黄色命魂! | Vibrant yellow spirits! |
|  Chinese (Traditional) | 光輝燦爛的黃色命魂! | Glorious yellow spirits! |
|  Korean | 생기 가득! 노란 스피릿 | Full of energy! Yellow Spirits |
|  Dutch | Zonnige tiepjes | Sunny types |
|  Russian | Солнечная схватка | Sunshine Scramble |
References
[
edit
]