Triple EXP and SP!
From SmashWiki, the Super Smash Bros. wiki
Jump to navigation
Jump to search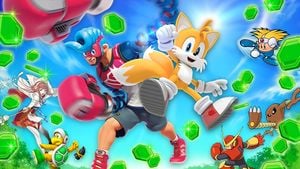 Triple EXP and SP! was a Spirit Board event that tripled the EXP and SP earned when defeating spirits. It ran from 6 a.m. on July 18, 2019 to 6 a.m. on July 21, 2019 (UTC).
Description
[
edit
]
During this event, EXP and SP earned on the Spirit Board will be tripled!
Seems like a good time to get in some spirit training![1]
In other languages
[
edit
]
| Language | Name | Meaning |
| --- | --- | --- |
|  Japanese | 夏の強化特訓! 経験値とSPが3倍に | Summer Strength Training! Experience and SP are tripled! |
|  French (PAL) | Expérience et PE triplés ! | Tripled experience and PE ! |
|  French (NTSC) | Expérience et PE triplés! | Tripled experience and PE! |
|  German | Dreifach GP und Erfahrung! | Triple GP and experience! |
|  Spanish (PAL) | ¡Experiencia y PS a espuertas! | Experience and PS galore! |
|  Spanish (NTSC) | ¡Experiencia y PS a montones! | Experience and PS galore! |
|  Italian | PE e PSp triplicati! | PE and PSp tripled! |
|  Chinese (Simplified) | 夏季强化特训!经验值和SP变3倍 | Summer intensive special training! Experience value and SP tripled |
|  Chinese (Traditional) | 夏季加強特訓!經驗值和SP變3倍 | Summer intensive special training! Experience value and SP tripled |
|  Korean | 여름 특훈! 경험치와 SP가 3배로 | Summer special training! Experience and SP are tripled |
|  Dutch | Ervaring en SP ×3! | Experience and SP ×3! |
|  Russian | Тройные ДБ и опыт! | Triple DBs and experience! |
References
[
edit
]