New Galar Region Pokémon Discovered!
From SmashWiki, the Super Smash Bros. wiki
Jump to navigation
Jump to search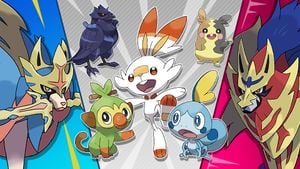 New Galar Region Pokémon Discovered! was a Spirit Board event focused on spirits from Pokémon Sword and Shield. It ran from 6 a.m on November 22, 2019 to 6 a.m. on November 27, 2019 (UTC). During the event, defeating spirits on the Spirit Board which were part of the event awarded more SP than usual.
The spirits for this event were exclusive to it at the time. After February 25, 2020, these spirits became available in the Shop and on the Spirit Board like most other spirits.
Description
[
edit
]
Pokémon from the Galar region, the stage for Pokémon Sword and Pokémon Shield, are flocking to the Spirit Board! Four new spirits will appear during this event.
Defeat them in battle to earn more SP than usual. Take a look![1]
Randomly appearing spirits
[
edit
]
Conditions in italic aren't listed on the Spirit Battle preview screen.
Spirit
Battle parameters
No.
Image
Name
Series
Enemy Fighter(s)
Type
Power
Stage
Rules
Conditions
Music
1,368

Zacian & Zamazenta
Pokémon Series
•Fox
•Wolf

13,900
Spear Pillar (Ω form)
N/A
•The enemy starts the battle with a Killing Edge
•The enemy starts the battle with a Back Shield
The Battle at the Summit!
1,369

Grookey, Scorbunny, & Sobble
Pokémon Series
•Diddy Kong
•Bunny Incineroar
•Squirtle

9,600
Onett (Battlefield form)
N/A
•The enemy has increased attack power when badly damaged
•Reinforcements will appear during the battle
•The enemy starts the battle with a Lip's Stick
Road to Viridian City - Pokémon Red / Pokémon Blue
1,370

Corviknight
Pokémon Series
•Ridley
•Giant Ridley

3,800
Gaur Plain (Battlefield form)
N/A
•The enemy favors air attacks
•Reinforcements will appear after an enemy is KO'd
•The enemy has increased jump power
Battle! (Wild Pokémon) - Pokémon Diamond / Pokémon Pearl
1,371

Morpeko
Pokémon Series
•Pikachu

2,000
Boxing Ring
•Metal Shift
•Item: Food
•The enemy will occasionally turn metal
•The enemy's electric attacks have increased power
•The enemy favors special moves
Battle! (Wild Pokémon) - Pokémon Sun / Pokémon Moon
In other languages
[
edit
]
| Language | Name | Meaning |
| --- | --- | --- |
|  Japanese | 発見! ガラル地方の新ポケモン | Discover! New Pokémon in the Galar Region |
|  French | Nouveaux Pokémon de Galar | New Pokémon from Galar |
|  German | Neue Galar-Region-Pokémon gefunden! | New Galar Region Pokémon Found! |
|  Spanish | ¡Pokémon de la nueva región de Galar! | Pokémon from the new region of Galar! |
|  Italian | Nuovi Pokémon della regione di Galar! | New Pokémon from the Galar Region! |
|  Chinese (Simplified) | 发现伽勒尔地区的新宝可梦! | Discover the new Pokémon in the Galar Region! |
|  Chinese (Traditional) | 發現伽勒爾地區的新寶可夢! | Discover the new Pokémon in the Galar Region! |
|  Korean | 발견! 가라르지방의 새로운 포켓몬 | Discover! New Pokémon in the Galar Region |
|  Dutch | Nieuwe Pokémon uit de regio Galar ontdekt! | New Pokémon from the Galar Region Discovered! |
|  Russian | Открыты новые Покемоны из региона Галар! | New Pokémon from the Galar region have been discovered! |
References
[
edit
]