Get in the Groove
From SmashWiki, the Super Smash Bros. wiki
Jump to navigation
Jump to search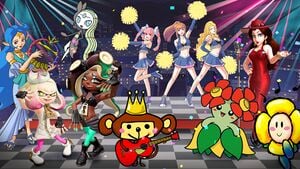 Get in the Groove was a Spirit Board event focused on singing and dancing spirits. It ran from 6 a.m. on May 7, 2021 to 6 a.m. on May 10, 2021 (UTC). During the event, defeating spirits on the Spirit Board which were part of the event awarded more snacks than usual.
Description
[
edit
]
Spirits with slick moves and impressive pipes are coming to the Spirit Board in this event! Defeat them in battle to earn Snacks.
The Legend-class Azura and Pauline, plus the Ace-class Meloetta (Aria Forme), will also appear at set times. Don't miss out![1]
Periodically appearing spirits
[
edit
]
Randomly appearing spirits
[
edit
]
Spirit
Battle parameters
No.
Image
Name
Series
Enemy Fighter(s)
Type
Power
Stage
Rules
Conditions
Music
676

Azura
Fire Emblem Series
•Corrin

13,500
Fountain of Dreams
•Sudden Final Smash
•The enemy will suddenly have a Final Smash
•The enemy can use their Final Smash twice in a row
•The enemy has increased attack power
Lost in Thoughts All Alone (JP)
79

Pauline
Super Mario Series
•Peach
•Mario
•Giant Donkey Kong

13,700
75m (hazards off)
•Jump Power ↓
•Defeat the main fighter to win
•You have reduced jump power
•Reinforcements will appear during the battle
•The enemy tends to avoid conflict
Jump Up, Super Star!
1,031

Off the Hook
Splatoon Series
•Inkling

9,700
Moray Towers (Ω form)
•Assist Trophy Enemies (Squid Sisters)
•Hostile assist trophies will appear
Ebb & Flow
1,296

Shantae
Shantae Series
•Zero Suit Samus

9,400
Pirate Ship
•Item: Transforming Types
•The enemy's battering items have increased power
•The enemy starts the battle with a Killing Edge
Mob Smash
1,196

The Chorus Kids
Rhythm Heaven Series
Rhythm Paradise Series
•Jigglypuff ×3

9,100
Wii Fit Studio
N/A
•The enemy favors up specials
•The enemy is giant
•The enemy has increased attack power
Monkey Watch
536

Meloetta (Aria Forme)
Pokémon Series
•Jigglypuff Team ×4

9,500
Prism Tower (Battlefield form)
•Hazard: Slumber Floor
•The floor is sleep-inducing
•The enemy favors neutral specials
•Only certain Pokémon will emerge from Poké Balls (Meloetta)
N's Castle
187

Marin
The Legend of Zelda Series
•Zelda
•Link

4,600
Tortimer Island (Battlefield form)
•Hazard: Slumber Floor
•The floor is sleep-inducing
•Timed battle (1:30)
Tal Tal Heights
195

Malon
The Legend of Zelda Series
•Zelda

3,600
Smashville
•Item Tidal Wave
•Item: Cucco
•The enemy becomes more powerful after eating
•Certain items will appear in large numbers
Ocarina of Time Medley
215

Din
The Legend of Zelda Series
•Zelda ×2

4,000
Bridge of Eldin (Battlefield form)
•Hazard: Lava Floor
•The floor is lava
•The enemy favors side specials
Ballad of the Goddess (Remix)
216

Nayru
The Legend of Zelda Series
•Zelda ×2

3,500
Bridge of Eldin
•Temporary Invincibility
•The enemy will occasionally be invincible after a little while
•The enemy favors neutral specials
Ballad of the Goddess (Original)
1,218

Ouendan Cheerleaders
Osu! Tatakae! Ouendan Series
•Isabelle ×3

4,000
Pokémon Stadium
•Attack Power ↑
•The enemy has increased attack power after a little while
•The enemy favors neutral air attacks
Ring a Ding
1,217

Ouendan
Osu! Tatakae! Ouendan Series
•Ryu ×3

3,700
Tomodachi Life
•Attack Power ↑
•The enemy has increased attack power after a little while
•The enemy favors down specials
Filled with Hope
1,219

Elite Beat Agents
Elite Beat Agents Series
•Mii Swordfighter ×3 (Moveset 1111, None, Business Suit)

3,700
Saffron City (hazards off)
•Attack Power ↑
•The enemy has increased attack power after a little while
Escape from the City
1,220

Elite Beat Divas
Elite Beat Agents Series
•Corrin ×3

3,900
Saffron City (hazards off)
•Attack Power ↑
•The enemy has increased attack power after a little while
•The enemy starts the battle with a Rocket Belt
Pop Fashion Show
650

Ninian
Fire Emblem Series
•Palutena
•Roy

3,400
Castle Siege (Battlefield form)
N/A
•Defeat the main fighter to win
•The enemy can use their Final Smash twice in a row
•The enemy's FS Meter charges quickly
Winning Road - Roy's Hope
1,253

Elena
Pandora's Tower
•Palutena

3,600
Great Plateau Tower
•Item Tidal Wave
•The enemy becomes temporarily invincible after eating
•The enemy starts with damage but has increased defense
•Certain items will appear in large numbers after a little while
Midna's Lament
469

Bellossom
Pokémon Series
•Jigglypuff

1,800
Yoshi's Island (Battlefield form)
•Item: Lip's Stick
•Only certain Pokémon will emerge from Poké Balls (Bellossom)
•The enemy is easily distracted by items
Pokémon Gold / Pokémon Silver Medley
687

Tsubasa Oribe
Tokyo Mirage Sessions ♯FE
•Inkling

1,600
Boxing Ring (Battlefield form)
•Assist Trophy Enemies (Squid Sisters)
•Hostile assist trophies will appear
Style Savvy: Trendsetters
1,272

Tempo
HarmoKnight
•Fox

1,600
Pac-Land
•Reflect-Damage Buffed
•The enemy starts the battle with a Home-Run Bat
•All fighters' reflected projectiles have increased power
Fruit Basket
1,239

Prince Saruno
Tsukutte Utau: Saru Band
•Diddy Kong Team ×4

2,000
New Donk City Hall
•Defense ↑
•Item: Banana Peel
•The enemy has increased defense after a little while
PERFORMANCE
304

Crazee Dayzee
Yoshi Series
•Isabelle

1,700
Yoshi's Island
•Flowery
•You constantly take minor damage
•Only certain Pokémon will emerge from Poké Balls (Meloetta)
Flower Field
In other languages
[
edit
]
| Language | Name | Meaning |
| --- | --- | --- |
|  Japanese | 歌って踊って盛り上げて! | Sing, dance, and get excited! |
|  French | Scène d'esprits | Spirits on stage |
|  German | Bühne frei für Showtalente | Clear the stage for show talents |
|  Spanish | Ritmo en el cuerpo | Rhythm in the body |
|  Italian | Ritmo! | Rhythm! |
|  Chinese (Simplified) | 载歌载舞尽情欢乐! | Sing, dance, and have fun! |
|  Chinese (Traditional) | 歌舞作樂湊熱鬧! | Singing and dancing for fun! |
|  Korean | 노래하고 춤추고 신이 나고! | Sing, dance, and get excited! |
|  Dutch | Talentenjacht | Talent Show |
|  Russian | Эстрадные бойцы | Pop fighters |
References
[
edit
]