Bigmouthed Mayhem
From SmashWiki, the Super Smash Bros. wiki
Jump to navigation
Jump to search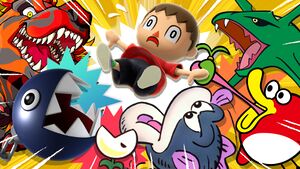 Bigmouthed Mayhem was a Spirit Board event focused on spirits with large mouths. It ran from 6 a.m. on August 20, 2021 to 6 a.m. on August 23, 2021 (UTC). During the event, defeating spirits on the Spirit Board which were part of the event awarded more Snacks than usual.
Description
[
edit
]
Spirits with big chompers are testing their chops on the Spirit Board! Defeat them in battle to earn Snacks.
Legend-class spirits will also appear at set times. Be sure to check it out![1]
Periodically appearing spirits
[
edit
]
Randomly appearing spirits
[
edit
]
Spirit
Battle parameters
No.
Image
Name
Series
Enemy Fighter(s)
Type
Power
Stage
Rules
Conditions
Music
63

Dry Bowser
Super Mario Series
•Bowser

13,500
Reset Bomb Forest (Battlefield form)
•Defense ↑
•Curry-Filled
•Hazard: Lava Floor
•The floor is lava
•The enemy breathes fire after a little while
•The enemy has increased defense after a little while
King Bowser - Super Mario Bros. 3
281

Queen Metroid
Metroid Series
•King K. Rool (180 HP)

13,300
Brinstar (Battlefield form)
•Giant
•Attack Power ↑
•The enemy is giant after a little while
•Stamina battle
•The enemy has increased attack power after a little while
Boss Battle 4 - Metroid: Samus Returns
291

Omega Ridley
Metroid Prime Series
•Metal Ridley (180 HP)

13,900
Norfair
•Curry-Filled
•Stamina battle
•The enemy breathes fire
•The enemy is metal
Vs. Meta Ridley
30

Bowser (Wedding)
Super Mario Series
•Bowser
•Ally: Peach

9,700
New Donk City Hall
N/A
•You lose if your CPU ally is KO'd
•The enemy favors dash attacks
•The enemy has increased attack power
Underground Moon Caverns
500

Rayquaza
Pokémon Series
•Ridley

10,000
Kalos Pokémon League (Dragonmark Chamber (Legendary) only)
•Hazard: Heavy Wind
•Dangerously high winds are in effect after a little while
Battle! (Lorekeeper Zinnia)
812

Emperor Bulblax
Pikmin Series
•Giant King K. Rool (160 HP)

9,700
Distant Planet (Ω form)
N/A
•The enemy has super armor and is hard to launch or make flinch
•Stamina battle
•The enemy is giant
Main Theme - Pikmin (Remix)
943

King Hippo
Punch-Out!! Series
•Giant King K. Rool (160 HP)

9,500
Boxing Ring
N/A
•Stamina battle
•The enemy is giant
Minor Circuit (Remix)
1,102

Master Beast
Super Smash Bros. Series
•Giant Ridley (160 HP)

9,600
Final Destination
•Assist Trophy Enemies (Chain Chomp)
•Stamina battle
•Hostile assist trophies will appear after a little while
•The enemy deals damage when falling
Master Core
51

Chain Chomp
Super Mario Series
•Metal Pac-Man

4,000
Yoshi's Island (Battlefield form)
•Assist Trophy Enemies (Chain Chomp)
•Hostile assist trophies will appear
•The enemy favors side specials
•The enemy is metal
Main Theme - Super Mario 64
62

Mechakoopa
Super Mario Series
•Tiny Bowser Team ×4

3,800
Mushroom Kingdom U (Slide Lift Tower)
N/A
•The enemy starts the battle with a Bob-omb
King Bowser - Super Mario Bros. 3
125

Petey Piranha (Super Mario Strikers)
Petey Piranha (Mario Strikers)
Super Mario Strikers Series
Mario Strikers Series
•Giant Ivysaur

3,900
Wuhu Island (Swordplay Colosseum)
•Item: Soccer Ball
•The enemy is giant
Country Field: Away Team
116

Viruses
Dr. Mario Series
•Kirby

4,000
Mario Bros. (Battlefield form)
N/A
•Timed battle (1:30)
Fever
229

The Imprisoned
The Legend of Zelda Series
•Giant King K. Rool (140 HP)

4,600
Gerudo Valley
•Assist Trophy Enemies (Ghirahim)
•The enemy has super armor but moves slower
•Timed stamina battle (1:30)
•Hostile assist trophies will appear
Ballad of the Goddess (Remix)
315

Blargg
Yoshi Series
•Curry Bowser

3,900
Castle Siege (Underground Cavern)
N/A
•The enemy breathes fire
Melty Monster
322

Yarn Poochy
Yoshi Series
•Duck Hunt Team

4,600
Yoshi's Island
•Hazard: Lava Floor
•The floor is lava
•The enemy can deal damage by dashing into you
Main Theme - Yoshi's Woolly World (Remix)
443

Gengar
Pokémon Series
•Donkey Kong

4,300
Luigi's Mansion (Battlefield form)
•Hazard: Slumber Floor
•The floor is sleep-inducing
Pokémon Red / Pokémon Blue Medley
456

Gyarados
Pokémon Series
•Giant Ridley

4,100
Kongo Falls (Battlefield form)
•Attack Power ↓
•You have reduced attack power
•The enemy is giant
Main Theme - Pokémon Red & Pokémon Blue (Brawl)
714

Pandora
Kid Icarus Series
•Wendy
•Ally: Dark Pit

3,500
Kalos Pokémon League (Ω form)
•Bob-omb Festival
•Join forces with a CPU ally
•Bob-ombs will rain from the sky after a little while
•Explosion attacks aren't as effective against the enemy
Dark Pit's Theme
743

Pyoro
WarioWare Series
•Yoshi

3,700
Balloon Fight (Battlefield form)
•Item: Deku Nut
•The enemy is easily distracted by items
WarioWare, Inc.
1,008

Gomorrah
Bayonetta Series
•Bayonetta

3,200
Umbra Clock Tower
•Sudden Final Smash
•Sudden Damage
•You take serious damage after a little while
•The enemy will suddenly have a Final Smash after a little while
Let's Hit The Climax!
1,125

Fish
Balloon Fight Series
•King Dedede

3,900
Balloon Fight
N/A
•The enemy's neutral special has increased power
•Timed battle (1:30)
•The enemy favors neutral specials
Balloon Fight Medley
1,231

T-Rex
Fossil Fighters Series
•Giant Yoshi

4,400
Coliseum (Battlefield form)
•Hazard: Lava Floor
•The floor is lava
•The enemy is giant
Battle Start - Fossil Fighters: Frontier
1,378

Kyle
ASTRAL CHAIN
•Cloud
•Sheik Team ×3

4,200
New Pork City (hazards off)
•Attack Power ↑
•Item: Exploding Types
•The enemy has increased attack power when the enemy's at high damage
•Reinforcements will appear after an enemy is KO'd
Attack - Soma Bringer
53

Nipper Plant
Super Mario Series
•Tiny Pac-Man Team ×8

1,900
Super Mario Maker (Battlefield form)
N/A
•The enemy loves to jump
•Defeat an army of fighters
Ground Theme - Super Mario Bros. 3 (Remix)
128

MC Ballyhoo & Big Top
Mario Party Series
•Mario
•Yoshi
•Peach
•Luigi

1,600
Mario Circuit
•Item Tidal Wave
•Certain items will appear in large numbers after a little while
Pandemonium
159

Kritter
Donkey Kong Series
•King K. Rool

1,700
Kongo Jungle
•Defense ↑
•The enemy has increased defense
•The enemy starts the battle with a Rocket Belt
Jungle Level (64)
722

Pseudo-Palutena
Kid Icarus Series
•Palutena

1,900
Dracula's Castle
N/A
•Only certain Pokémon will emerge from Poké Balls (Ditto)
Destroyed Skyworld
821

Mockiwi
Pikmin Series
•Giant Pac-Man (100 HP)
•Ally: Olimar (50 HP)

1,500
Garden of Hope
N/A
•Join forces with a CPU ally
•Stamina battle
•The enemy is giant
Over Wintry Mountains
1,022

Inspired
Bayonetta Series
•Mewtwo Team ×4

1,900
Umbra Clock Tower
N/A
•The enemy's physical attacks have increased power
•The enemy starts the battle with a Rocket Belt
One Of A Kind
1,110

Bytans
Super Smash Bros. Series
•Pac-Man Team ×4

1,800
Kongo Falls (Ω form)
•Item: Balls
•The enemy is easily distracted by items
Step: The Plain
1,232

Nibbles
Fossil Fighters Series
•Yoshi
•Charizard
•Ridley
•Bowser

1,800
Arena Ferox
•Item: Pitfall
•Defeat the main fighter to win
•Reinforcements will appear during the battle
Battle Start - Fossil Fighters: Frontier
1,282

Musashi
Sushi Striker: The Way of Sushido
•Young Link

2,400
Onett
•Item Tidal Wave
•Hazard: Heavy Wind
•Dangerously high winds are in effect after a little while
•The enemy favors side specials
•Certain items will appear in large numbers after a little while
Gourmet Race (Brawl)
In other languages
[
edit
]
| Language | Name | Meaning |
| --- | --- | --- |
|  Japanese | なんでもガブリ! 大きな口のスピリッツ | Gobble up everything! Spirits with big mouths |
|  English (NTSC) | Bigmouthed Mayhem | — |
|  English (PAL) | Big-Mouthed Mayhem | — |
|  French | Ils ont les crocs | They have the fangs |
|  German | Großmaul-Gerangel | Loudmouth scramble |
|  Spanish (PAL) | Entre los dientes | Between the teeth |
|  Spanish (NTSC) | A pedir de boca | To request from mouth |
|  Italian | Mischia fuori dai denti | Scrum out of the teeth |
|  Chinese (Simplified) | 大快朵颐!大嘴巴的命魂 | Enjoy the meal! Spirits with big mouths |
|  Chinese (Traditional) | 什麼都吞下去!大嘴巴的命魂 | Gobble up everything! Spirits with big mouths |
|  Korean | 뭐든 덥석! 커다란 입을 가진 스피릿 | Gobble up everything! Spirits with big mouths |
|  Dutch | Grote mond, klein hartje | Big mouthed, small hearted |
|  Russian | Битва большеротов | Battle of the Big Mouths |
References
[
edit
]