Double XP and SP!
From SmashWiki, the Super Smash Bros. wiki
Jump to navigation
Jump to search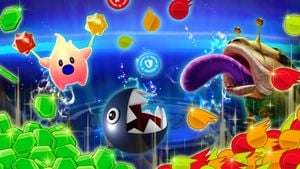 Double XP and SP! was a Spirit Board event that doubled the EXP and SP earned when defeating spirits. It ran from 6 a.m. on January 11, 2019 to 6 a.m. on Jaunary 14, 2019 (UTC).
Description
[
edit
]
North America
[
edit
]
Experience and Spirit Points received from Spirit Board battles are doubled!
Time to beef up those spirits![1]
PAL regions
[
edit
]
The EXP and SP you earn after winning a Spirit Board battle will double during this event!
Seems like a good time to get in some spirit training![2]
In other languages
[
edit
]
| Language | Name | Meaning |
| --- | --- | --- |
|  Japanese | 経験値とSPが倍増! おトクな3日間 | Double your experience points and SP! Three Days Only |
|  English (NTSC) | Double XP and SP! | — |
|  English (PAL) | Double EXP and SP! | — |
|  French | Double d'expérience et de PE | Double experience and PE |
|  German | Doppelt GP und Erfahrung! | Double GP and Experience! |
|  Spanish (PAL) | ¡Experiencia y PS a espuertas! | Experience and PS in spades! |
|  Spanish (NTSC) | ¡Experiencia y PS a montones! | Experience and PS galore! |
|  Italian | PE e PSp a volontà! | PE and PSp at will! |
|  Chinese (Simplified) | 经验值和SP倍增!给力的3天 | Experience and SP doubled! Awesome 3 Days |
|  Chinese (Traditional) | 經驗值和SP加倍!三天期間大放送! | Experience and SP doubled! Three Day Show! |
|  Korean | 경험치와 SP가 2배! 행복한 3일 | Experience and SP are doubled! Happy 3 Days! |
|  Dutch | Ervaring en SP ×2! | Experience and SP ×2! |
|  Russian | Двойные дух-баллы и опыт! | Double spirit-points and experience! |
References
[
edit
]