Spirits in Black
From SmashWiki, the Super Smash Bros. wiki
Jump to navigation
Jump to search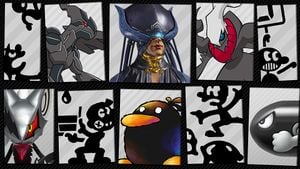 Spirits in Black was a Spirit Board event focused on spirits with the theme of the color black. It ran from 6 a.m. on February 28, 2020 to 6 a.m. on March 4, 2020 (UTC). During the event, defeating spirits on the Spirit Board which were part of the event awarded more Gold than usual.
The Lotus spirit was previously exclusive to this event. After June 9, 2020, the spirit became available in the Shop and on the Spirit Board like most other spirits.
Description
[
edit
]
North America
[
edit
]
Spirits with a black motif will make an appearance on the Spirit Board! Defeat them in battle to earn more gold than usual.
Also, for this event only, a new spirit, Lotus from Warframe, will be available. You don't want to miss out on that!
Warframe® : © 2020 Digital Extremes Ltd. All rights reserved.[1]
Periodically appearing spirits
[
edit
]
| No. | Image | Name | Type | Class | Appearance times (UTC) |
| --- | --- | --- | --- | --- | --- |
| 1,402 | | Lotus | | ★★ | 00:00, 06:00, 12:00, 18:00 |
| 604 | | Black Shadow | | ★★★★ | 08:00, 20:00 |
| 576 | | Ness's Father | | ★★★★ | 10:00, 22:00 |
| 255 | | Vaati | | ★★★ | 02:00, 14:00 |
| 516 | | Darkrai | | ★★★ | 04:00, 16:00 |
Randomly appearing spirits
[
edit
]
Spirit
Battle parameters
No.
Image
Name
Series
Enemy Fighter(s)
Type
Power
Stage
Rules
Conditions
Music
576

Ness's Father
EarthBound Series
•Clear Snake
•Ness

13,500
Onett
N/A
•Defeat the main fighter to win
•The enemy is invisible
Humoresque of a Little Dog
604

Black Shadow
F-Zero Series
•Ganondorf
•Captain Falcon

13,500
Port Town Aero Dive (Battlefield form)
•Sudden Damage
•You'll occasionally take sudden damage after a little while
Devil's Call in Your Heart
560

Necrozma
Pokémon Series
•Gold Mewtwo (160 HP)

9,400
Spear Pillar (hazards off)
•Giant
•The enemy is giant when the enemy's at high damage
•The enemy's special moves have increased power
•Stamina battle
Battle! (Elite Four) / Battle! (Solgaleo/Lunala)
529

Zekrom
Pokémon Series
•Dark Samus

9,300
Unova Pokémon League (Zekrom only)
N/A
•The enemy's electric attacks have increased power
•The enemy favors special moves
Battle! (Reshiram / Zekrom)
516

Darkrai
Pokémon Series
•Greninja

9,900
Luigi's Mansion (Ω form)
•Item: Black Hole
•Hazard: Slumber Floor
•The floor is sleep-inducing
•Only certain Pokémon will emerge from Poké Balls (Darkrai)
Battle! (Team Galactic)
1,103

Master Edges
Super Smash Bros. Series
•Cloud Team ×4 (100 HP)

9,500
Final Destination
N/A
•The enemy's melee weapons have increased power
•Stamina battle
•The enemy has increased move speed and reduced weight
Master Core
1,102

Master Beast
Super Smash Bros. Series
•Giant Ridley (160 HP)

9,600
Final Destination
•Assist Trophy Enemies (Chain Chomp)
•Stamina battle
•Hostile assist trophies will appear after a little while
•The enemy deals damage when falling
Master Core
1,101

Master Giant
Super Smash Bros. Series
•Giant Donkey Kong (160 HP)

9,900
Final Destination
•Bob-omb Festival
•Bob-ombs will rain from the sky after a little while
•The enemy has super armor and is hard to launch or make flinch
•Stamina battle
Master Core
693

Judge
Game & Watch Series
•Mr. Game & Watch Team ×8

9,400
Flat Zone X (hazards off)
N/A
•The enemy favors side specials
•Defeat an army of fighters
Flat Zone 2
692

Fire
Game & Watch Series
•Mr. Game & Watch Team ×4

9,800
Flat Zone X (hazards off)
N/A
•The enemy's up special has increased power
•Timed battle (1:00)
Flat Zone 2
255

Vaati
The Legend of Zelda Series
•Ridley

10,000
Hyrule Castle
•Hazard: Heavy Wind
•Dangerously high winds are in effect after a little while
•The enemy starts the battle with an Ore Club
Dark World (Brawl)
1,402

Lotus
Warframe
•Bayonetta

3,600
Frigate Orpheon (Battlefield form)
•Assist Trophy Enemies (Gray Fox)
•Hostile assist trophies will appear
The Keeper of the Lake
797

Infinite
Sonic The Hedgehog Series
•Metal Sonic (140 HP)

4,400
Big Blue
•Hazard: Screen Flip
•The screen will suddenly flip after a little while
•Stamina battle
•The enemy is metal
Fist Bump
1,223

Kyle Hyde
Hotel Dusk: Room 215
•Snake

4,100
Fourside (hazards off)
•Item: Timer
•Hazard: Fog
•The stage is covered in fog
Swan Lesson
1,219

Elite Beat Agents
Elite Beat Agents Series
•Mii Swordfighter ×3 (Moveset 1111, None, Business Suit)

3,700
Saffron City (hazards off)
•Attack Power ↑
•The enemy has increased attack power after a little while
Escape from the City
1,217

Ouendan
Osu! Tatakae! Ouendan Series
•Ryu ×3

3,700
Tomodachi Life
•Attack Power ↑
•The enemy has increased attack power after a little while
•The enemy favors down specials
Filled with Hope
702

Oil Panic
Game & Watch Series
•Mr. Game & Watch Team ×4

3,900
Flat Zone X (Oil Panic)
•Slippery Stage
•The stage's platforms are very slippery
Flat Zone
694

Manhole
Game & Watch Series
•Mr. Game & Watch

3,900
Flat Zone X
•Item Tidal Wave
•Item: Pitfall
•The enemy favors down tilt attacks
•Items will be pulled toward the enemy
•Certain items will appear in large numbers
Flat Zone 2
690

Ball
Game & Watch Series
•Mr. Game & Watch
•Pac-Man
•Jigglypuff
•Kirby

3,900
Flat Zone X (hazards off)
•Item: Balls
•The enemy favors grabs and throws
•The enemy's throwing-type items have increased power
Flat Zone 2
312

Raphael the Raven
Yoshi Series
•Giant King Dedede

4,000
Mario Galaxy
N/A
•The enemy is giant
Yoshi's Island (for 3DS / Wii U)
287

Mecha Ridley
Metroid Series
•Giant Ridley (140 HP)

4,100
Norfair (Ω form)
•Move Speed ↓
•The enemy's smash attacks have increased power
•Stamina battle
•The enemy is giant
Vs. Meta Ridley
229

The Imprisoned
The Legend of Zelda Series
•Giant King K. Rool (140 HP)

4,600
Gerudo Valley
•Assist Trophy Enemies (Ghirahim)
•The enemy has super armor but moves slower
•Timed stamina battle (1:30)
•Hostile assist trophies will appear
Ballad of the Goddess (Remix)
224

Zant
The Legend of Zelda Series
•Robin

4,100
Bridge of Eldin (Battlefield form)
•Giant
•The enemy is giant after a little while
•Timed battle (2:00)
•Only certain Pokémon will emerge from Poké Balls (Abra)
Main Theme - The Legend of Zelda: Twilight Princess
1,072

Carmilla
Castlevania Series
•Giant Meta Knight

2,100
Dracula's Castle
•Defense ↑
•Invisibility
•The enemy is invisible
•The enemy has increased defense after a little while
•The enemy is giant
Dwelling of Doom
755

Mei Ling
Metal Gear Solid Series
•Wii Fit Trainer
•Snake

2,300
Midgar (Battlefield form)
•Hazard: Fog
•Defeat the main fighter to win
•The stage is covered in fog
MGS4 ~Theme of Love~
700

Turtle Bridge
Game & Watch Series
•Mr. Game & Watch
•Squirtle
•Morton
•Bowser

1,700
Flat Zone X (hazards off)
N/A
•The enemy favors back air attacks
Flat Zone
41

Bullet Bill
Super Mario Series
•Captain Falcon Team ×4

1,800
Mushroom Kingdom
•Item Tidal Wave
•Item: Bullet Bill
•Certain items will appear in large numbers
•The enemy is easily distracted by items
Airship Theme - Super Mario Bros. 3
In other languages
[
edit
]
| Language | Name | Meaning |
| --- | --- | --- |
|  Japanese | 染まらない強さ! 黒色のスピリッツ | Strength that cannot be dyed! Black Spirits |
|  French | Série noire | Black series |
|  German | Geister der Finsternis | Spirits of darkness |
|  Spanish (PAL) | Se lleva el color negro | The color black is in |
|  Spanish (NTSC) | Imponiendo el color negro | Imposing the color black |
|  Italian | Spiriti in nero | Spirits in black |
|  Chinese (Simplified) | 不受任何影响!黑色的命魂 | Not affected by anything! Black spirits |
|  Chinese (Traditional) | 實力堅強不褪的黑色命魂! | The strong black spirit! |
|  Korean | 물들지 않는 강함! 검은색 스피릿 | Strength that does not stain! Black spirits |
|  Dutch | Duistere krachten | Dark forces |
|  Russian | Духи в черном | Spirits in black |
References
[
edit
]